One of my favorite antiques fairs opened October 3: I've shared many Antiques Diva® tours and buying trips with you on the blog. I always count Battersea as a do not miss antiques event. More than just shopping, The Decorative Fair at London's Battersea Park is an experience. And my team at The Antiques Diva & Co feels privileged to count several dealers at the fair as friends and favorite sources that our clients have special access to. Held 3 times annually, the fair's reputation is well-known: interior designers from around the globe attend The Decorative Fair, often shopping with their clients, and many American dealers attend to stock their store – but private customers are welcome to attend also! Designers and stylists attend the Fair to search out original and unusual furniture, art and accessories to give their projects an individual touch. (Spotted: The Fair was recently visited by David and Victoria Beckham… they shopped with their decorator Rose Uniacke, and one of the UK's hottest interior designers at present!)
Styles at The Decorative Fair range from French and English antique furniture to tabletop to mid-century modern. And what I love about the Battersea Decorative Fair is that not only is there something for everyone's taste, there is also a range of price points. If you are seeking high-end antiques, you will find them; but The Fair also has smalls and decorative pieces that won't cost a fortune – and may even fit in your suitcase! 
Today's guest blog is by Pippa Roberts, Specialist at The Decorative Fair, on the current trends in antiques and decor seen at London's Autumn 2017 Decorative Fair – open now through October 8. 
The Decorative Antiques and Textiles Fair – Battersea Park, London 
Decorated 'brown' furniture 
There has been a marked interest recently in fine, late 18th and early 19th-century furniture, with good embellishment and in richly coloured woods, such as Italian or French fruitwood or walnut commodes with ormolu/metal mounts or decoration. For international buyers pressed for time, there is no better one-stop-shop for European furniture than the Decorative Fair.
Classic country house style / maximalism 
The country house look is definitely back in, and the Decorative Fair is the home of classic English country house furnishings: Persian rugs on floors, a mix of polished and painted wood furniture and nicely upholstered Regency sofas, elaborate mirrors, traditional portrait and landscape paintings, tapestries, etc. Chintz is back in, big time, in terms of textiles and pattern. Layering different periods of furniture and accessories adds instant 'family history' and an established, 'been there forever' look to a room. You can decorate an entire country house from top to bottom at the Decorative Fair! It's the only fair you can sensibly achieve this at.
White ceramics
White ceramics have been a big thing for the past year or two, and look set to retain their chic; groups of white German modernist vases, large Regency-style French tureens and jugs, and more ornately decorated pieces for impactful tablescapes and cabinet displays.
Decorated folk furniture / art 
Traditional pieces that have a homespun air: decorated furniture, either painted, or découpaged, or decorated with more unusual materials such as seeds, i.e. truly unique pieces.
Art Deco glamour 
Art Deco design is selling well, especially glass – colourful, and looks great on the cocktail shelf/bar cart. You can see Deco style in many of the leading designer contemporary brands at present.
Bamboo and rattan furniture is still having a strong 'moment'. As are bar carts of every style and era!
Indigo blue / blue and white 
This colour, and blue & white china, has been having a renaissance; classic blue and white Delftware pots or English china plates are being used once again by decorators, even using gilded sconces to mount them around fireplaces (as per the C17th habit) or in dining rooms. Indigo blue is a big interiors colour at the moment, so we don't see this trend changing anytime soon.
Velvet upholstery and trimmings 
Top of the list in terms of luxe upholstery trends right now! The Decorative Fair presented a passementerie foyer display a couple of years ago, and since then, tassels, trimmings, and fringes have been back with a vengeance in high-end interiors. Antique passementerie, metallic threadwork and haberdashery items are offered by many of the textile dealers (and others) at the fair.
The Battersea Decorative Antiques & Textiles Details
October 3-8 2017
Battersea Evolution
Battersea Park
London SW11 4NJ
Vehicle Entry via Chelsea Bridge Gate ONLY
Tuesday 3rd October: 12 noon – 8pm
Wednesday 4th October: 11am – 8pm
Thursday 5th October : 11am – 8pm
Friday 6th October: 11am – 7pm
Saturday 7th October: 11am – 7pm
Sunday 8th October: 11am – 6pm
£10 on the door including catalogue which allows free re-entry
Tickets can only be purchased with cash
Vendors at The Decorative Fair are carefully selected specialists in antique and 20th-century design from Britain and Europe with an unrivalled selection of stock.
October is the last date for The Decorative Fair in 2017; if you'd like a private antique buying tour in 2018 (January 23-28, April 17-22, and Autumn 2018) to Battersea's design extravaganza – plus our other London and English countryside custom antique buying tours.
Cheers! Hope to see you in London! 
Toma Clark Haines – The Antiques Diva®  
Dear Diva Readers,
It seems like my travel schedule has been insane lately! Between taking private and trade clients on tours, international speaking engagements and press trips, it's been a whirlwind! But one of the perks of my job is being able to attend some of the best antiques fairs in the world. This week I had the privilege of taking a journalist from America on an Antiques Diva & Co tour of London which was perfect because it was in conjunction with The Decorative Fair at Battersea Park!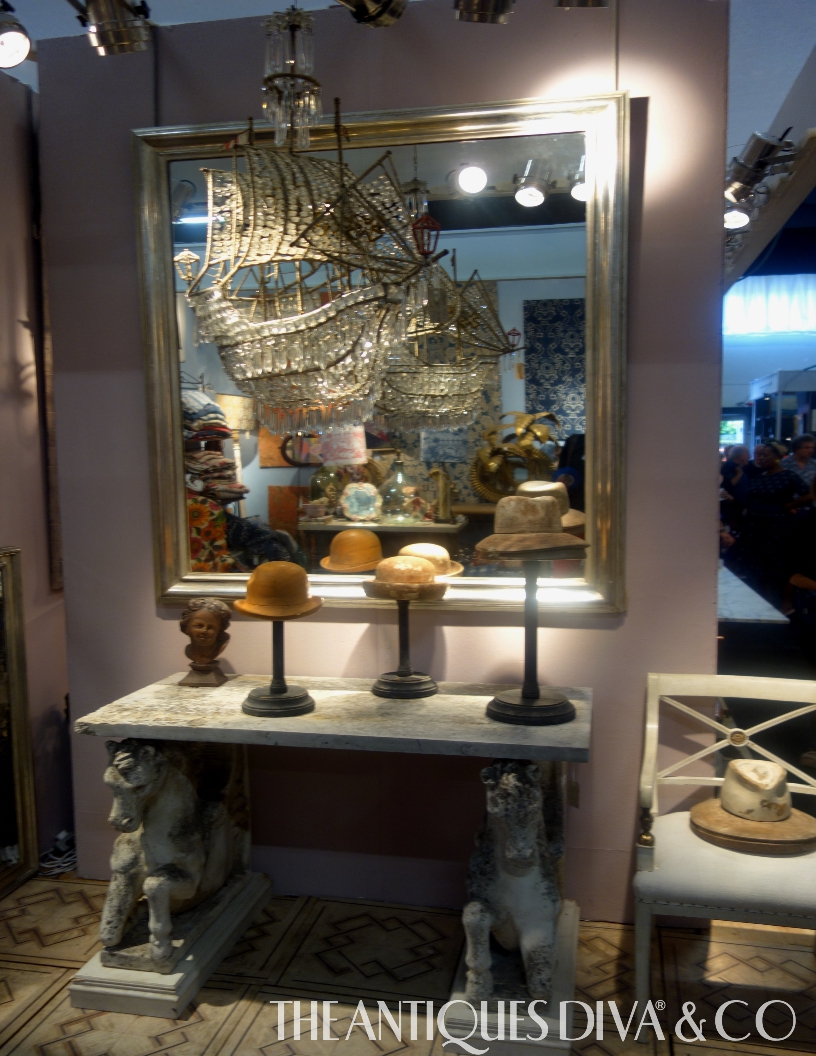 The Fair opened on September 30 and we were privileged to get a handful of Press passes which allowed us to enter the fair before the public. Being able to meet with dealers and see the inventory before it flies out the door is always a thrill. And being one of the top antique fairs, there are trays of champagne being passed, which fits perfectly with the Antiques Diva experience! As people line up outside to enter the fair, they are also served glasses of champagne… now that's the kind of line I wouldn't mind  waiting in!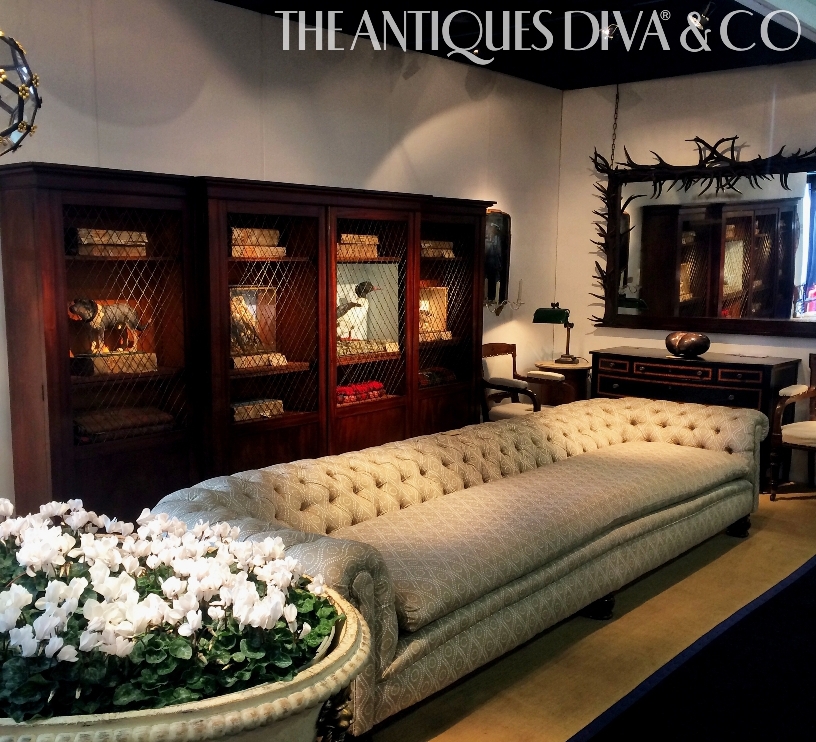 Of course there is so much to see at this fair— styles range from French and English antique furniture to tabletop to mid century modern. And what I love about the Battersea Decorative Fair is that not only is there something for everyone's taste, there is also a range of price points. If you want serious antiques, you can find them. But you also can find very decorative pieces that won't cost you a fortune and may even fit in your suitcase!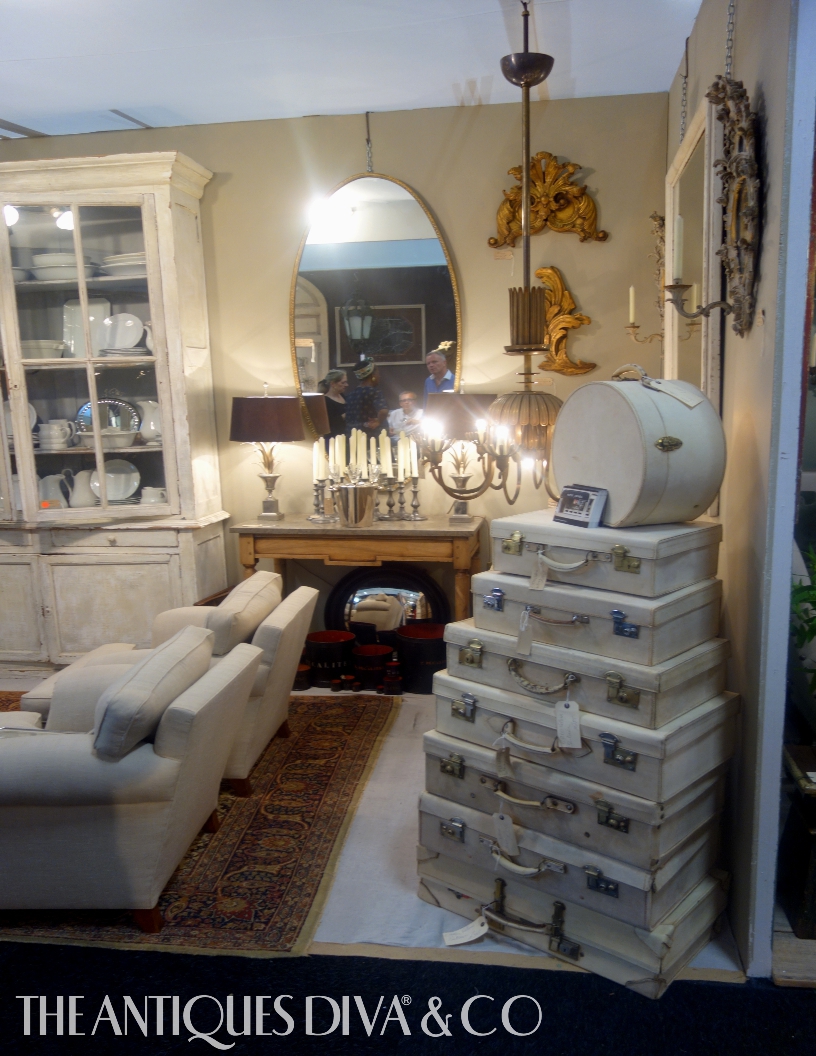 However, there are definitely serious shoppers at this renowned fair. Famous actors,  international socialites and philanthropists all frequent Battersea. In fact, just a few days after we were there, Oprah Winfrey dropped by to peruse the stalls. Nothing like bumping elbows with celebrities while sipping champagne and shopping for antiques!!!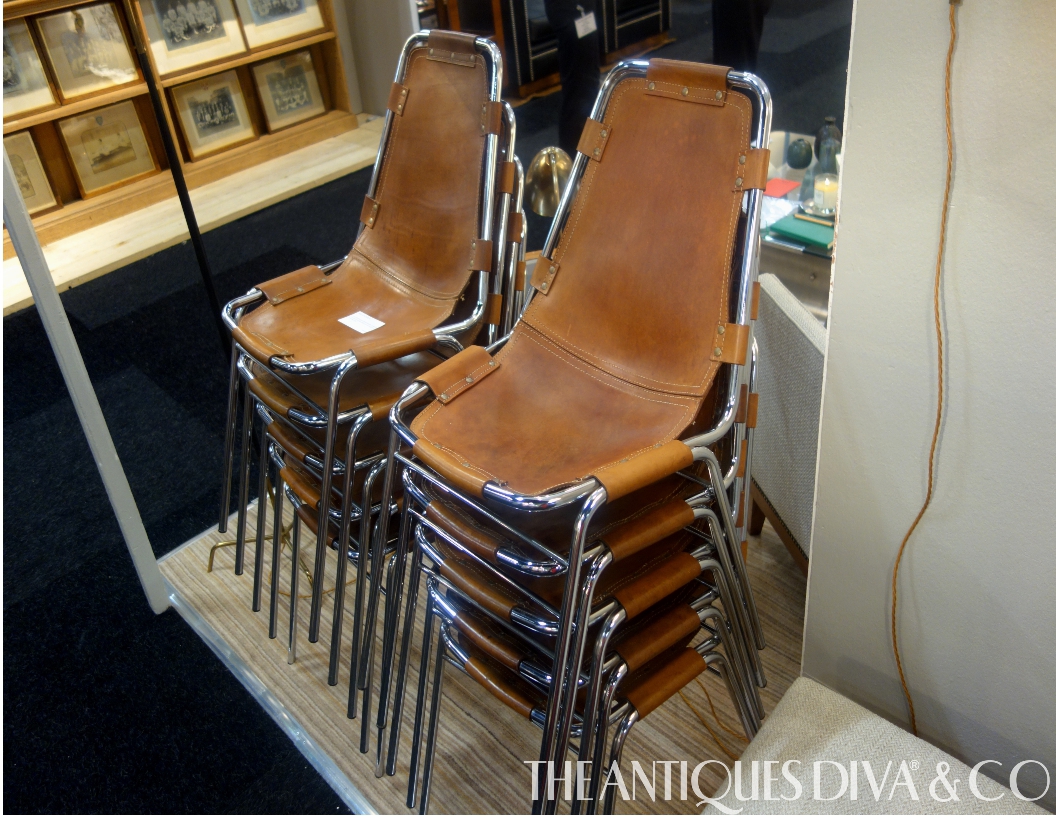 All in all I'd say that this is certainly a "do not miss" event. More than just shopping, The Decorative Fair at Battersea Park is an experience. And my team at The Antiques Diva & Co feels so privileged to count several dealers at the 2014 fair as friends and favorite sources that our clients consistently have access to. Sometimes it's surreal to think that we have the same sources as celebrities and royalty…but the truth is, we do!
If you'd like information on taking an Antiques Diva & Co Buying Tour in any of our 8 tour countries, email us at info@antiquesdiva.com.
Happy Shopping,
The Antiques Diva®
Dear Diva Readers,
Recently on an Antiques Diva Tour, renowned antiques dealer Spencer Swaffer played host to a group of Designers on an an Antiques Diva / Nobelinks Design Tour in the UK.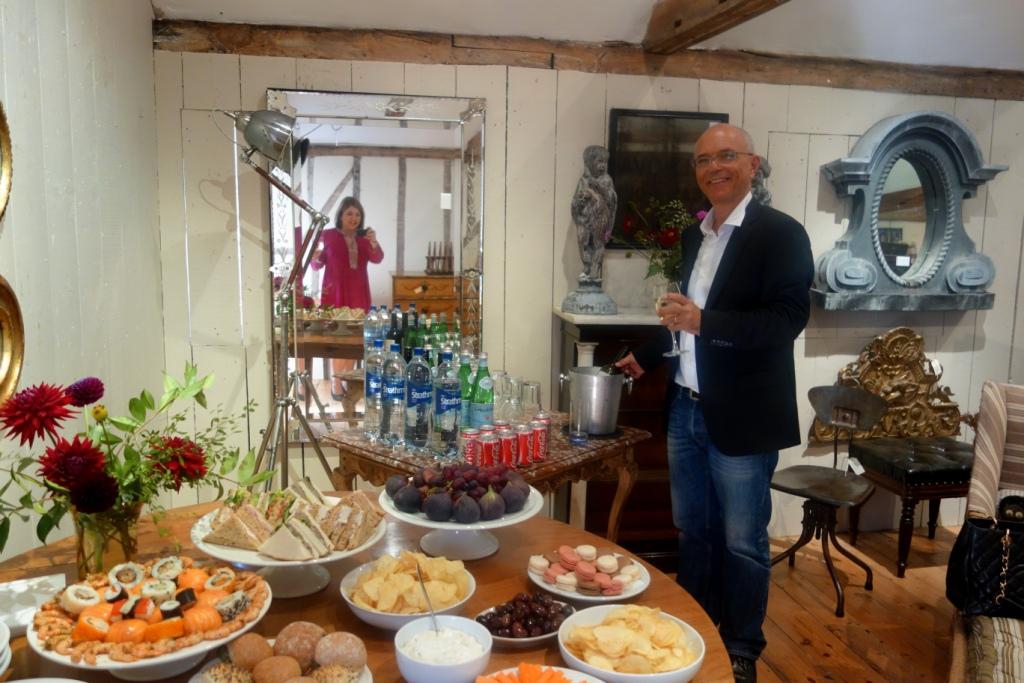 The role of host is a well-known role for Spencer and his wife Freya.  Spencer continues his hospitality hosting this month a pop-up shop as part of a mentoring program offered through Antiques Young Guns.
As part of the Antiques Young Guns awards earlier this year a young Welsh dealer named Paul Alexander Jones won a coveted spot to open a small pop-up shop within Swaffer's store for the next ten days (cleverly in conjunction with Battersea Decorative Fair which is less than a two hour drive from Swaffer's store).
Much of the stock offered by Jones does not appear online so venturing to the pop-up gives would-be clients a glimpse into an exclusive inventory of antiques. Hailing from a very rural North Wales town, Jones offers 'country' style pieces– think richly glazed potter, beautifully figured timbers and charming, naive folk art. Paul confided he's bringing some warm Welsh tapestry blankets to sell—perfect timing if you ask me, as Autumn is upon us!
As I'm constantly combing over Europe for the best antiques dealers, whether that be quality of pieces or best prices, I'm always thrilled when new talent developed in the antiques field. Having opened his shop in July 2012, Paul Jones is sure to learn a lot about the antiques trade while being mentored by sage Spencer Swaffer. I'm excited to hear more from Paul and see how networking with other established dealers enhances his business!
If you'll be in the Arundel area over the next week, stop by and say hello to Paul and Spencer. Tell them The Antiques Diva sent you!
Happy shopping,
The Antiques Diva®