Dear Diva Readers,
top: 5px; float: left; color: white; background: #781300; border: 1px solid darkkhaki; font-size: 60px; line-height: 50px; padding-top: 1px; padding-right: 5px; font-family: times;">When most people think of antiquing in Europe, they envision strolling through the Paris Flea Market or shopping the French countryside.  Some fantasize about unearthing treasures in Italy, ambling down antique filled lanes in England or finding the perfect painted piece in Sweden. We help clients antique in all of these scenarios, however there is one teeny tiny country in Europe that those not "in the know" tend to forget.   Belgium is Europe's best kept secret.  I've said it for years… Belgium is a girl's best friend! For a country barely the size of Maryland, it's positively chock full of treasures that delight from chocolate to fashion and a diamonds… and antiques.  Per capita there are more antique dealers in Belgium than practically any other country in Europe, making it an ideal country to take an Antiques Buying Tour!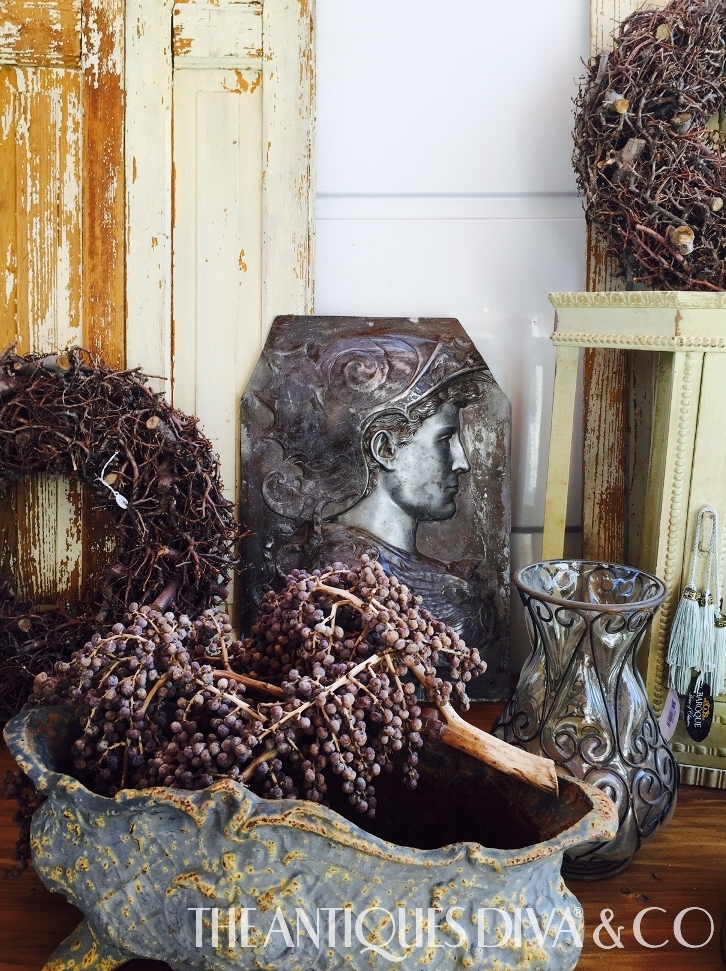 When taking clients on buying tours in Belgium, we typically stay somewhere central – often basing ourselves in Antwerp – and from there proceed to cover the entire country in about 3 or 4 days. If you drive an hour in any direction from Antwerp you find yourself crisscrossing the country from north to south, dipping into both Holland and France and working your way towards the German border. Each day on tour we shop a variety of places – from small antique shops to large over-the-top warehouses.  The next day we'll take clients to specific dealers hand-picked for them, often meeting the dealers at their own homes, in private residences and shops that aren't really shops, but storage units opened only on appointment.  Our third day on tour in Belgium tends to be ALL about the flea markets.  For those really motivated we wake early and pillage Waterloo…  but my favorite Belgium Flea Market after all these years is still the Tongeren Flea Market, which literally takes over the entire town center each Sunday of the year snow, rain or shine.   On a Belgium Buying Tour our clients have usually spent the first two days of their tour buying furniture and special art pieces so the flea market day is typically all about the smalls, which when shipped are essentially shipped for FREE as they are packed inside the drawers and cupboards they've already purchased – this maximizes client's shipping costs!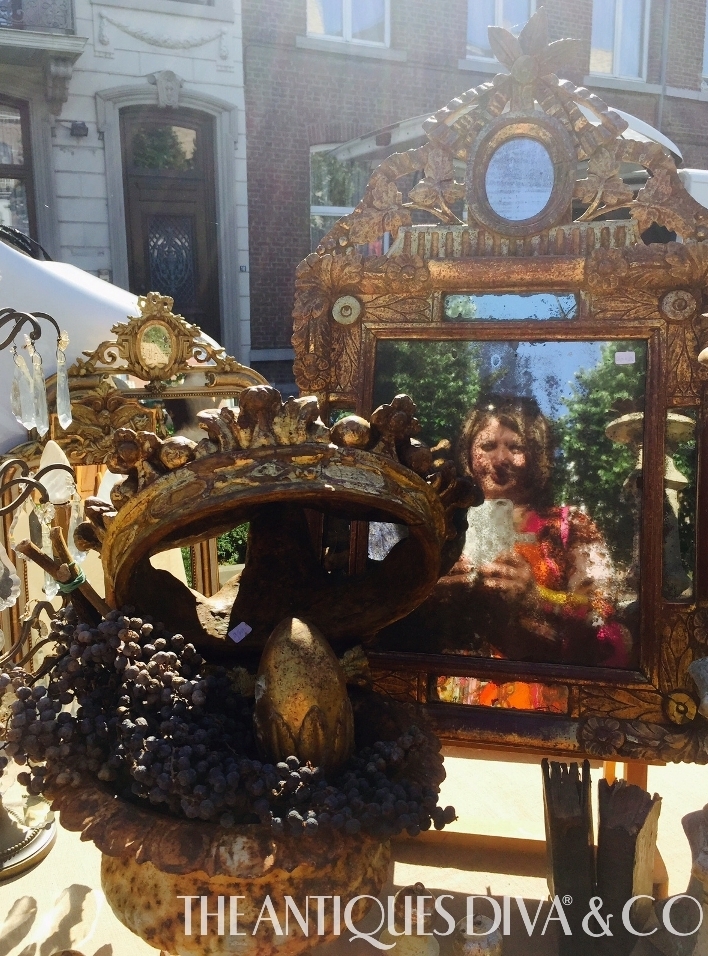 Tongeren Flea Market has several sections.  As I always I have a plan of attack, I  always begin at the stalls which line the Leopoldwal – the street opposite the old Roman wall.   Here we have a few favorite dealers who consistently have excellent inventory – one of my favorite is the gorgeous blond couple with antique ironstone at incredible prices.   From porcelain to chandeliers and French manequins – some of my favorite vendors set up here.  Next up you have a choice  – you can wrap back around towards the town square – the Veemarkt.  The market weaves it's way around several streets – from the Maastrichterstraat, de Schiervelstraat, Clarissenstraat, and Eburonenhal.  But after the Leopoldwal shopping along the Roman Wall my second and third favorite spots to shop are the two indoor sections – in the Sports Hall and inside the Parking Garage.  Here you'll find everything from linens to crystal to furniture. Clients find all sorts of things such as wooden cheese boards, antique coffee grinders, mirrors, iron stone pieces, sculpture, and much more.  I think the better quality inventory tends to be found inside these 2 halls.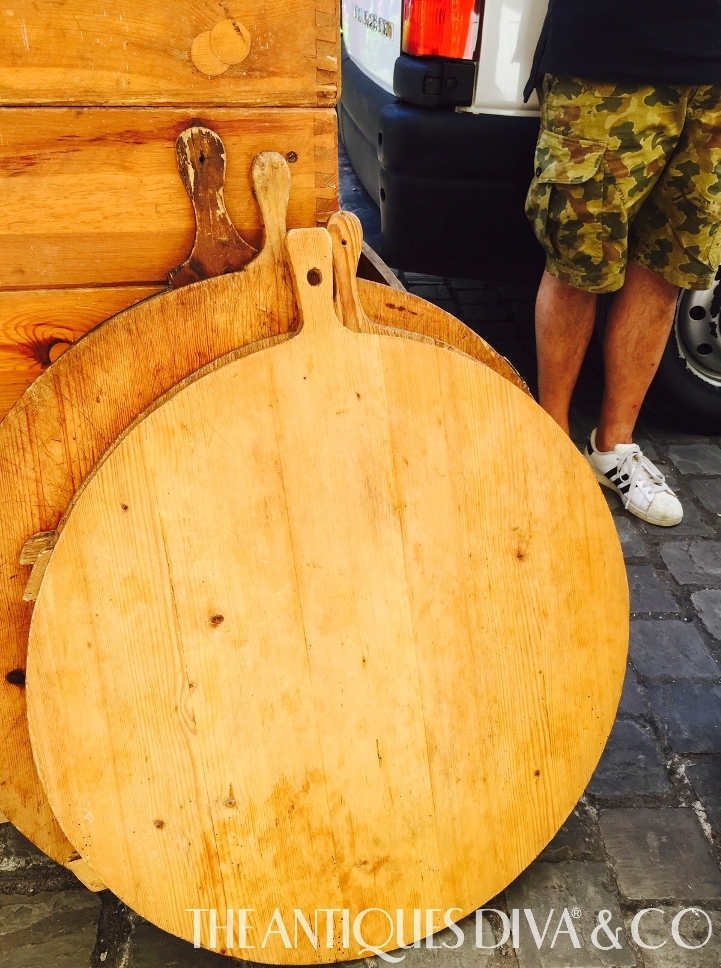 It's always such fun to see favorite dealers that we've been buying from for years.  A shopping tour at Tongeren involves running into old friends – from vendors to other dealers we know.  The great thing for our clients is that we have good relationships with these dealers, which means they not only give our clients the best prices they can but they also give a fun shopping experience for our clients – inviting our clients into their stalls as long-term friends rather than another tourist passing through for a day.  In town – and in the area nearby –  we have a slew of dealers we adore who have permanent shops where we stop of a glass of champagne or a coffee and cookies!
For anyone who loves flea marketing, Tongeren should definitely be on your list! if you'd like more information on taking an Antiques Diva Buying Tour in Belgium, email us at to:info@antiquesdiva.com">info@antiquesdiva.com. We'd love to show you our version of this small-but-amazing country!
The Antiques Diva®