Dear Diva Readers,
Continuing our ongoing series "Diva of the Day" featuring various Antiques Diva Personal Shopping and Buying Consultants/ Guides, today we're focusing on The Low Countries.  Meet Lucretia!!
Which Tours do you lead?
Belgium and The Netherlands
What do you like about your job?
Meeting people from all over the world. I've had clients from Australia, the USA, South Africa, Asia, and Europe. After spending a day or more together, it's as if we have known each other for years.
What do you consider your specialty in helping clients? What do you enjoy about helping clients?
I've been told by people in the antiques business that I have a good eye for quality.  Give me five vases and I will pick out the best. This is not only thanks to my master's degree in art history, but also because I have aesthetics in my genes (my mother cannot stand ugliness – she even matched the clothes pins to the laundry when hanging it up to dry!)
When on the hunt with clients, my greatest pleasure is when I spot exactly what they were looking for, especially if it is the so-called needle in the hay stack.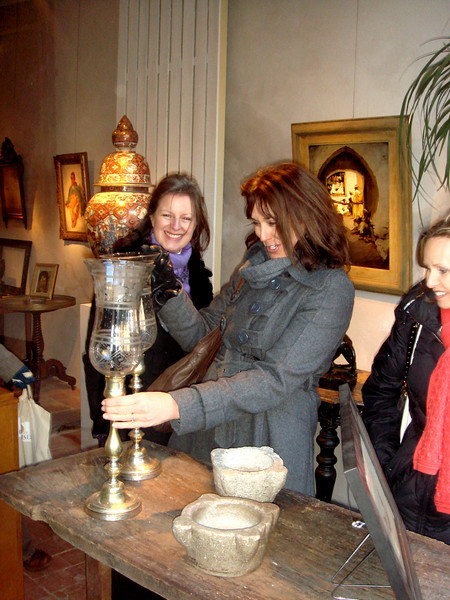 Where did you grow up?
I grew up in Flanders, the Dutch-speaking part of Belgium, went to university in the beautiful city of Ghent, and worked there for a few years. After marrying an American I had met in Milan, we moved to Amsterdam when he accepted a position there in the publishing business. After nine years, we moved out to the countryside a bit south of Amsterdam, to a pretty village called Breukelen. It is ideally located, between Amsterdam and Utrecht.
What do you do when you're not working? Hobbies? Interests?
You can often find me on the couch with a magazine about interior decorating, as I want to be updated about the latest trends. Same for fashion, you don't want to miss the developments. Things are changing dramatically in both areas; there are fewer rules, it's all about mixing and matching, old and new. A whole interior in one style is considered very boring nowadays — sort of like the way you match your Valentino jacket with a pair of jeans.
Traveling is my greatest hobby. There is so much to discover — all that cultural heritage. Life is too short to see most of it, even when you limit yourself, as I do, to Europe and the USA. I can happily spend a couple of hours per day in a museum, then go (window) shopping, or enjoy an afternoon cake while people-watching.
I also spend at least an hour a day on preparing healthy and delicious meals — Italian style, lots of vegetables.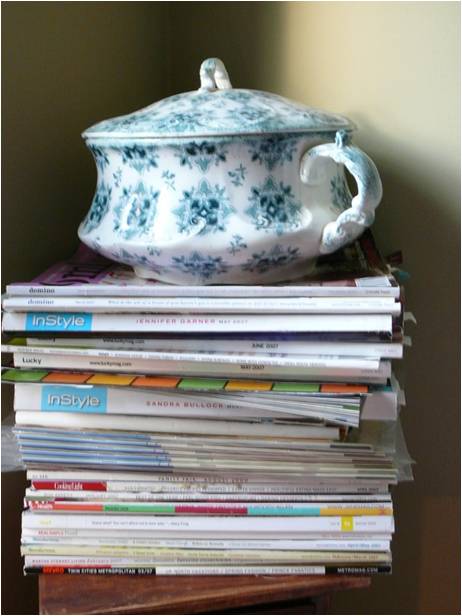 Favorite spot to vacation?
Definitely a big city, with lots of cultural heritage. London, Paris, Berlin, Vienna, Barcelona, that kind of place, where you can alternate historic sights with shopping. But my favorite country is Italy. I've seen most of it, with the exception of the deep South, and their style and language just make me feel happy.
Do you have a favorite museum or work of art that inspires you?
Nissim de Camondo and Jacquemart-André in Paris, the Wallace Collection in London, the many palaces in Potsdam — to name a few — I love, because they are kept exactly as when they were lived in. When in Amsterdam, I always pay a visit to one of the canal house museums, like Van Loon, Willet Holthuizen or Geelvinck Hinloopen House. In an intimate setting you can dream about the splendor and wealth of the 18th or 19th century, and you get an idea of how houses were being decorated, even to the smallest details.
In the area where you lead your tours is there a special place you like to go? Perhaps it's an area of town or a favorite cafe to drink your coffee?
In The Hague I like the opulent dining hall of the Hotel des Indes, also for just a cappuccino, while in Amsterdam my favorite area is the Nine Streets, situated between the canals and full of specialty boutiques. When I'm in Antwerp, I find the cafe in the rotunda of the Bourla theatre, dating from the early 1800s, a glamorous decor for relaxing. In Brussels, I would go to a typical Art Nouveau café like café Falstaff or the Ultimate Hallucination.
What do you think is the hardest thing for clients on tour? What do you recommend to help the client with this problem?
The amount of stuff we see in the warehouses, or on the flea markets, can be overwhelming. If the client gives us an idea beforehand what to look for, we can search more explicitly. And: allow some time for relaxing; a quick lunch can help to revive the fire of curiosity.
Give me 5 words that describe your personality
Affable, discerning, intuitive, self-confident, traditional.