Dear Diva Readers,
top: 5px; float: left; color: white; background: #781300; border: 1px solid darkkhaki; font-size: 100px; line-height: 90px; padding-top: 1px; padding-right: 5px; font-family: times;">We have a weekend tradition Chez Diva that delights me.  Though my husband "The Wine Guy" tends to work long hours and doesn't cook during the week, on the weekends he dons his apron and whisks up a batch of his world-famous scrambled eggs.  Perhaps he was inspired by watching Frasier during some formative years, for I hear the blues coming from the kitchen as he cooks…

"Hey baby, I hear the blues a-callin' Tossed salad and scrambled eggs
And maybe I seem a bit confused, yeah maybe, but I got you pegged!
But I don't know what to do with those tossed salads and scrambled eggs… they're callin' again."
After whisking the eggs, he serves a side of tossed salad or creates beautiful plates of mozzarella and tomatoes and in general treats me to his version of a diva-style brunch.   Hmmm, perhaps that should be called an Il Divo brunch?
tomatoes-and-mozarella.jpg">
tomatoes and mozarella" src="https://antiquesdiva.com/wp-content/uploads/2011/04/tomatoes-and-mozarella.jpg" alt="" width="614″ height="461″ />
He arranges little bouquets of cherry tomatoes around my plate and toasts bread with butter.  Midweek we tend to eat a yogurt for breakfast, maybe a bowl of fruit or a  boiled egg – him usually on the run and me with an espresso in one hand and a spoon in the other at my laptop, catching up on yesterday's news, so weekends Chez Diva are special.  We might eat on the balcony or in our kitchen – and even, on occasion, on trays in bed… but "Tossed Salad and Scrambled Eggs" is one of my favorite Weekend Traditions.  We both have busy work & travel schedules and so these weekends when we are both home we recoup, restore and reenergize, taking time for each other and lingering over weekend traditions such as these.
tossed-salad-and-scrambled-eggs.jpg">
tossed salad and scrambled eggs" src="https://antiquesdiva.com/wp-content/uploads/2011/04/tossed-salad-and-scrambled-eggs.jpg" alt="" width="614″ height="461″ />
Those weekends are made even more special when my husband digs into our kitchen refrigerator, pulling out left-over caviar from one dinner party or another and generously dollopping the salty bursts of flavor in the center of my eggs.  An excellent substitute for salt, I've found caviar to be the perfect ingredient combined with scrambled eggs and you must admit, it does add a Diva-Flair to weekend brunches!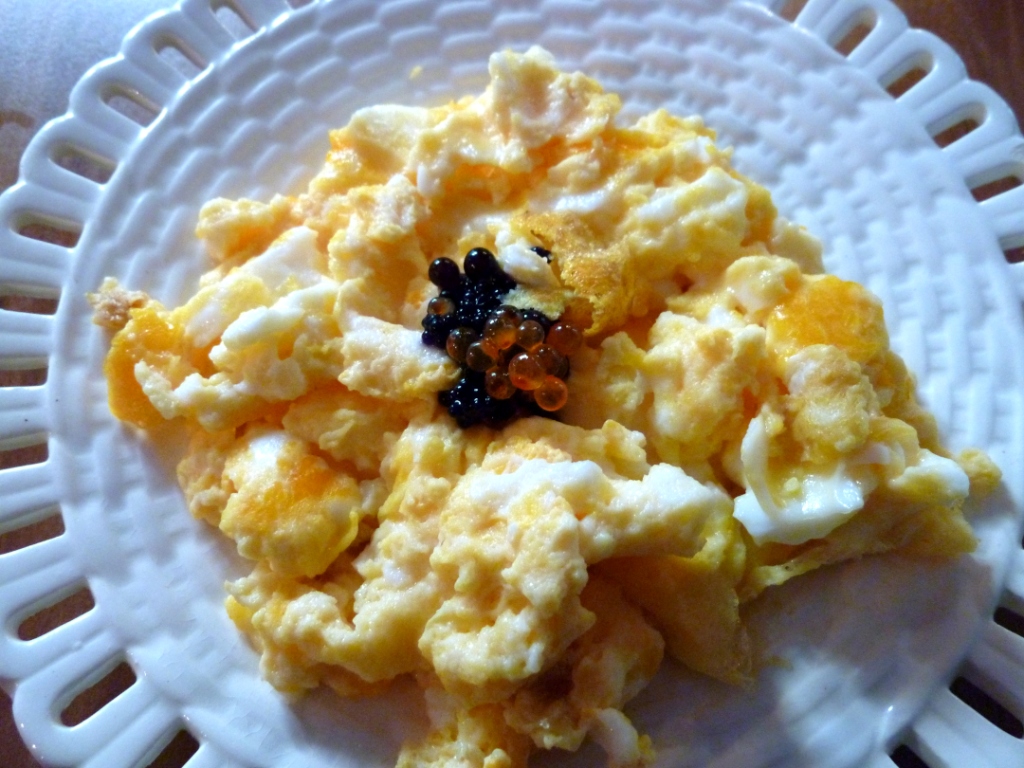 If I'm helping in the kitchen I tend to add some steamed asparagus to the options or perhaps toss in some shaved truffles or when I don't have those musky mushrooms on hand a drizzling of truffle oil. I fill a champagne flute with 1 part cranberry juice, 1 part San Pellegrino and a splash of pineapple juice for a pretty morning beverage.  Though I love the concept of Mimosa's, I am sad to say I can't drink champagne in the morning if I have any hopes of being productive during the day. 
Though my husband never cooks with recipes – using his taste buds to temper our morning meals – I think this French Scrambled Eggs with Caviar recipe by Michele Guerard does The Wine Guy's creation justice!
Oeufs Brouilles a la Michel Guerard
(Recipe Courtesy of Peter Kump's New York Cooking School) 
Ingredients:
6 large eggs
1 tablespoon butter
2 tablespoons creme fraiche
6 tablespoons finely chopped shallots
1 tablespoon finely chopped chives
Salt and freshly ground black pepper
3 ounces caviar
12 long thin pieces of toasted bread
Directions:
With a serrated knife, cut each egg shell about 1/2-inch from the pointed end. Empty the raw eggs into a bowl and reserve. Wash the egg shells (tops and bottoms) in warm water, then turn them upside down on a towel to dry completely.
Over very low heat melt the butter in a saucepan just large enough to hold the eggs. Beat the eggs with a whisk, pour through a sieve into the warm butter, and return to the very low heat. Beat constantly with the whisk gradually increasing the heat, until the eggs are thick and creamy, not solid.
Remove the eggs immediately from the heat and continue whisking while adding the cream, shallots, chives, salt and pepper.
Place the dried eggshells in egg cups. Using a teaspoon, carefully fill each shell 3/4 full with the creamed eggs, then finish filling each shell with 1 tablespoon of caviar. The caviar should be slightly domed on top. Place the little top of each shell on the caviar.  Serve with toast.
Bon Appetite,
The Antiques Diva®
(seen below at Padaste Manor – Muhu Island, Estonia – where they serve one of my favorite brunches in the world!)