Dear Diva Readers,
top: 5px; float: left; color: white; background: #781300; border: 1px solid darkkhaki; font-size: 60px; line-height: 50px; padding-top: 1px; padding-right: 5px; font-family: times;">No matter where I am in the world, I constantly have people coming up to me asking the same question… "How do you do it?!"  They wonder not only how I juggle my slightly insane international travel schedule which has me traveling each month in multiple countries (if not multiple continents); but also how I have rapidly grown my company from being a one-woman brand into a full-on business with nearly 20 employees scattered over 10 countries.
Over the last several years my role within in my company has shifted. In addition to leading antique buying tours and offering personal shopping services, I now manage a team of locally-based " Diva Guides" who lead tours for me across Europe.  I'm managing a global company that has HR and Accounting demands as well as Marketing needs with a full-on PR machine behind it.   These last several years my role has also shifted to encompass speaking at conferences and design markets – I love sharing my knowledge of European antiques, teaching clients – whether on tour or in one of my seminars – how to source antiques, explaining what to buy and where to buy it and then answering the all important question…. how to get it home.  But here lately the biggest question my clients and attendees of my lectures have asked is for my advice as a woman entrepreneur….  "How do I start my own company? develop my brand? take my business to the next level?  What words of advice – or encouragement – do you have for me  in growing my business/brand?"  They also want to know about that about that all important question of maintaining a work/life balance.  How I organize my time, my to do lists, my company and my life.  I'm passionate about the subject and thus this genre of questions have taken on a life of their own and I've decided to announce a new blog series I'll be posting the first week of each month "On Being a Woman Entrepreneur".
Advice #1
My first bit of advice I give anyone who asks me about growing their business is to Be Adaptable.  Be Open to Change. Look at what the market is demanding and think outside the box regarding what you and your unique service can be to meet those needs.  Many of my loyal blog readers know my story. I started my blog on antiquing in Europe with an intent to write a couple of books.  What I got in return – an international company operating in 10 countries with 20 employees –  was a million times bigger than my original dream.
to Business, Toma Clark Haines, The Antiques Diva, The Secret to Success " width="375″ height="538″ />
Advice #2
Don't be afraid to dream a little bigger, darling.  Don't be so focused on your own goals that you miss an opportunity when serendipity slaps you over the head.   When the recession hit in 2008 and the publishing industry dried up, telling me my luxury-based travel books wouldn't sell, I didn't give up my dream of being "The Antiques Diva".
to Business, Toma Clark Haines, The Antiques Diva, The Secret to Success " width="375″ height="542″ />
Advice #3
Never Give Up.  I continued working on my blog to establish a platform that would establish me as an expert in my industry.  As they say when one door closes, another one opens. Readers of my blog started emailing me asking if I would take them on tour. I said Yes.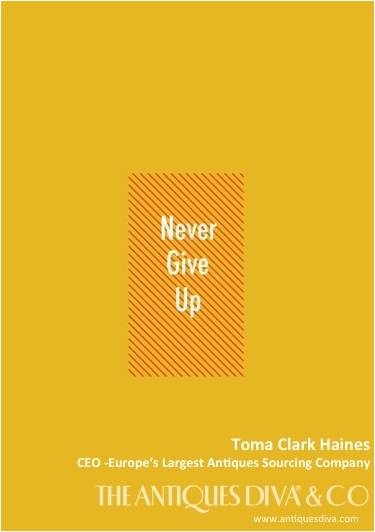 to Business, Toma Clark Haines, The Antiques Diva, The Secret to Success " width="375″ height="532″ />
Advice #4
When opportunity strikes – Say Yes.  For me, one "Yes" turned into another and then another and the rest is history – but I have a confession… I was tempted to let self-doubt stand in the way.
to Business, Toma Clark Haines, The Antiques Diva, The Secret to Success " width="375″ height="518″ />
Advice #5
No matter how much you know – you will never know enough.    There will always be reasons to doubt yourself.  When readers first started emailing me asking to take tours – I could have said "I'm not an expert yet", "I don't know enough" or "I need more time."  And in fact – I said all these things to myself. And then I threw myself off a cliff.  Okay, not literally. Figuratively. I said Yes in spite of my self-doubt and that first Yes changed my life. It can be so easy to get caught up in the small details, but remember:  your objective is to grow steadily, not start out perfectly.
Advice # 6
When opportunity strikes do not be afraid to take a chance.  Don't over-think your decision.  If you wait to start your business until you know everything there is to know about your industry, you are never going to start your business
Advice #7
Screw the business plan.  Yep. This is one piece of business advice no one will tell you.  Do not wait until you've got the perfect business plan in place to start your business.  Yes, you DO need a business plan. But it doesn't have to be perfect.  A good business plan will evolve over time. My business changes, grows and adapts nearly every month – and if you want to know the secret to our success as a company – go back and see Advice #1 – Be Adaptable.  But before you can adapt… you've got to get started first.  And from my experience the biggest obstacle people have in starting their own business is they actually never start it! They spend too much time thinking about starting a business and not actually doing it.
to Business, Toma Clark Haines, The Antiques Diva, The Secret to Success " width="375″ height="532″ />
Advice #8
Just Do It.  The best piece of advice I can offer comes from the popular Nike slogan – Just Do It!  The biggest thing that holds people back from achieving their goals the fact that they just don't do what they say they want to do.  It seems simple, but so often we think we have to be perfect or we have to have a fail-proof plan before we can even begin to take steps toward our dreams.  That simply isn't the case. You have to start somewhere and even if you don't have all the knowledge at the beginning, you will learn by experience along the way.
Advice #9
Don't be afraid to make mistakes.  You will make mistakes.  Accept them. Learn from them. Apologize if you screw up along the way and move on.  The only person who never makes mistakes is someone who never takes chances.
Advice #10
Most goals are reached by taking one step at a time. When people ask "What's the secret to my success…" the answer is simple… for the last 7 years since starting my company I have continued to put one foot in front of the other.  Every single day I have walked steadfastly in the direction of my goal.  I've taken detours along the way,  I've even fallen down a few times.  And I changed the destination, making my goal bigger – and my destination further away – than I ever intended when I started out.  But I have never once taken my eyes off my goal – my destination. Between you and me,  I'm still a long way from reaching my destination – but I can see the destination on the horizon… and in the meantime, life's a journey….
As I close I leave you with one last bonus bit of advice – consider this the extra donut in the baker's dozen – Start now, Right Where You Are, And Do One Thing To Achieve Your Goal.  And then Do It Again. And Do It Again.  And Just Keep Doing It.
Until next time, may all your dreams come true.
to Business, Toma Clark Haines, The Antiques Diva, The Secret to Success " width="600″ height="450″ />
The Antiques Diva®