Dear Diva Readers,
top: 5px; float: left; color: white; background: #781300; border: 1px solid darkkhaki; font-size: 60px; line-height: 50px; padding-top: 1px; padding-right: 5px; font-family: times;">Once upon a time there was a very lucky client… who had a fabulous shopping list, seeking some Swedish painted pieces in addition to a bevy of Belgian delights luxuriously covered in linens.  She didn't just want any tour – she wanted to go to sources beyond the borders, delving deeper into the magical countryside seeking far away lands.  What's The Diva to do when faced with such a client? Take them to Wallonia of course – that French speaking region of Belgium – to an area on back roads straight out of a fairy tale.
tours of Belgium, Belgian Antiques Dealers, Toma Clark Haines" width="600″ height="398″ />
Part of what makes The Antiques Diva Tours so special – if I do say so myself –  is that we custom plan tours for each client whether they're requesting a fairy tale or a hard core buying experience that has them sourcing from dawn til dusk (which during the long days of summer can run from 5am to 10pm).   Each tour is as individual as our clients are!  Once we know what type of pieces and what type of experience a particular client is looking for we delve into our little black book of sources – some public, some private residence – and map out a route specific to that person's shopping list, planning each and every detail along the way. A comment that we consistently hear from clients post-tour is "Wow! I never would have found those places without you!" That's our specialty: Taking you to hidden gems and introducing you to our sources so you can find the perfect pieces and have the best European experience – an experience fit for a Diva!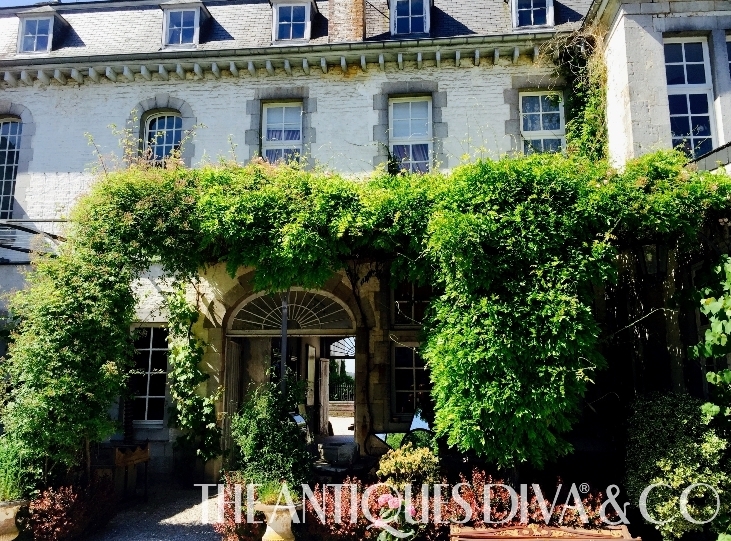 On a recent buying tour in Belgium, we took a client to perhaps one of the most sensational sources in all of Belgium… the Chateau de Deulin.  The Chateau was built in 1758 and remains a private residence to this day – for 300 years it's been in the same family and the family has opened up their home only on appointment to sell antiques!
First arriving the Chateau we take a long walk up the driveway appreciating the proportions of the Chateau and sighing over the fact we've stepped into a real life fairy tale.  Entering through the center courtyard we pass through a pair of large gates – a walled garden can be glimpsed just to the north of the house. We later learn that this garden, which dates back to the 18th century, was restyled into a French garden at the beginning of the 20th century and remains as such today.  The U shaped main house is comprised of whitewashed bricks and blue stone and welcomes guests with an inner courtyard surrounded by outbuildings including its own chapel. There's even a tower that has me convinced I'm hearing "Rapunzel, Rapunzel… Let Down your Hair" echoing in the wind.
We are greeted by the gorgeous young Monsieur Simon de Harlez and his even more beautiful girlfriend, Ivy, who graciously welcome us into their home. Oh la la… both my client (and myself) feel like we're in heaven.  I'm certain God is the ultimate interior designer – and these rooms are fit for a diety.  We sigh over the sumptuously decorated rooms, mostly in the rococo style with a mix of European furnishings and decorative accessories, and my client's cries of ecstasy get louder when she realizes many of the pieces are for sale! On this particular trip we were just shopping at the Chateau but my client immediately begins making plans to return with The Antiques Diva & Co when she discovers that Chateau will open up its private guest rooms for accommodation and special meals in the dining room for clients of The Antiques Diva & Co! Incidentally I failed to mention that the gorgeous dining room… one of my favorite rooms of the "house"…  is decorated with original paintings depicting hunting scenes – a reminder of the days when the Chateau de Deulin was used as a "little" hunting lodge.
Today the stable has been converted and now houses antiques that are for sale. Simon's father, Stéphane de Harlez, is a renowned Belgian antiques dealer and takes us through each "room," excitedly chatting in French about each piece.  When he compliments me on my French, I laugh and say "Je parle comme une vache"  (I speak like a cow) to which he responds… "Moi?  I speak like a BULL!" 
Purchases made, we're invited to join the family in sharing some wine and nibbles al fresco  While sipping our wine, we discuss Chateau de Deulin's upcoming antiques fair it hosts every year on the 2nd and 3rd weekend of October.  We're already planning a special trip for this event in 2015!
Our lovely visit complete and purchase orders written, we are ready to depart. After many cheek kisses, we hop in the car and pull away from this lovely estate, but I can't help wishing that we were staying here for a couple more days so we could explore this enchanting home and its grounds…. perhaps if you join me in October we can stay a while longer? 
Sometimes I have to stop and pinch myself and wonder what more could I ask for. Oh, and speaking of asking for more, the family also owns and operates an antiques warehouse not far from the Chateau. Of course, we went there as well! A Diva's job is never done!
The Antiques Diva®