Dear Diva Readers,
Last year I was asked by my friends at Chairish to create a style board for a room inspired by one of their vintage rugs. For those of you who don't know, Chairish is a curator-approved online marketplace for vintage and used furniture. This year they've challenged me to design a "woman cave" inspired by a set of vintage bar stools from their site! As I believe that antiques and vintage pieces are completely relevant in today's lifestyle, I've chosen to create a style board using only antique and vintage items available at Chairish.com— but rest assured the vibe is anything but old fashioned and stuffy! Without further ado, I give you my "Diva Den!"
Mid-Century Hairpin Barstools
I chose these barstools as my inspiration because I love the shape of them and brass is very "in." I would recover these beauties in a gray velvet…yummy!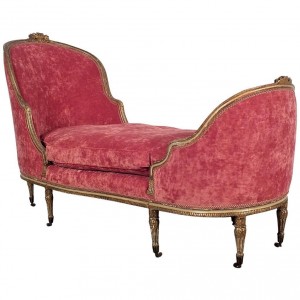 19th Century Style Giltwood Gondola Chaise Lounge
A beautiful 1890s French chaise lounge in the Louis XVI style would be the perfect foil to the midcentury barstools. The chaise has been newly upholstered in a Stark velvet, "Velours verdi Bois de Rose"with French multicolored gimp trim all along the frame. The single down cushion is also newly upholstered with a single piping along the edges, top and bottom. This chaise has nicely gilded wood, six legs and caster wheels—the perfect spot for a Diva to perch!
Charcoal and Cream Chairs
I would use this pair of matching round back Louis style armchairs upholstered in a charcoal and white wide stripe in the same seating group as the chaise lounge. The wood has been refinished in a semi-gloss heirloom white bringing some lightness to my Diva Den!
Baker Dining Table by Barbara Barry
As strange as it may seem, I would include this Baker dining table by Barbara Barry in Java colored finish in my Diva Den. I love to cook and even more, I love to host dinner parties! Setting a gorgeous table for my girlfriends would be a highlight to using my Diva Den!
Swedish Flame Birch Dining Chairs-Set of 6
This set of six fun and elegant dark golden flame birch dining chairs would be perfect surrounding my dining table. Newly restored and newly rebuilt with new padding, covered in a durable woven black and ivory Cheetah stripe fabric, makes them Diva-approved!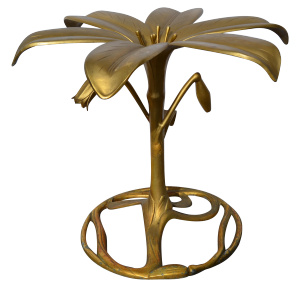 Arthur Court Gold Aluminum Cast Lily Dining Table
This is an original gilt Arthur Court aluminum cast Lily table. The top of the base resembles a lily flower to support a glass top, while the bottom of the base swirls around to resemble an art nouveau inspired stem. It is an unusual piece and is oh-so-very glam! I wouldn't use it as a dining table, but rather a side table between two chairs. This table comes with a 36″ round glass top, 3/8" thick, making it the perfect size to hold a stack of books and a couple martinis!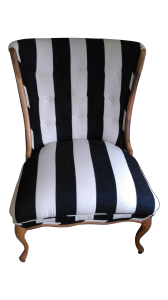 Mid Century Black & White Striped Chair
On one side of my lily table, I'd use this Mid-century tufted black and ivory striped accent chair. It's been totally refurbished with new foam padding and back and cream linen fabric with double welt all around. Carved wood trim has been stripped and waxed to let the gorgeous grain show through. The perfect chair to sit and have a long conversation with another Diva!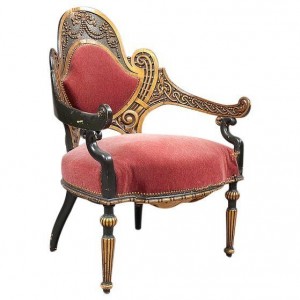 Aesthetic Movement Chair
This chair speaks for itself and would go on the other side of my lily table. I love this because it's unique and fitting for a sassy lady!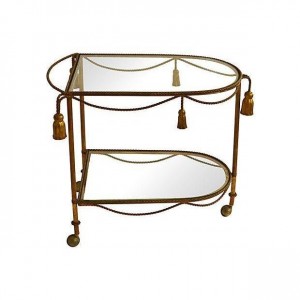 Gilt Faux Rope & Tassel Bar Cart
Who doesn't need a 1960's Italian gilded iron rope and tassel bar cart? With two glass shelves, it'll hold plenty of spirits which can be wheeled over from the main bar!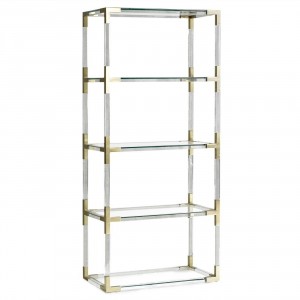 Jonathan Adler Lucite Acrylic Brass Etagere
Bring on the tough glamour. The Jacques Collection creates a bold balance of masculine lines and feminine finishes. The étagère mixes the jewel-like sparkle of custom-tooled brushed brass with Lucite construction. The result is modern decor with an heirloom-level of quality. It's perfect for displaying books and other favorite curiosities.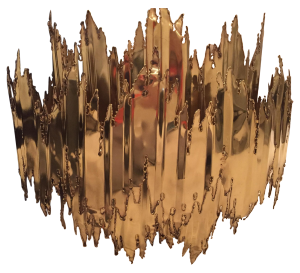 Brutalist Tom Greene Chandelier
This modern chandelier would help bring the entire room together! What a statement piece!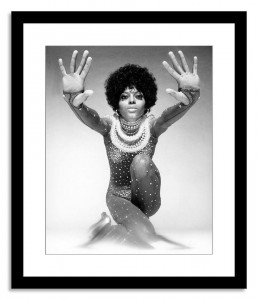 Diana Ross Framed Photo
Every Diva Den needs a photo of a true diva! Why not hang this black and white portrait of Diana Ross? In fact, I might just do an entire wall of diva photos…can you imagine? Talk about inspiration!
Zebra Hide Rug
Underfoot you can never go wrong with a zebra rug. The average size of a zebra hide rug is 10 feet from tip of nose to tip of tail 6 feet at the widest point making it large enough to rest under a seating group.
And there you have it! My Diva Den inspired by midcentury bar stools and decorated using exclusively items from Chairish.com! What would you put in YOUR Diva Den? Leave me a comment!
Stylishly,
The Antiques Diva®
Dear Diva Readers,
Last year during Maison Objet I was delighted to meet one of the team members of Chairish, a curator approved online marketplace for vintage and used furniture.  When they recently asked me to choose a vintage rug from their site and design a style board for a room around said rug, I was up for the challenge!   When choosing a color palette for a room, it can be hard to step away from basic neutrals– going bold is a big decision. But as I always say "Fortune Favors the Bold!"… and "Go Bold or Go Home!"
Part of my mission is to make antiques relevant in today's lifestyle. To me, that means mixing antiques with vintage and modern pieces to reflect
the way we live in the 21st century. Below you'll see the rug I chose and then a mix of pieces—all available at Chairish.com—that I think would work
well together in a space.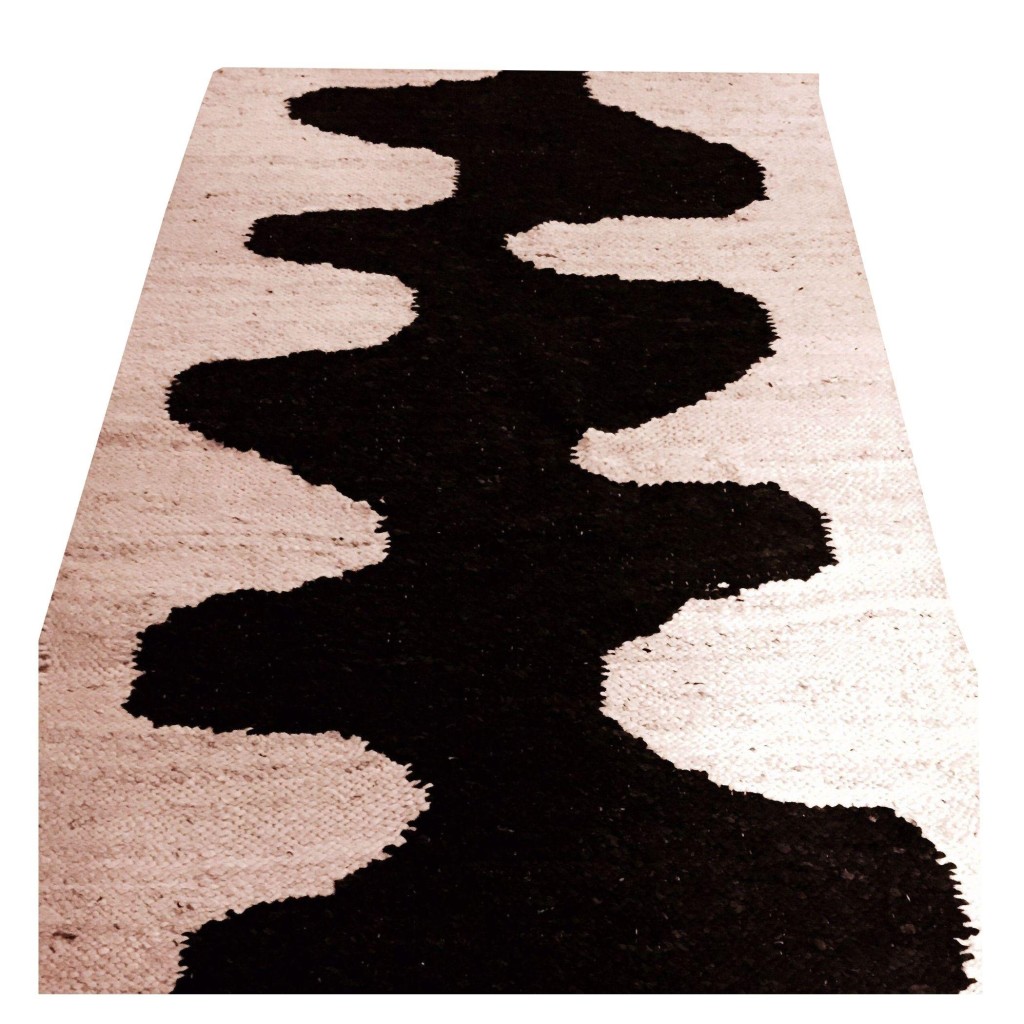 I love this beautiful Mid-Century Modern style sectional sofa. It looks comfortable and sleek. It's fairly new, being only a year old and
well maintained. Starting with this piece we've already got a hip vibe going, but I want to mix in some antiques that will make my imaginary room
super stylish!
This suede pair of classic French chairs with nailhead trim would be the perfect foil for the modern sofa. Probably from the mid-20th century, the pair is nicely made and are in very good vintage condition, with a couple of very small spots on the upholstery—which is one reason I would suggest reupholstering them. While at the upholsterers, I'd have them painted black and recovered in a malachite patterned fabric to give them an entirely new look!
This stunning vintage Neo Deco brass ram's head coffee table is the ideal statement piece. The gleaming brass finish of the three ram's
heads contrasts brilliantly against the shiny black lacquered bass. It features outstanding quality construction with a three quarter inch thick
circular glass top. Here is where we start to add in touches of brass and gold to warm up the space.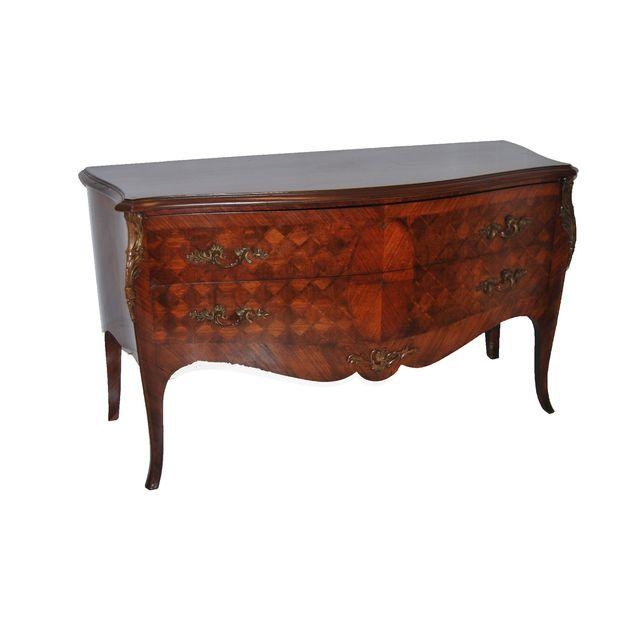 Across the room, I'd place this French provincial Louis XV Style serpentine walnut and veneer commode. This piece would compliment the chairs while contrasting with the sofa and modern rug. Things are starting to get interesting!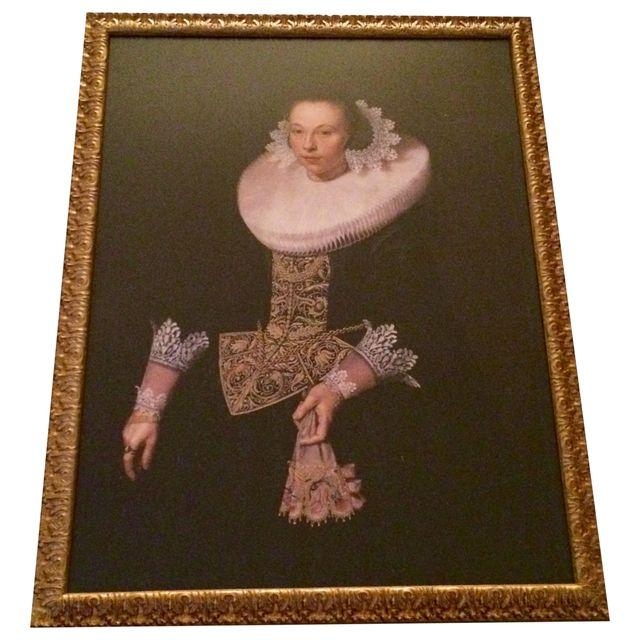 Above the commode, I'd hang this vintage-inspired portrait of an aristocratic lady in the 1500's. With its ornate gold frame, this sets the tone for a dramatic room. However, I'd place some modern accessories such as this unique black glass head, which was once a display mannequin. Mixing in some modern pieces keeps the commode from feeling stuffy.
While we're dotting the room with modern touches, I love this 1960's Noguchi styled sculpture on a custom stand.  This piece would be stunning in front of a window.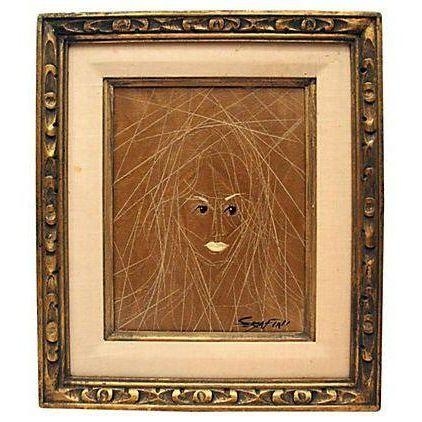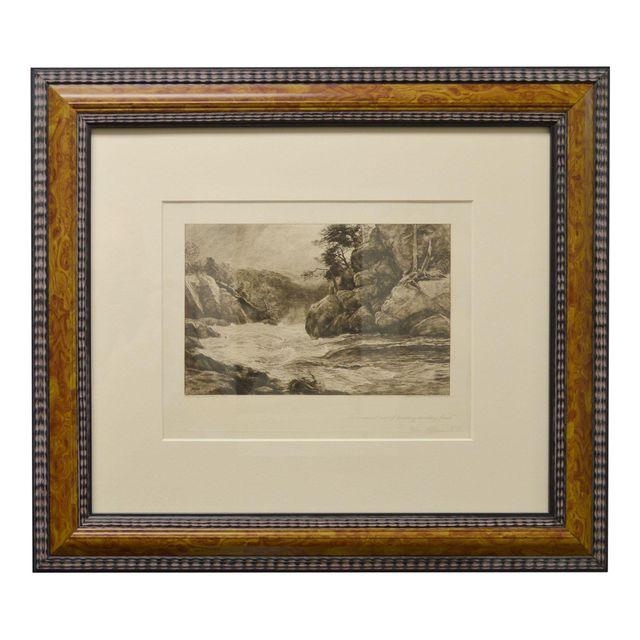 For the walls, I'd hang this vintage monochromatic portrait which features a restrained color palette, offset by the gilt wood frame. Above
it I'd also hang this original 1896 framed and matted etching of whitewater rapids in Glen Affaric River in the Scottish Highlands.
Over the sofa, I'd hang this French style gold leaf mirror for added glamour. Every room needs a mirror and the style of this one contrasts with the modern sofa perfectly while also tying in the French chairs and the commode.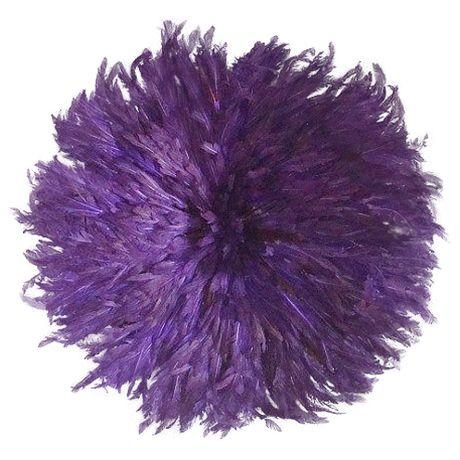 For a few pops of color, I love this purple JuJu African feather headdress along with this emerald green glazed ceramic Asian-style lamp.  With its brass neck and a new black fabric shade, it ties in nicely with other pieces in the room.
For overhead lighting, I'd finish the room off with this modern brass sputnik light with a raw brass (unpolished) finish. I think it adds just the right touch to this eclectic mix of pieces!
So there you have it! A fun melange of antique furniture and mid century pieces create a playful yet stylish space that is comfortable and elegant
at the same time – exemplifying that Antiques Diva Style!!
Thanks to the lovely people at Chairish for giving me the opportunity to dream up a space inspired by one of their gorgeous rugs!  Go check out the other lovely rugs they offer on their site!

Until next time,
The Antiques Diva®