Dear Diva Readers,
Some people may think that I'm difficult to buy for, but the truth is, all I want for Christmas (or any time of year!) is vintage Chanel! Check out some fabulous pieces offered by one of our favorite vintage fashion source in Paris, Les Merveilles de Babellou. And if you should happen to feel generous, you can send any of these lovely pieces to my flat! And by the way, Les Merveilles de Babellou has so much more than just Chanel pieces—peruse their website for some seriously drool-worthy vintage goodies!
Now let's talk prices! What's it cost to buy vintage Chanel?
A timeless Chanel bright red quilted patent leather bag decorated with a CC clasp and a silver metal shoulder strap chain interlaced with red leather. Simply perfect! 3800 Euro
These Chanel clip earrings made of gilt metal and adorned with blue, red, and green glass paste cabochons would be perfect for the holiday season! 530 Euro
Chanel by Gripoix atelier, a necklace made of several rows of faux pearls with an arabesque element in blackened gold metal with multicolored cabochons and four chains of red glass beads. A true stunner! 3800 Euro
Chanel by Gripoix atelier, a demi-parure consisting of a pearl necklace with a centered brooch and a pair of clip earrings both in golden metal and blue and green glass paste. 3500 Euro
A Chanel transparent resin bracelet encrusted with black and green tweed, small CC logo and a silver metal chain interlaced with black tweed. 850 Euro
Merry Christmas, and as Coco might have said "May All Your Christmases be Stylish and Chic!"
The Antiques Diva®
Dear Diva Readers,
Here at The Antiques Diva & Co we love nothing more than shopping for antiques all across Europe, but one thing that helps make the Antiques Diva experience so special is our wonderful Guides! Jennifer is one of our local Paris Guides and we sat down with her recently to discuss a few of her favorite things about Paris and the Antiques Diva Tours in this City of Light! The best part about having locally based Guides is getting all the inside scoop concerning the antiques industry, trends, and where to get the best bargains. With that in mind, let's chat with Jennifer…
Antiques Diva®:
What is your favorite piece you've found while shopping the Paris Flea Market?
Diva Guide Jennifer:
My favorite piece would be a bould de rampe / boule d'escalier. My father collected them while I was growing up so they are special to me, and are hard to find now. Often they are Baccarat or Saint Louis, so of course French. Think ornate crystal ball that goes on the top of a newel post for decoration. Like bling for your stairs!  One time I found a pretty grass-green one that was an unusual color so of course it had to be added to the family collection.
Antiques Diva®:
What type of pieces would you say a client could find for a bargain in Paris?
Diva Guide Jennifer:
I find that you can often get a bargain on bigger/heavier pieces; things that are harder to get home and not as easy to fit in with today's scale (smaller rooms with lower ceilings). Most people can make room for a desk (bureau) or commode (bureau), but a large armoire or bonnetiere (with one door) can be harder to place. I find that some of the darker and carved pieces in the Louis XIII or even Louis XIV style can be too visually heavy for a lot of people. They just aren't as popular as the Louis XV or Louis XVI pieces, therefore you can pick them up for a better price.
Antiques Diva®:
What makes the Paris tours special in your opinion?
Diva Guide Jennifer:
First of all the Paris tours are in PARIS, and who does not want to go to Paris?! Beyond the incredible city that we are in, I think the particular history and folklore of Les Puces adds to the charm and allure of the tours. The sheer size, variety, and selection of what is available is truly something to behold.  The proximity to Paris is also a plus. If you know where to go and what is really worth seeing, the markets can easily be seen in half a day. You don`t have to be a dealer to enjoy the experience. To me it is like the other monuments in Paris; something that should be seen by everybody. I have had many clients spend many hours at Les Puces and then still be back in Paris to enjoy a kir near the Eiffel Tower later in the afternoon.
Antiques Diva®:
What type of pieces can one expect to find in Paris?
Diva Guide Jennifer:
I think Paris has a great scene for some of the big names in Parisian couture. Chanel fans will be amazed at the selection of clothing and purses and collectors will be impressed with the choices and variety of jewelry. We also have some excellent sources for vintage Louis Vuitton luggage or trunks. Goyard is also a favorite but not as well known.
Antiques Diva®:
Do you have any secret sources in Paris that may not be available to the public?
Diva Guide Jennifer:
While not really secret, I think the Drouot (Parisian auction house) has amazing bargains. It can be intimidating and complicated for foreigners, but the bargains can be shocking. This is where I always take family and friends if they want a real Parisian experience without the Parisian prices. We do offer Paris Auction House tours!
Antiques Diva®:
What's the biggest myth/misconception about shopping in Paris?
Diva Guide Jennifer:  
From personal experience I have found that it can be cheaper to buy something here and ship it abroad than to buy the same thing in the US. I have also found that it pays to know what you are doing. While not common, there are fakes and copies out there.
Antiques Diva®:
What's hot in vintage Chanel right now?
Diva Guide Jennifer:  
What is Diva-hot in Chanel (i.e., what our clients seem to like) is jewelry. Clients have been amazed at the prices and selection compared to what they can get in the US. Plus there is something for everybody ie you don't have to spend a fortune on a pair of earrings or something smaller. I was interested to learn about the older jewelry, who made it and how the quality was so much  better. It is not all big 'C's and crosses!
Thanks Jennifer for sharing some of your favorite things about the Paris Antiques Diva® Tours! If you would like to book an Antiques Diva Buying Tour in Paris or any of our 8 tour countries, email us at info@antiquesdiva.com.
Au revoir et a Bientôt!
The Antiques Diva®
Dear Diva Readers,
The Ritz renovation in Paris has me all a tizzy wondering when I'm going to be able to get my hands on the items they are sure to sell while doing the makeover.  News of the first treasure from the Ritz has hit the market in an upcoming Christie's sale on 15 April 2013.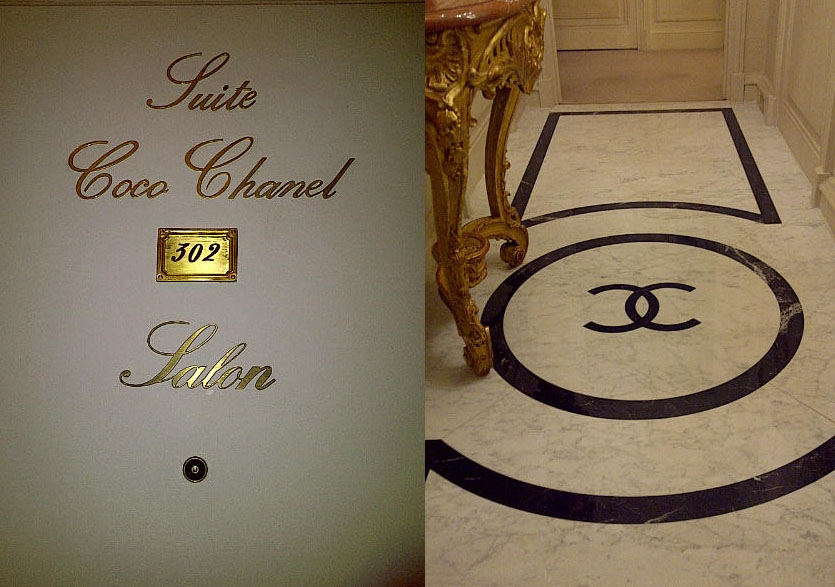 A previously unrecorded painting by Charles Le Brun (1619-1690), official painter to the 'Sun King' Louis XIV, has been discovered hanging in the Coco Chanel Suite at the Hôtel Ritz in Paris by the  chi chi London-based fine art consultant Joseph Friedman.  Formerly Curator of the Duke and Duchess of Windsor's residence in Paris, Friedman was advising the hotel on its current €200 million renovation project when he came across the work.  The painting, thought to depict The Sacrifice of Polyxena, will be auctioned by Christie's in Paris and has a pre-sale estimate of €300,000-500,000.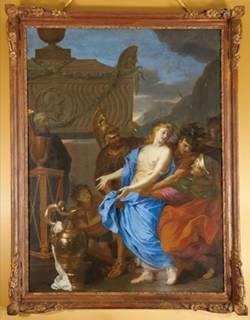 While I fear that painting might be out of my budget, I'm intrigued what else will be up for an auction….  I'm pretty much obsessing over their current auction calendar!
But can you imagine Friedman's surprise when he realized what the painting was?  He said "I literally took a step backwards when I saw the painting.  It was clearly the work of a major 17th-century French master."  With his assistant, Wanda Tymowska, he set about examining the painting and Tymowska discovered an inscription 'C.L.B.F.', which they realised could stand for 'Charles Le Brun Fecit', with a date 1647, potentially making this one of the very earliest masterpieces by the artist.  A search of the literature on Le Brun revealed no mention of this painting, but this only increased Friedman's excitement since it meant that the painting could not be a copy or re-working of some well-known composition but in all probability an original, which despite being in the hotel for decades had somehow gone unnoticed!  Think of all the dignitaries who've slept in the suite not knowing what lay before them!
The painting was then shown to Christie's in Paris as well as the acknowledged experts on Le Brun in the French museum world.  All were amazed, pronouncing it to be a major, fully autographed work by Le Brun, a highly important new discovery and addition to his oeuvre and to the study of 17th-century French art in general.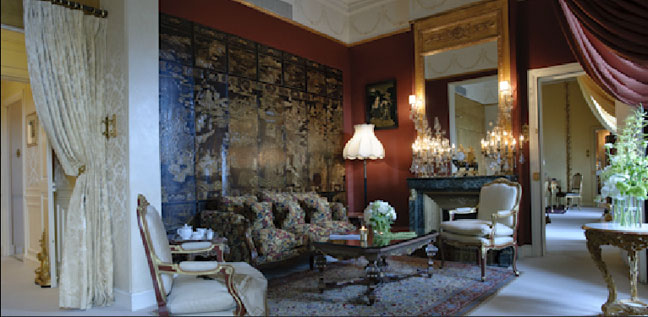 The owner of the Hôtel Ritz feels that a painting of such extraordinary importance and value should not remain there when it re-opens in two years time and has therefore consigned it to auction with Christie's.  And perhaps those pennies earned will go towards making the rest of the Ritz more fabulous than it already is!!
Take a virtual tour through the Coco Chanel Suite at the Ritz
Ta Ta for Now,
The Antiques Diva®