Dear Diva Readers,
Ever since I visited The Windy City in November to speak at the Merchandise Mart – the worlds largest wholesale design center – I've been toe tapping and singing Frank Sinatra's Chicago, Chicago, What a Wonderful Town!
I presented along with interior design principals Tom Konopiots and Michael Stornello of Vincere, LTD., interior designer Brion R. Judge of B.R Judge Design and Betsy Nathan owner of Pagoda Red on The Art of Antiquing – The Accessibility and Secrets of Sourcing Antiques Abroad.  Interior designer maven Justin Shaulis was our guest moderator flown in from NYC to moderate the event!
Caption: The Chicago Art of Antiquing Panelists
In case you're not already familiar with my panel cohorts I want to take a moment to tell you about this gorgeous crew!
Caption:  Betsy Nathan Pagoda Red
Earlier this week on Wednesday I posted about Pagoda Red's sensational store owned by Betsy Nathan.  After years living in Beijing developing important relationships with Chinese collectors and artists from every corner of the mainland, Betsy Nathan opened the doors of Pagoda Red in 1997 eager to share her unique connections and viewpoint.  Over the course of 16 years, Pagoda Red has established two galleries and an online marketplace that have become the premier sources for exemplary Chinese antiques and art.  Pagoda Red partners closely with a highly selective worldwide clientele of interior designers, collectors and others with a taste for incredibly unusual and beautiful things.
tom-and-mike-vincere-chicago.jpg">
tom and mike vincere chicago" src="https://antiquesdiva.com/wp-content/uploads/2014/01/tom-and-mike-vincere-chicago.jpg" width="515″ height="343″ />
Caption:  Representing Vincere Ltd. – a Chicago based Design Firm – both Michael Stornello and Tom Konopiots joined the panel
With nearly seven years of experience on a significant collection of interior design projects at Vincere, Michael Stornello brings his passion and his perseverance to every client assignment. Each finished design reveals this enthusiasm. He is committed to making sure that every project retains its own essence, with an ongoing dedication to sourcing new products, as well as distinctive antiques and vintage pieces. While each project may reflect its own sensibility, a firm grounding in the fundamentals of design, including proportion, space, texture and light, is a unifying feature and a hallmark of Vincere's designs. Prior to founding Vincere, Michael served as Executive Vice President, Development, for King World Productions (now CBS Television Distribution).
Tom Konopiots is a principal at Vincere, Ltd., a Chicago-based interior design firm. True to Vincere's mission, he focuses on client individuality, and translating this individuality into a residence that fits the client perfectly. With great attention to detail, Tom employs a creative approach to all design requirements and challenges. With experience developing luxury single-family homes in Chicago, he has a deep understanding of how floor plans, furniture layouts, and finish choices interact, and he uses this knowledge to compose a cohesive, collected, and handsome home. Tom holds an undergraduate degree from Northwestern University and an MBA from the University of Chicago.
Brion R. Judge grew up in Rhode Island in a home filled with American and English antiques, Persian rugs and miles of Chinese porcelain. Through his extensive travels in Europe and the Far East Brion has cultivated a signature style that is classic and clean while maintaining a sense of timeless elegance and sophistication. His travels have also enhanced his appreciation and understanding of a wide array of decorative styles. Brion makes sure that every antique he procures for his clients is a perfect match to their tastes, style and environment."
Our moderator, Justin Shaulis, is an interior designer who develops projects by balancing classic and modern forms that are inspiring through their architecture and refreshing in their layered design. His influence and aesthetic varies depending on the collaboration with the clients and the context of the project. His diverse background includes a rural Pennsylvanian upbringing, an Architectural Degree and his extensive travels usually centered around antiques. Justin was the design host for HGTV's Home Rules.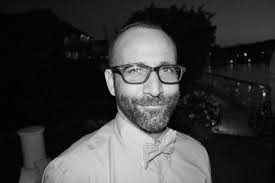 Last but not least I need to thank the man behind the scenes – Andrew Joseph, of Andrew Joseph PR – a full service communications firm specializing in shelter, design and lifestyle brands. Andrew worked with the George Smith Showroom to host this sensational event!  I fell in love with several pieces in their collection – where very sofa, chair, chaise and stool is lovingly made in their workshops in the North of England.
Special thanks to Betsey Grenzebach, the showroom manager for hosting the event and making it such a fabulous time!  While it was a morning event – Betsey's hospitality was such that guests stayed til nearly 3pm!
Chicago, Chicago, What a wonderful town!!
The Antiques Diva®
(seen here goofing around with Andrew Joseph and Justin Shaulis after the panel discussion)