Dear Diva Readers,
top: 5px; float: left; color: white; background: #781300; border: 1px solid darkkhaki; font-size: 80px; line-height: 70px; padding-top: 1px; padding-right: 5px; font-family: times;">I'm starting to hyperventilate… breathing is becoming difficult and I feel all sweaty.  In just a few short days the Elizabeth Taylor collection is coming up at auction!  Christie's is offering a special ONLINE ONLY sale December 3 – 17, 2011.  More than 2,000 items, estimated between $100 and $10,000, are up for grabs in the online sale.   The only real question is what to choose?  When Taylor was asked what she would tell someone to buy if they could only own three pieces of jewelry, she said: "Start with a glamorous ring and earrings, I'd say. They are the basics for me. A pair of long, drippy chandelier earrings…diamond, of course. A beautiful pin is an add-on…or a necklace. Oh God, I also love bracelets!"
Since 2006, Christie's has offered its clients the convenience of bidding online in real-time in all of its auctions worldwide, but the upcoming sales mark the first time that the storied auction house will host an exclusively online addition to a private collection. 
The online sale complements four days of back-to-back live auctions of The Collection of Elizabeth Taylor that begin on December 13 with the film star's most iconic jewels, and continues through December 16 with additional auctions of fine jewelry, fashion, accessories, decorative arts and film memorabilia.
Given the incredible depth of Elizabeth Taylor's jewelry collection – dubbed "The Crown Jewels of Hollywood" – Christie's has  hand-selected over 500 pieces of fine and costume jewelry for the online-only sale, including exceptional Art Deco-era jewelry, and an array of signed jewels by Cartier, Chanel, Christian Dior, and Ruser, among others.  This vast selection is reflective of Elizabeth Taylor's lifelong love affair with jewelry in all its forms.  Her most iconic of jewels will be featured in the live auctions on December 13 and 14 and the online sale will be comprised her many cherished "everyday" adornments of designer and costume earrings, bracelets, necklaces, rings, and brooches.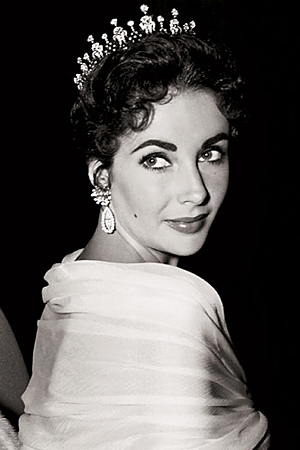 Of course, what Elizabeth Taylor considered everyday might be a little different than what you and I deem "day wear"!  Did you know Elizabeth Taylor swam in a vintage diamond tiara? Legend has it that 3  months into her marriage to Michael Todd, the producer came home to the villa they'd rented outside Monte Carlo to discover Elizabeth swimming laps while wearing a tiara her third husband had given saying, "You're my queen".
And if the thought of having access to Elizabeth Taylor's jewelry is not enough… fashion will also be for sale! 
More than 400 pieces from the houses of Chanel, Dior, Halston, Hermès, Oscar de la Renta, Tiziani, Valentino, and Yves Saint Laurent will be available.   Fashionistas and fans alike will be delighted by the scores of meticulously-maintained designer handbags, including 22 spectacular bags by Dior and Valentino and a range of luxury accessories by Cartier, Christian Louboutin, Fendi, Gucci, Louis Vuitton, Manolo Blahnik and Prada, among others.
Enough writing about the sale, I'm off to browse the Christie's websites for their Online Elizabeth Taylor Sale!
Bonne Shopping!
The Antiques Diva®