Dear Diva Readers,
top: 5px; float: left; color: white; background: #781300; border: 1px solid darkkhaki; font-size: 50px; line-height: 40px; padding-top: 1px; padding-right: 5px; font-family: times;">Sometimes when people hear the word "antiques" they picture stuffy interiors filled with heavy furniture covered in doilies.  But the reality is that antiques encompass so many styles, time periods, and price points!  Ask any tastemaker and they will tell you that antiques are a major part of the design scene right now.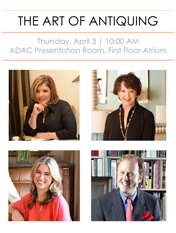 In fact, I'll be discussing this very topic with a lovely group of experts on Thursday April 3 at 10:00 A.M., at the Atlanta Decorative Arts Center. Atlanta based interior designers Carole Weaks of C. Weaks Interiors and Clary Bosbyshell Froeba of Margaux Interiors Ltd., will join me in a "round table" setting to talk about collecting and sourcing antiques, the importance of antiques in an interior, and how to layer them into our modern lives.  Atlanta antique dealer Spalding Nix of Spalding Nix Fine Art will be our guest panelist and moderator.
This promises to be a fun and informative morning with a reception to follow at Travis & Company, Suite 128.  I look forward to seeing you at ADAC!
Read more about the event and register!
Until then,
The Antiques Diva ®