Dear Diva Readers,
top: 5px; float: left; color: white; background: #781300; border: 1px solid darkkhaki; font-size: 80px; line-height: 70px; padding-top: 1px; padding-right: 5px; font-family: times;">While shopping yesterday in the Oltrarno in Florence with an interior designer client on an Antiques Diva tours/italy/">Italy Tour we found the "steal of the day" – an old safe. My client and I loved the industrial appeal of the piece however pondered how to use it when suddenly all 4 of us – my 2 clients as well as my locally based guide and I -exclaimed in unison "I've got it!" The client has a comprehensive list of things we are looking for and the safe suddenly was crying out to be a repurposed cocktail bar cabinet for the Tuscan villa we were furnishing!
I love nothing more than encouraging clients to think outside the box, er… safe in this instance, stretching the imagination to see how far they can take an object from its original use. A cocktail cabinet in general – even when not housed in such a fascinating piece – is in the words of tocked-bar-ide-119581″>Apartment Therapy "an entertaining investment, a place of intrigue or conversation and a place to get the party started."
Today we are heading to the flea market in Arezzo to buy accessories and decorative pieces for the project and we will look for some great vintage glasses, a cocktail shaker and some decanters to add to the piece! When creating a cocktail bar you don't have to have a plethora of choices – rather put the ingredients on hand for a few signature drinks. In the drawers of this piece we could pick up some linen cocktail napkins from the mill at Busatti and perhaps have them embroidered with the name of the client's house or their initials.
Here's a peek at some other interesting cocktail cabinets courtesy of tocked-bar-ide-119581″ target="_blank">Apartment Therapy!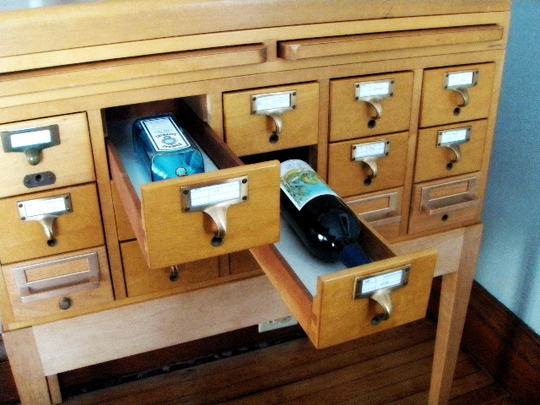 Et voila, shake and serve!
The Antiques Diva®
tons/follow-me-on-pinterest-button.png" alt="Follow Me on Pinterest" width="210″ height="28″ />
tons.sociableblog.com/images/FB5.png" alt="" width="210″ height="40″ border="0″ />
tons.sociableblog.com/images/FMT6.png" alt="" width="210″ height="40″ border="0″ />