Dear Diva Readers,
top: 5px; float: left; color: white; background: #781300; border: 1px solid darkkhaki; font-size: 60px; line-height: 50px; padding-top: 1px; padding-right: 5px; font-family: times;">What antique lover hasn't dreamed of hunting for treasures in Provence? The gorgeous landscape, the French lifestyle, the tiny villages dotting the hillsides, and lots of small shops and brocantes tucked away just waiting to be discovered…sounds like Antiques Diva Heaven! One of the idyllic villages we take clients to when they're on an Antiques Diva Provence Tour is Cotignac. Nestled on a hillside, the village of Cotignac in the Var is surrounded by majestic cliffs which have played host to the town for centuries, and have provided shelter and refuge to humans for millennia. The Provencal village is the ideal place to take a stroll, admiring the charming architecture, quaint shops, and intoxicating blend of colors, both on the buildings and in nature.
tops" width="300″ height="300″ />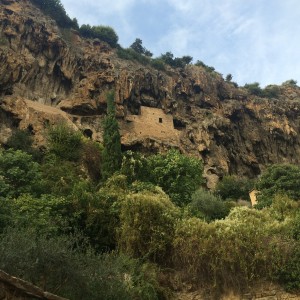 Driving up to the village is part of the pleasure of visiting this enchanting place. Most of the surrounding area is "zone vert" or green zone, meaning it's protected for its natural beauty. As you weave your way through the road on the hill, you get a nice view of the village, which dates back to Roman times. Much of what must have attracted the Romans to this area still remains unchanged— the sunny climate, the excellent soil perfect for growing vines, and the picturesque views of the French countryside. But there is one more thing that attracts a Diva like me, and that is…antiques of course!
After parking the car, the first place to head to is the raised pedestrian road in the middle of the town called the Cours Gambetta. Line with large Plane trees which cast their shadows over the stone streets, this bustling little street is where you can often find locals perched on a bench, watching passersby or admiring the fountain which no doubt has seen thousands of people make a wish.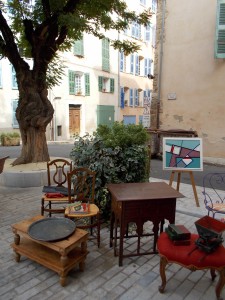 tore door" src="https://antiquesdiva.com/wp-content/uploads/2016/01/DSCN0374-e1453597614993-225×300.jpg" alt="An Afternoon in Cotignac Antiques Shop" width="225″ height="300″ />
For an antique lover, the first thing to do after grabbing a quick coffee is to hit some of the local shops. Our Diva Guide knows exactly which off the beaten path places to take you to, where you'll find an eclectic mix of the best inventory. One of the shops we often take clients to is called MODES. Rounding a corner at the top of one of the hills, you'll see antiques spilling out into the square from a tiny door which faces the hillside. Each piece at MODES is a work of art, and although it's a small shop, it certainly has big style! Original works of art, vintage furniture, fine antiques, and Italian marble sculptures are all curated by the shops stylish owners, John and Simon.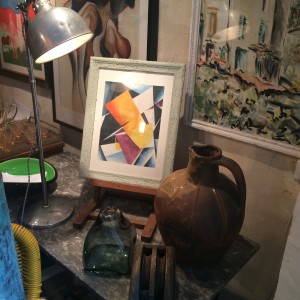 Upon entering their treasure chest filled with antiques and vintage pieces, you'll find there is a story behind each item they have. In fact, their home—which has been featured in several international shelter magazines– is just a short walk away, and is filled with even more antiques, all of which are quite special. And the view from this house on the hill is absolutely spectacular!
After weaving your way between the tables that spill onto the pavement from restaurants and cafes, you may find yourself in the mood for a nice meal al fresco. The popular Cafe du Cours is certainly Diva worthy, as there is a view of the main pedestrian road, along with a nice breeze coming from the valley– and the food is divine! After lunch, Stop into several other shops which dot the hill, offering everything from perfectly packable souvenirs to mid-century modern to antique artwork.
If you happen to be there on market day (Tuesday mornings until noon), you'll find the village square is transformed into a colorful array of stalls filled with all kinds of French goodies! Whether you want to buy some homemade cheeses, local honey, ceramics, or baskets, the market is a lively place to spend an afternoon. Complete your glimpse into the French village life by sitting at a cafe with a coffee and people watching. You won't be sorry!
If you would like information on our Antiques Diva Provence Tours, where we can incorporate a day in Cotignac for you, email us at info@antiquesdiva.com.
Au revoir,
The Antiques Diva®