Dear Diva Readers,
top: 5px; float: left; color: white; background: #781300; border: 1px solid darkkhaki; font-size: 40px; line-height: 30px; padding-top: 1px; padding-right: 5px; font-family: times;">Recently on an Antiques Diva Tour, renowned antiques dealer Spencer Swaffer played host to a group of Designers on an an Antiques Diva / Nobelinks Design Tour in the UK.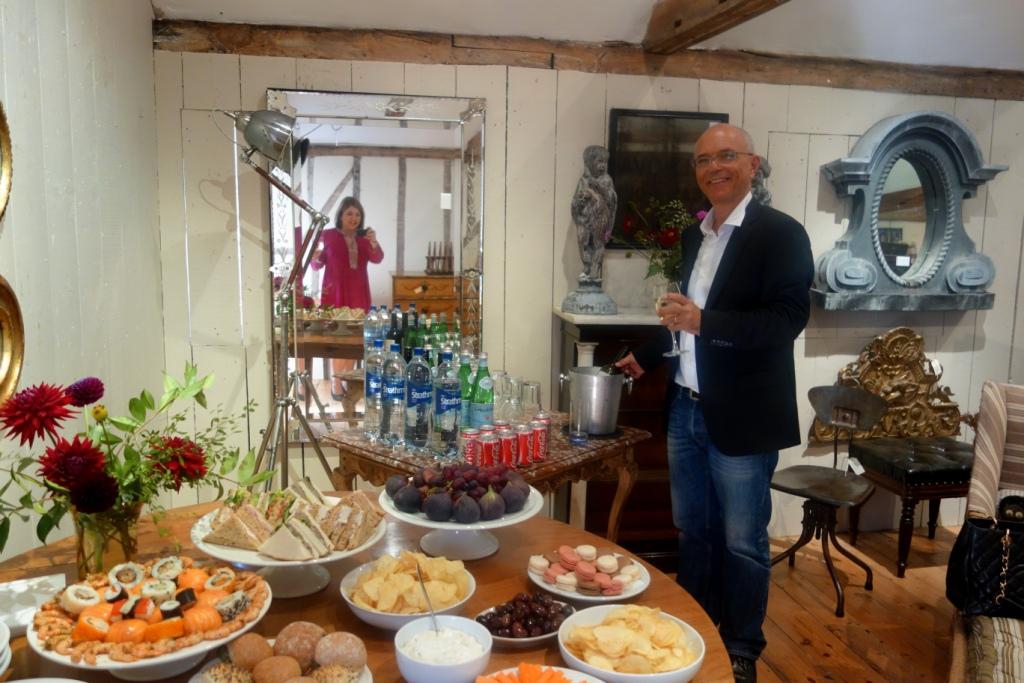 The role of host is a well-known role for Spencer and his wife Freya.  Spencer continues his hospitality hosting this month a pop-up shop as part of a mentoring program offered through Antiques Young Guns.
As part of the Antiques Young Guns awards earlier this year a young Welsh dealer named Paul Alexander Jones won a coveted spot to open a small pop-up shop within Swaffer's store for the next ten days (cleverly in conjunction with Battersea Decorative Fair which is less than a two hour drive from Swaffer's store).
Much of the stock offered by Jones does not appear online so venturing to the pop-up gives would-be clients a glimpse into an exclusive inventory of antiques. Hailing from a very rural North Wales town, Jones offers 'country' style pieces– think richly glazed potter, beautifully figured timbers and charming, naive folk art. Paul confided he's bringing some warm Welsh tapestry blankets to sell—perfect timing if you ask me, as Autumn is upon us!
As I'm constantly combing over Europe for the best antiques dealers, whether that be quality of pieces or best prices, I'm always thrilled when new talent developed in the antiques field. Having opened his shop in July 2012, Paul Jones is sure to learn a lot about the antiques trade while being mentored by sage Spencer Swaffer. I'm excited to hear more from Paul and see how networking with other established dealers enhances his business!
If you'll be in the Arundel area over the next week, stop by and say hello to Paul and Spencer. Tell them The Antiques Diva sent you!
Happy shopping,
The Antiques Diva®