Dear Diva Readers,
top: 5px; float: left; color: white; background: #781300; border: 1px solid darkkhaki; font-size: 60px; line-height: 50px; padding-top: 1px; padding-right: 5px; font-family: times;">I've just flown in to NYC to speak at the D&D Building for Spring Market but the timing worked out perfectly for me to also attend the Take A Seat Charity Auction for the  International Furniture and Design Association – where I've donated a period Louis XV French Fauteuil.  This Rococo upholstered beechwood arm chair is older than America and proceeds from this chair will go to "chair-ity" – proceeds gifted will go to non-profit organization Habitat for Humanity.
And while my donation was titled "Viva la Diva – French Fauteuil" with a little plaque perhaps it should have been titled, "It Takes a Village" because when it comes to giving back, it's better when we all participate.   That's exactly what happened with my donation. Let me share the story with you
It all began in March of this year at the Design Bloggers Conference, where I was speaking alongside Michael Bruno of 1stdibs. Alan Rauta of Cromatti attended the talk and won the $5000 gift certificate grand prize donated by Michael Bruno to one of the attendees.   In attending the conference Alan said the main thing he learned about blogging was that blogging was about sharing, and thus to-four-inspirational-bloggers/" target="_blank">he donated $4000 of his prize to 4 of the bloggers – $1000 each – that he met at the conference whom he found most inspirational.
I was honored to be one of those bloggers and decided to make this the gift that keeps on giving by using my gift certificate to purchase a chair from 1stdibs and donate it to the Take A Seat Chair-ity Auction.
As I researched what European antique chairs were available on 1stdibs in the USA  I sought out vendor Trace Mayer because he has has consistently good quality pieces at great prices.   I found a chair in his collection that epitomized The Antiques Diva®  Style.  I contacted Trace to buy the chair so I could donate it.  Trace, upon hearing I was donating the chair to charity, offered me a substantial discount off the purchase price to make this donation even more possible.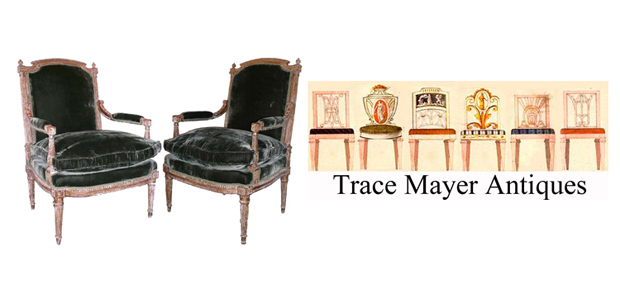 I love how a community came together to make this one donation possible!  "It takes a village" to change the world one chair at a time!
From Michael Bruno of 1stdibs to Alan Ruata of Cromatti to me to Trace Mayer, a 1st Dibs vendor – each of us have contributed to make this donation possible!
I was thrilled my dates in New York overlapped with the auction so that I was able to attend the event in person!  Now I can't wait to see the final person in our village who buys the chair!
The Antiques Diva®