The Dairy House near Shaftsebury, Dorset, England
top: 5px; float: left; color: white; background: #781300; border: 1px solid darkkhaki; font-size: 50px; line-height: 40px; padding-top: 1px; padding-right: 5px; font-family: times;">Have you ever wished you could be a fly on the wall when I'm out and about on my antique shopping adventures?  Well today I'm taking you with me on the a virtual tour to a trade source I visited recently with my English Diva Agent Gail McLeod.
Join me as we tour Dairy House Antiques, located nearby Shaftesbury England in Dorset.  But you'd better pack  your mittens and muffler!! Or perhaps pick up a vintage fur coat to keep your tootsies warm!
Dairy House Antiques is located in a former dairy and the original purpose of the building was to keep the milk cool before it set off on it's journey to London.  The charming building today is covered with beautiful black & white tiles and houses a gorgeous collection of flea market style English and continental vintage pieces and antiques at incredible prices!
Even the front porch of the old dairy was cosy and inviting… welcoming us with a plethora of pieces!
While the interior of the shop was surprisingly modern at times!
An array of English wooden English pieces filled the upstairs.
There were even a few French pieces that were pure perfection!
I loved their quaint collections of Blue & White pieces.
My biggest temptation? This selection of gorgeous crystal and cut glass decanters, all of which were smaller than you'd typically find in Europe.
Dairy House Antiques
Station Road, Semley, Shaftesbury, Dorset SP7 9AN
Telephone 01747 853317
www.dairyhouseantiques.co.uk
Open 7 days 10-5 Mon-Sat; 11-4 Sun
Of course – at the end of the day – what better to eat for dinner than home-cooked Steak & Ale Pie!!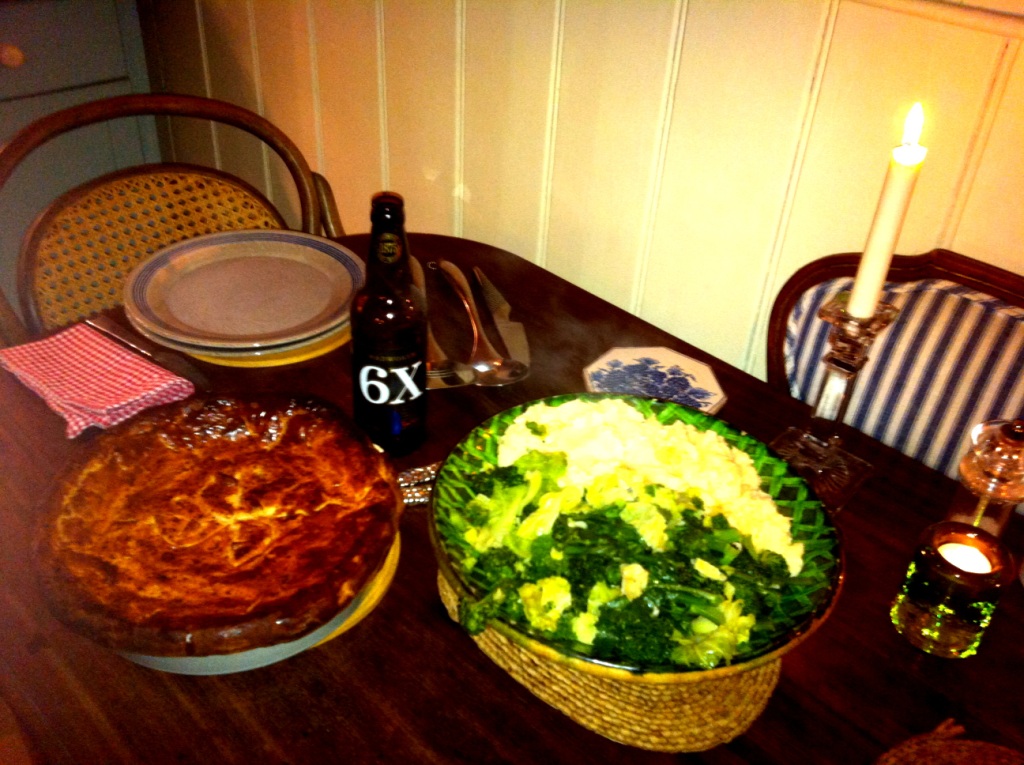 Cheers from England!
The Antiques Diva®