Dear Diva Readers,
top: 5px; float: left; color: white; background: #781300; border: 1px solid darkkhaki; font-size: 60px; line-height: 50px; padding-top: 1px; padding-right: 5px; font-family: times;">While I love to shop (and take clients on shopping tours), I also love to decorate! I think a great way to add personality and a sense of history to any space is by using antique books in your decor. Not only do they look beautiful, but they also are practical—you can actually READ them! When my husband started collecting first editions he made a promise to himself that he would always read the books regardless of how many zeroes were included in the price tag.
Now whether you're placing antique books on shelves or using them as art in themselves, I've got a few easy ways that you can incorporate antique books into your home.
Of course if you have built-in shelves or even just a bookcase, books are the perfect way to fill these spaces. You can mix up the colors or color block them in groups of green bindings, red bindings, etc for more of a statement. I recently had the opportunity to visit Ashley Hicks – son of designer David Hicks – at his home in the English countryside and was able to sneak a picture of his famous father's red office fitted with gorgeous antique red leather books.
Make sure you intersperse some books that are stacked horizontally so you can sit a small object d'art on top of them. This is a great way to show off a special piece.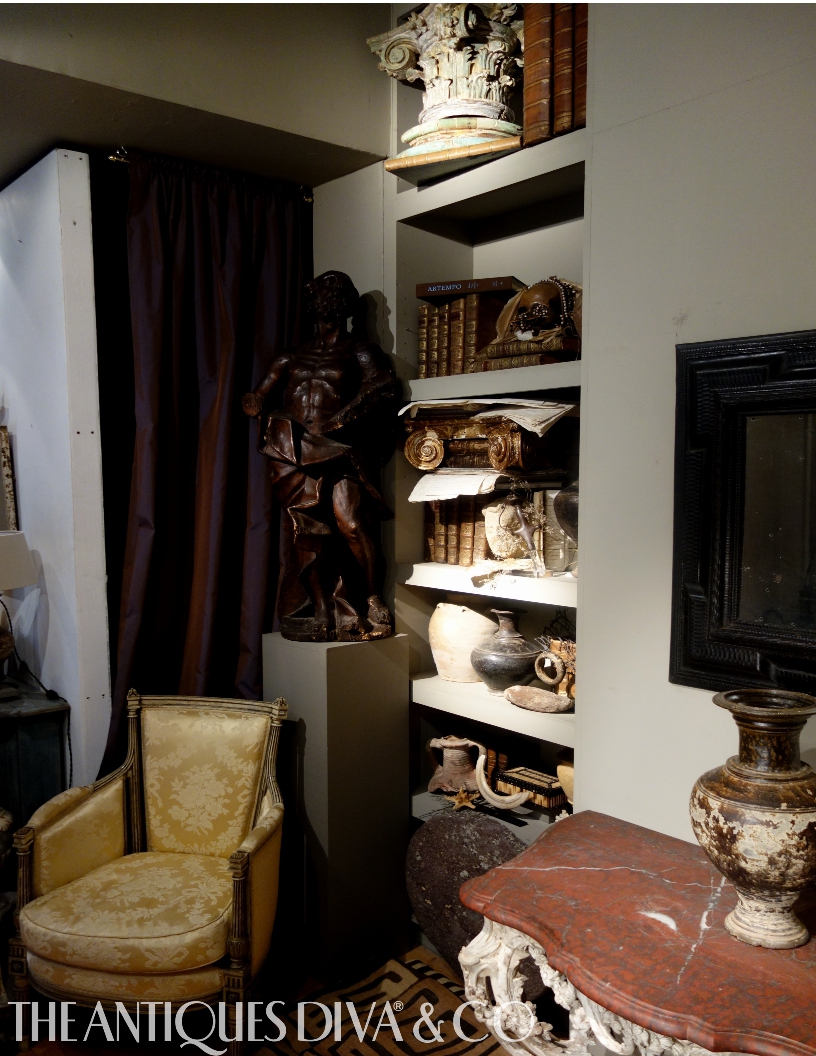 If you come across antique books that aren't in the best shape, consider bundling them together with twine and sitting them on a table. It's a cost effective and fun way of displaying tired books almost as sculpture. You could also remove the bindings and just use the monochromatic pages lined up on a shelf as a modern take on the classic library. In Designer David Hicks' personal bedroom at his house, The Grove, his books are all white toned and rumor has it that when the famous designer had insomnia he would wash the spines of his books keeping them shelves spic and span in lieu of counting sheep!
If your table lamps are sitting just a bit too low, perch them atop a stack of antique books.   In David Hicks' office I loved his specially designed "library lamp"  in which the shade is cut in half in an updated modern version of the Italian shades to shine light on the books behind it.
The principle of using books as risers can apply to any object you're wanting to elevate. Place a beautiful bowl on top of a stack of books or sit a sculpture on top of the stack. It will make the object seem more important, as if on a pedestal of its own!  In my own secretaire in my living room at home in Berlin I've stacked a giant inkwell on the shelf.  These books were a gift from an English friend – which reminds me – antique and vintage books make great presents! You can be really creative in picking books that have to do with your friends interests, travel plans, or even use their name in the title.
Regardless of how you use antique books, they are sure to add personality to your space. Books tell people about your interests and they create dimension in interiors. While my husband collects first editions from Parisian expat writers in the 1930's – I collect interior design books – both vintage books such as David Hicks as well as current day books from friends such as Ronda Carmen's book Designers at Home to Judith Miller's latest tome.  On my reading list at the moment is Susanna Salk's Decorate Fearlessly.  We're traveling together in Italy this week doing some stylish shopping at Mercanteinfiera and I'm excited to get to spend time IRL with a favorite author shopping by her side!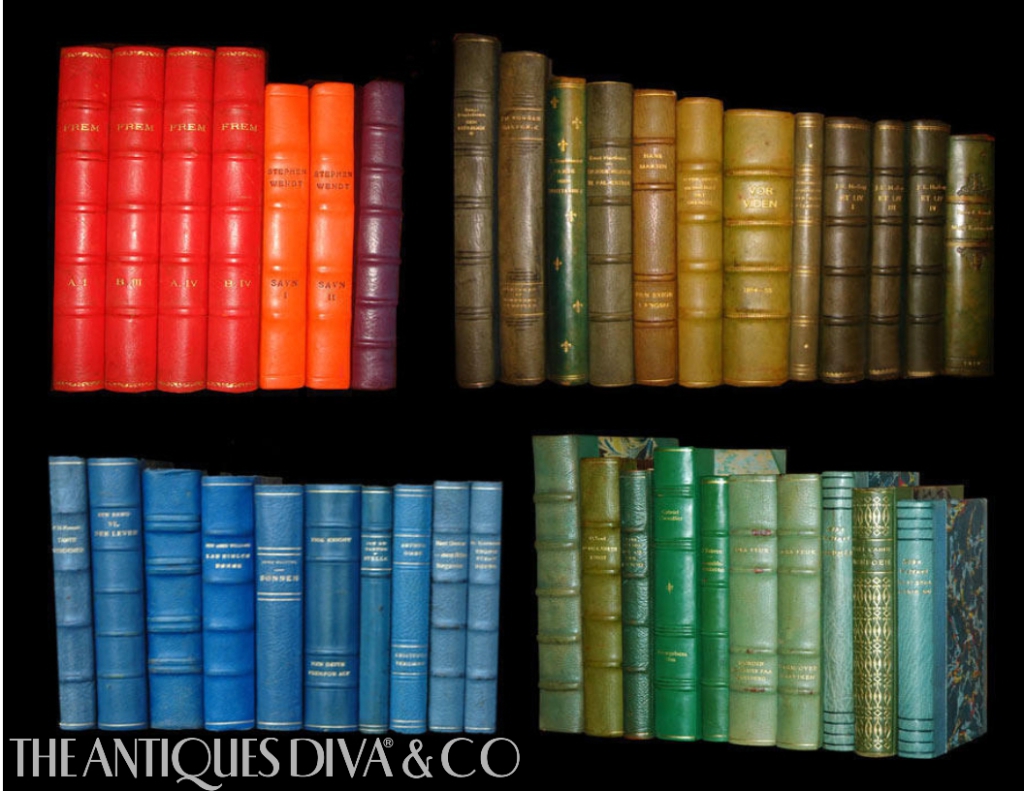 Whether an antique or vintage book – a brand new book from a favorite designer – I want to know what are you reading?
The Antiques Diva®