Dear Diva Readers,
top: 5px; float: left; color: white; background: #781300; border: 1px solid darkkhaki; font-size: 60px; line-height: 50px; padding-top: 1px; padding-right: 5px; font-family: times;">Winter weather always has me wanting to nest… spending time snuggling up indoors and creating cozy, winter-worthy interiors.  One way to warm up the indoors is by layering in antique rugs.   Think about it—when cold temperatures hit with fashion we layer on the clothes, adding a turtleneck, sweater, scarves, coats, gloves…anything that will keep us toasty. The same principle can be applied to the home. By adding layers with rugs you can keep nice and cozy all winter long.
Layering a small rug over a larger one can help define a seating area. It visually pulls things together, creating a sense of intimacy in a given space.  Another easy way to add texture with small rugs is by using animal hides. We recently had a client purchase a vintage reindeer hide on tour! And, remember: don't be afraid to layer rugs over carpet either.
While we're talking about texture, be aware of the rugs you're layering. You want to make sure they are of different weaves. For instance, if you have a jute or seagrass rug on your wood floors, layer a rug of a different material on top—like wool. You want to have a mix of flat and textured rugs.
I think it's best to have your main rug be pretty neutral and for it to have less pattern. Then you can layer colorful patterned rugs on top to add interest. By starting with a neutral base, you open up your options when it comes to layering on smaller rugs throughout the year. This allows the smaller rugs to be more like accessories.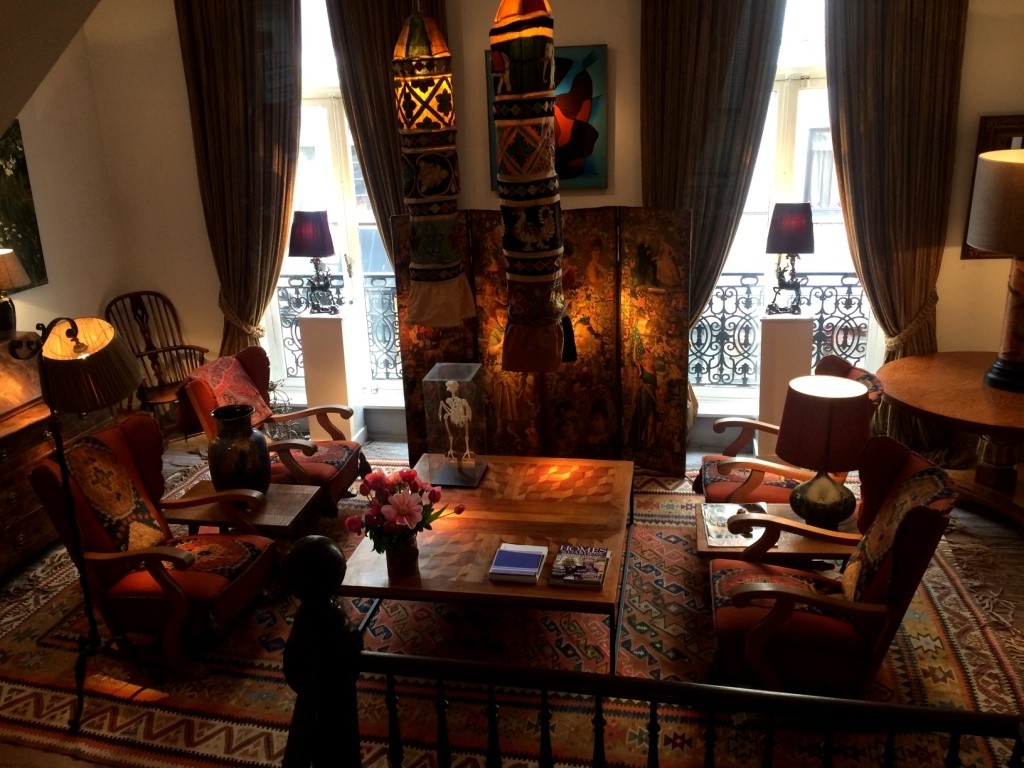 And lastly, consider adding antique rugs to every room in the house. Of course you'll want them in the living room, but why not add a rug in the kitchen to spice things up? Also think about the bedroom—wouldn't it be nice to step out of bed each morning onto a soft rug?
As the foundation of any room, rugs are not only a good idea but also a good investment!  So the real question is … where should you buy your antique rugs?? Of course, we've got a source for you! The The London Antique Rug and Textile Art Fair – held this 16-19th April 2015. Visitors to LARTA 2015 will have the opportunity to source items originating from Anatolia, the Caucasus, Persia, Central Asia, India and China, as well as from Europe and Africa, and from all periods up to the early 20th century.
Address : The Showroom, 63 Penfold St, London NW8 8PQ
The Showroom is an arts venue about half a mile north of Marble Arch, 100 yards from Edgware Road.
Dates & Opening Times 2015
Thursday 16th April – Opening Night, 6pm – 10pm (by invitation only).
Friday 17th April, 11am – 7pm
Saturday 18th April, 11am – 7pm
Sunday 19th April, 11am – 5pm
Entry is free at all times!
Stay warm,
The Antiques Diva®