Dear Diva Readers,
top:5px;float:left;color:white;background:#781300;border:1px solid darkkhaki;font-size:100px;line-height:90px;padding-top:1px;padding-right:5px;font-family:times;">Last year when I attended the famed A'FSH I was introduced to a vendor who I thought stole the show….  Theo Daatselaar had a booth at the Art & Antiques Fair in 2010 that was simply stellar and I cannot wait to see what this year's show – starting April 16 – reveals. 
Daatselaar started an antique business in 1978 under the name Daatselaar & Godhelp Antiques, but Daatselaar moved from Utrecht to Zaltbommel where he now runs his own art business in a beautiful gallery. In 2009 his daughter Ilse Daatselaar joined the company and together their inventory continues to delight his sophisticated international clientele.
Perhaps my favorite piece in his collection is the oil on canvas painting of the "Reclining Nude" signed 'H.J. Wolter'.  Its bold colors and classical subject delight and inspire.
Though I must confessing narrowing my selection to merely one favorite is next to impossible.  Equally stunning is Daatselaar's Ballerina in water color and white gouache on paper G. H. Breitner dating to 1884/1885.  And his Goddess of Fortune silver statue on a red marble base, representing the Goddess Fortune with her personal attributes, is not only an eye catcher, but is also interesting from a historical point of view.  The Dutch brewer Heineken commissioned it as a present for the Hulscher brothers, owners of Die Port van Cleve in Amsterdam, on the occasion of their silver anniversary. The commission was given to Edwin Weissenfels, designer in Munich.
I was equally enchanted with Daatselaar's musical long case clock in walnut and burr walnut.  The dial has a beautiful polychrome painted rolling moon phase to the arch with decorated garland of flowers and a cherub, engraved silvered selection ring above indicating the twelve tunes, silvered subsidiary ring for ringing. Three train eight day movement, anchor escapement, Dutch strike on two bells, playing twelve tunes on seventeen bells 275 x 75.5 x 29 cm Rotterdam, circa 1750.  The clocks designer Steven Hoogendijk (Rotterdam 1698-1788) of the Arminian faith lived in the Kleine Draaisteeg in Rotterdam and founded in 1769 the Bataafsch Genootschap der proefondervindelijke Wijsbegeerte. Hoogendijk ceased his clockmaker's activities in 1768 to concentrate his efforts on science. Examples of his work can be found in the museum Boymans van Beuningen in Rotterdam.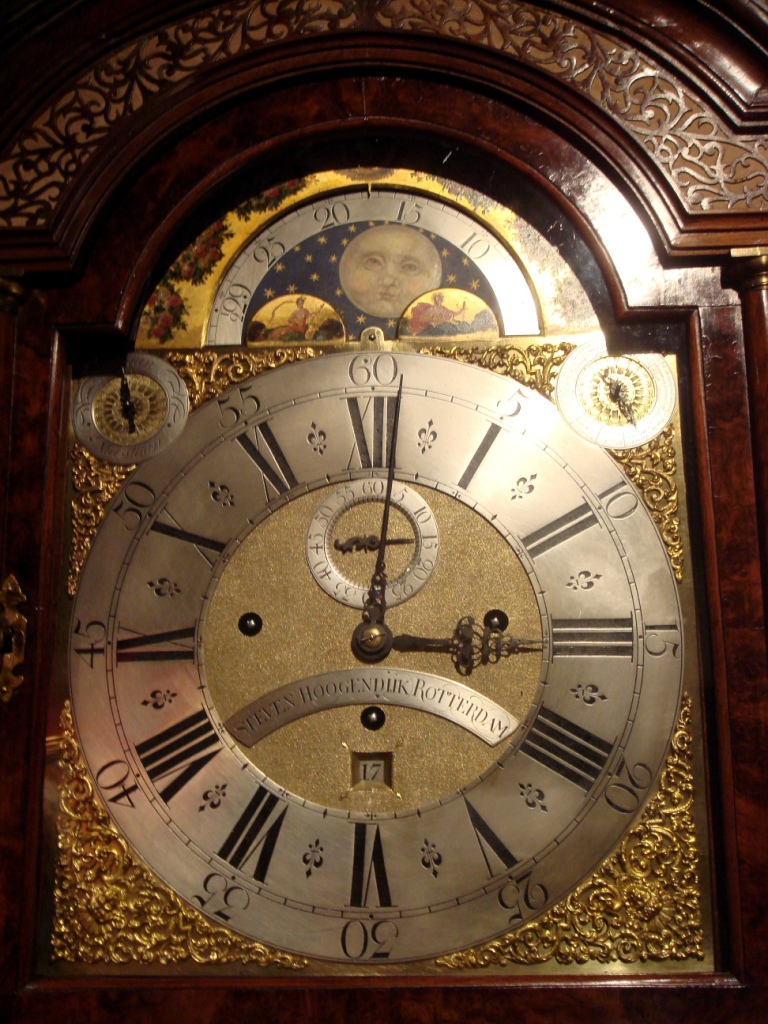 If you're not able to visit A'FSH in Den Bosch, Holland this April 16-25, 2011, take time to browse Theo Daatselaar's website www.daatselaar.com .  The online shopping options have never been better and I'm certain Theo's booth at this year's Art & Antiques Fair will be First in Class!
Bonne Shopping,
The Antiques Diva®