Dear Diva Readers,
As we wrap up 2014 and I reflect on this year I'm reminded of words by Charles Dickens,"it was the best of times and…" well, the best of times! I cannot help but think "Wow!" It's been a fabulous year of growth for us here at The Antiques Diva & Co.  We've grown to being the largest antiques sourcing company in Europe, offering customized buying tours in 8 countries (and counting) and working with a team of 18 locally-based guides.   If I could sum up the year in three words they would be Clients, Collaborations and Celebrations!
We kicked off 2014 in January with our first ever Antiques Diva Paris Flea Market Fete coinciding with Maison et Object and Deco Off.   With over 150 mega VIP guests in attendance the event received great media coverage and we were able to film a special tour of the Paris Flea Market with Editor at Large.  Such was last years success we're doing it again this January 25 2015 for our second annual fete at the Paris Flea Market in conjunction with special guests Michael Boodro, Editor in Chief of Elle Décor, one of my favorite "Frenchy" interior designers, Timothy Corrigan and the owner of the Paul Bert/Serpette, Jean-Cyrille Boutmy.  (RSVP now for details toma@antiquesdiva.com! You're invited!!)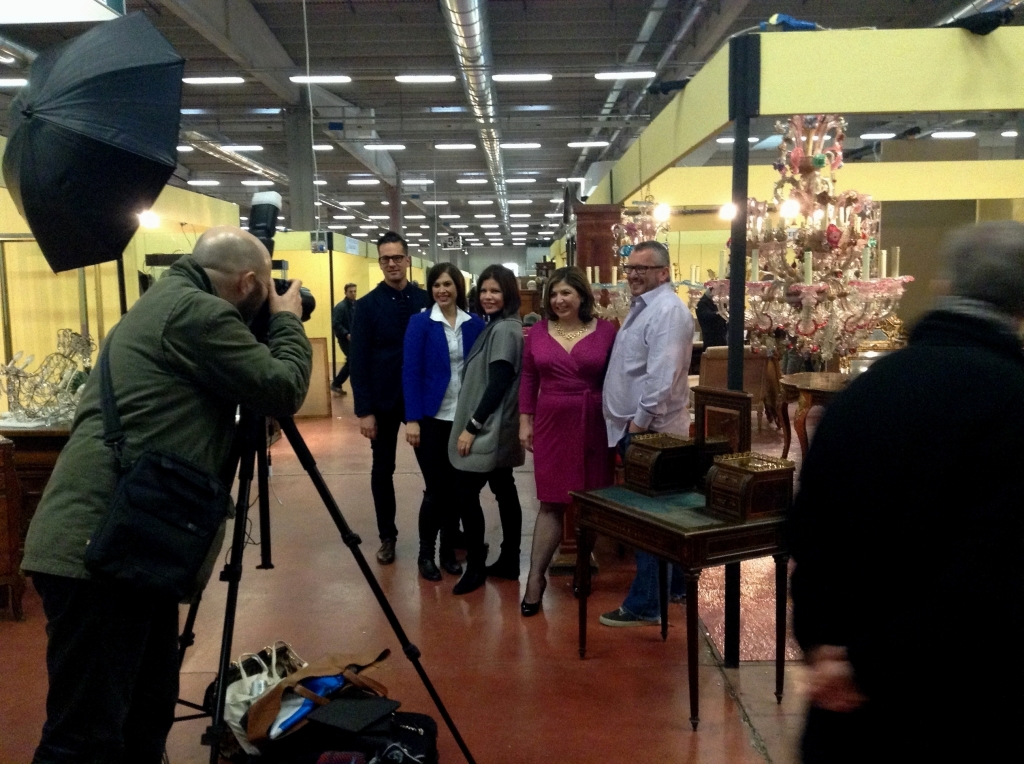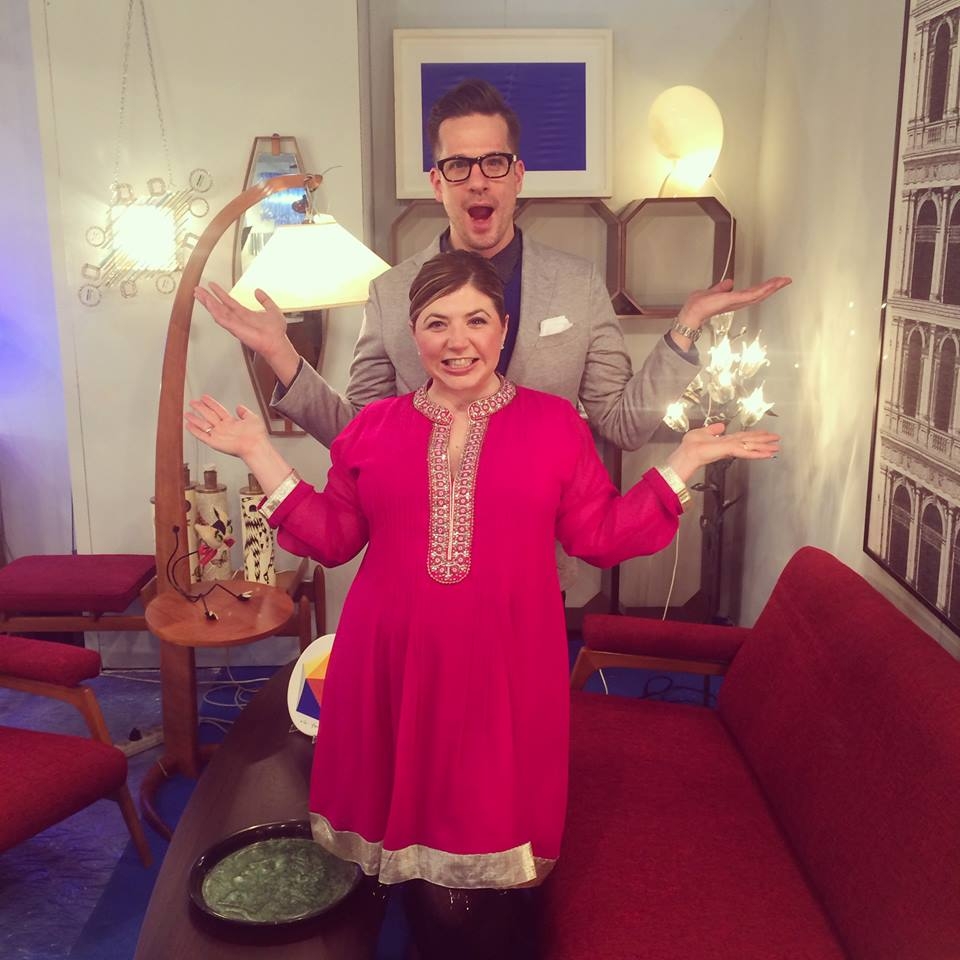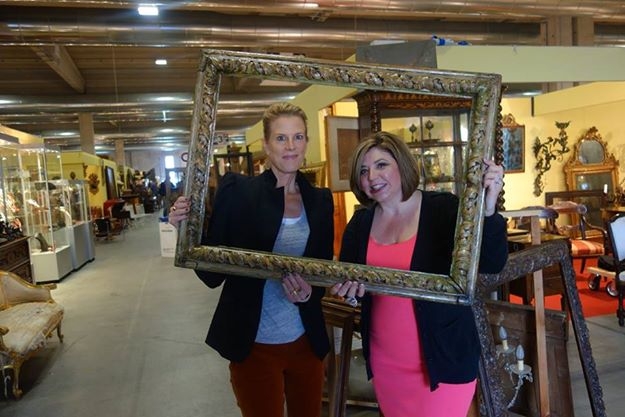 In February (and again in September) we were able to once again take VIP groups of American Interior Designers to Mercanteinfiera in Parma, Italy. Attending this large antiques fair is always a treat, but most especially when the clients are as fun as Tobi Fairley, Denise McGaha, Jon Call and Mark Cutler!   Later in the fall we were delighted to film Stylish Shopping with Susanna Salk along with Stacey Bewkes of Quintessence for an upcoming episode on antiquing in Italy, Diva Style at Mercanteinfiera!   Watch this space! Both trips were filled with antiques sourcing, photo shoots and copious quantities of food & wine.  This month I was also delighted to add a new member to our team at Diva Headquarters – Andrew Skipper!
Then in March I hopped on a plane and headed to the USA to speak alongside Michael Bruno founder of 1stdibs at the Design Bloggers Conference. It was such an honor to meet so many talented design enthusiasts and to be able to share my story of turning a blog into a business.  Again, many lasting relationships were forged at this fantastic conference!
Just days later I was back on a plane headed for the UK. Our lovely Diva Agent Gail and I met up with Antiques Expert Judith Miller who gave our group of clients a private tour of The Bath Decorative Fair, which happened to be celebrating its 25th anniversary with a Champagne fete.  Yes, Champagne does tend to follow me around.  At the end of the month, I headed back to NYC to speak at the IFDA New York Design Center. What a jam-packed month!
Criss-crossing the USA, I then flew to Atlanta to speak at ADAC and then spoke in both Los Angeles and San Francisco (special thanks to Kneedler Fauchere for hosting a fete in my honor).  I was also delighted to attend the launch party of San Francisco Cottage & Gardens where I befriended fashion icon Joy Venturini who moments before this photo was taken officially told me I was the "best dressed" for the event!  What a treat it was to see so many clients and make new friends!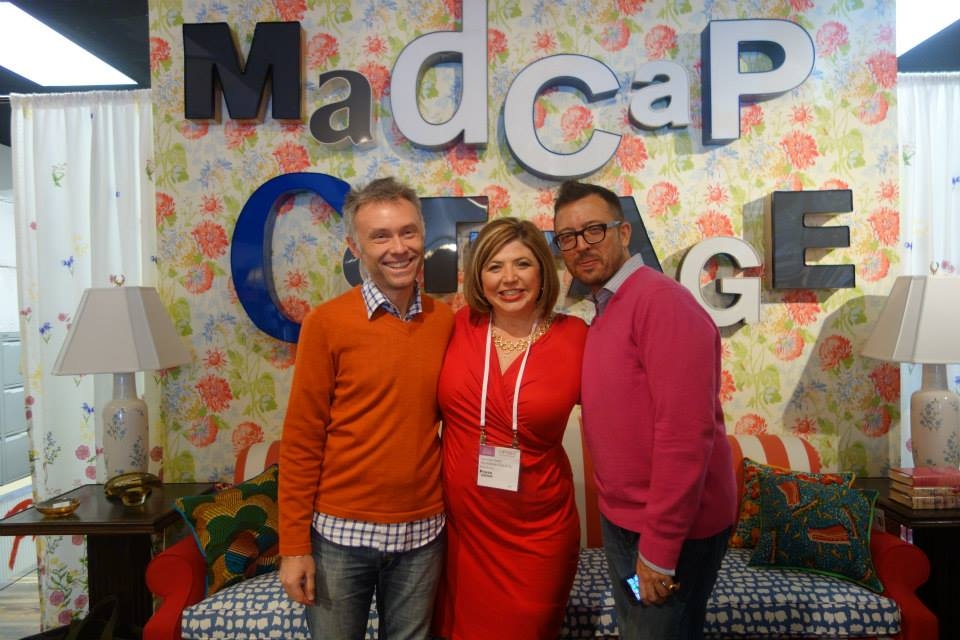 Then it was time for High Point Market which is THE MEETING PLACE for all my clients and colleagues.  Here I hosted – what else? – a Champagne tour of the Antique & Design Center after leading a Style Guide lecture on the Louis (lest you think antiques are boring… this talk involved plenty of sex and scandal to spice up the antiques and history!!!!).
But I couldn't stay long at High Point – I had to jet back to Milan, Italy for Salone to meet my Italian Diva Guide, Susan, to lead a VIP tour for Blog Tour Milan! Our lovely clients enjoyed this gorgeous city with us culminating in our party at the famous Campari Bar. After all that jet-setting, it was time to meet my husband in Tuscany for some much needed down days of relaxation at the Villa Bordoni.   I've been fortunate my husband has been able to travel with me on some business trips as I criss-cross the globe and we met in exotic destinations.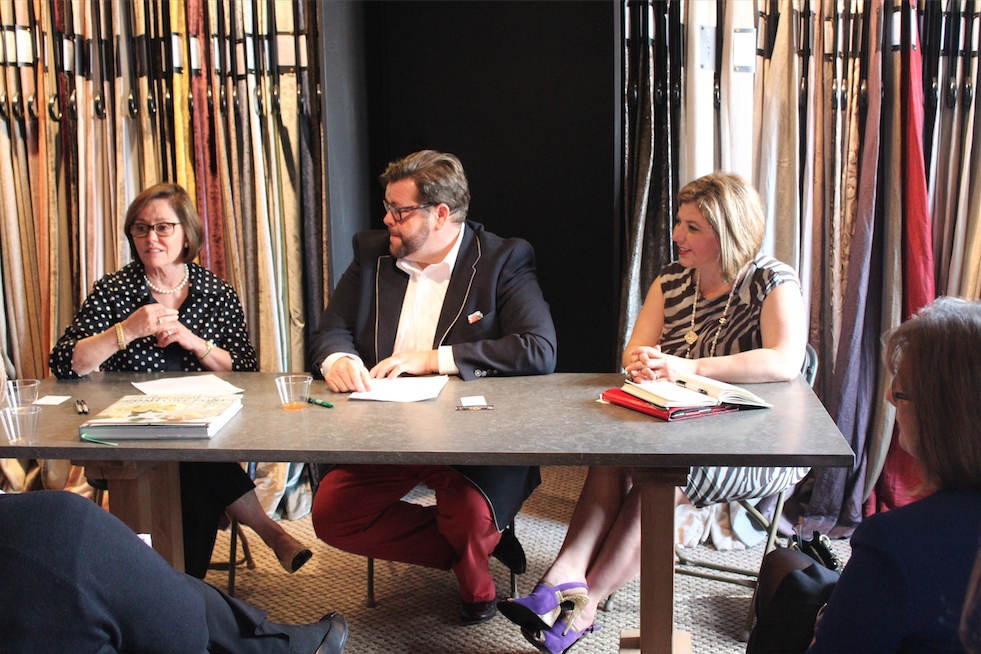 May brought along plenty of client tours, including taking The Antiques Roadshow Magazine on tour throughout Belgium. But then in May it was back to the States for Spring Market at the D&D in New York where I spoke on a panel about Antiques in the 21st Century. Then in June a life-long dream of mine came true! We kicked off our first Antiques Diva Venice Tours with our new Diva Guides Orseola and Chiara! Exploring this enchanted city on the arms of two locals has given me access to a world I never thought I'd know as an insider.
July took me to The Windy City of Chicago for a speaking engagement at the Randolph Street Antique Market where I did a promo spot on ABC in Chicago! Then it was off to Las Vegas Market where I spoke on Antique Trends and was delighted to be named one of their Design Tastemakers!!
August brought some much needed down time in Thailand as my husband and I traveled to Thailand together to spend time at the Mandarin Oriental in Bangkok followed by shopping in Chiang Mai (Watch this space for upcoming Diva News! Will the Diva Do Asia?) followed by an amazing week at the Anantara Elephant Camp in the Golden Triangle learning to drive my own elephants.  Taking in this magical place was truly what we needed after all the hustle and bustle of this whirlwind year!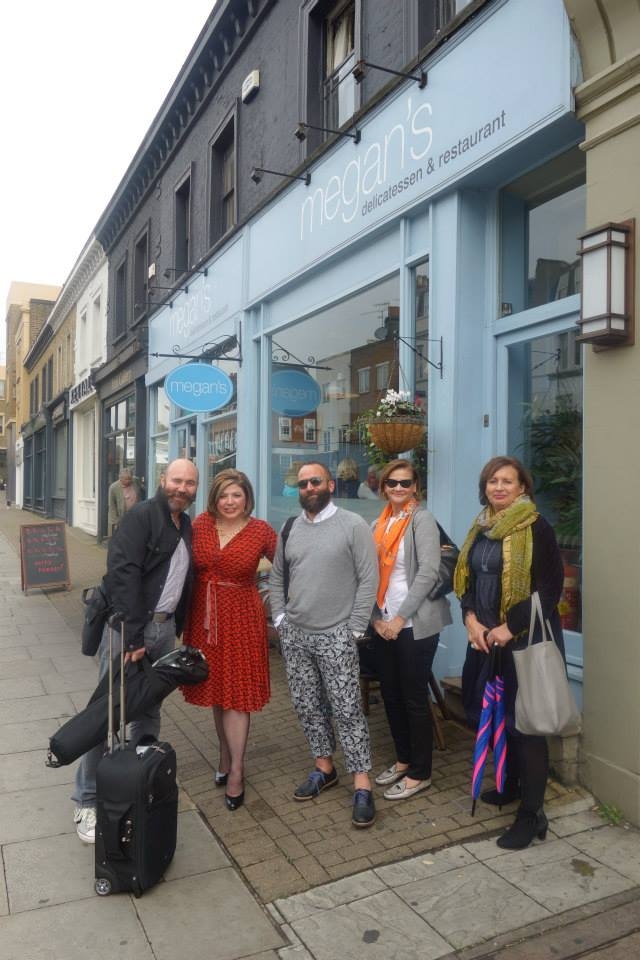 In September I was back in London, leading a VIP tour alongside industry sage and icon Stephen Nobel. Taking in exciting inspiration and sourcing unique antiques was the name of the game—along with lots of bubbly, bien sur! By the end of the month I was back again in London, taking a lovely journalist from Traditional Home on a special tour which coincided with The Decorative Fair at Battersea.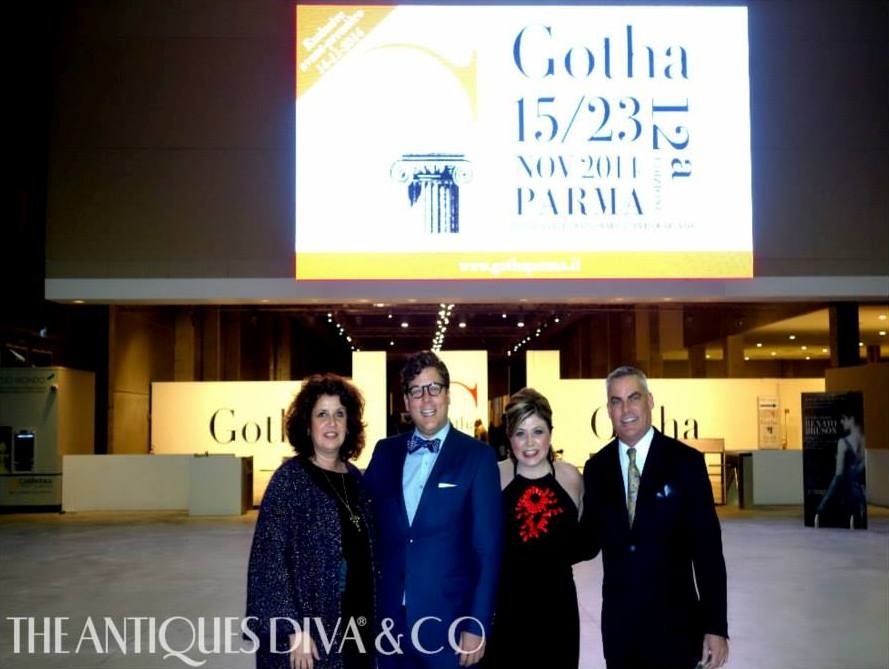 Then in October after spending time in Italy for Mercanteinfiera I flew back to the Big Apple to speak at the D&D Building for Fall Market. But I couldn't stay long because up next was High Point Market where I spoke yet again about my Antiques Diva Style Guide. High Point is always like a reunion! Such a pleasure to see so many familiar faces.  Before I knew it, I was back to Italy for another VIP event – attending the opening night gala at the Gotha Biennale with special VIP guests Darcy Fulton of John Rosselli and Jackson McCard of Bunny Williams' Treillage!
In November we capped off the year with our last Antiques Diva event as I returned to NYC, speaking alongside the grande dame of antiques Judith Miller, Traditional Home magazine antiques editor Doris Athineos and Olga Granda-Scott of The Highboy at Jonathan Burden, Antiques and Works of Art. I was also able to go to the opening night gala of Holiday House New York with my dear friend and client Justin Shaulis whose room "Gallery Hopping in Miami" was simply a show stopper!  I was also particularly partial to client Louis Navarrete's Bohemian Rapsody!
All these events… and I've not mentioned the MOST IMPORTANT PART OF THIS YEAR.  As a company my 18 guides and I served more clients than ever before! Our busiest week of the year  we had more than 25 clients spread across 6 of our tour countries!!!!  Thank you for your support, your love and…baby, we quite simply could not do it without you.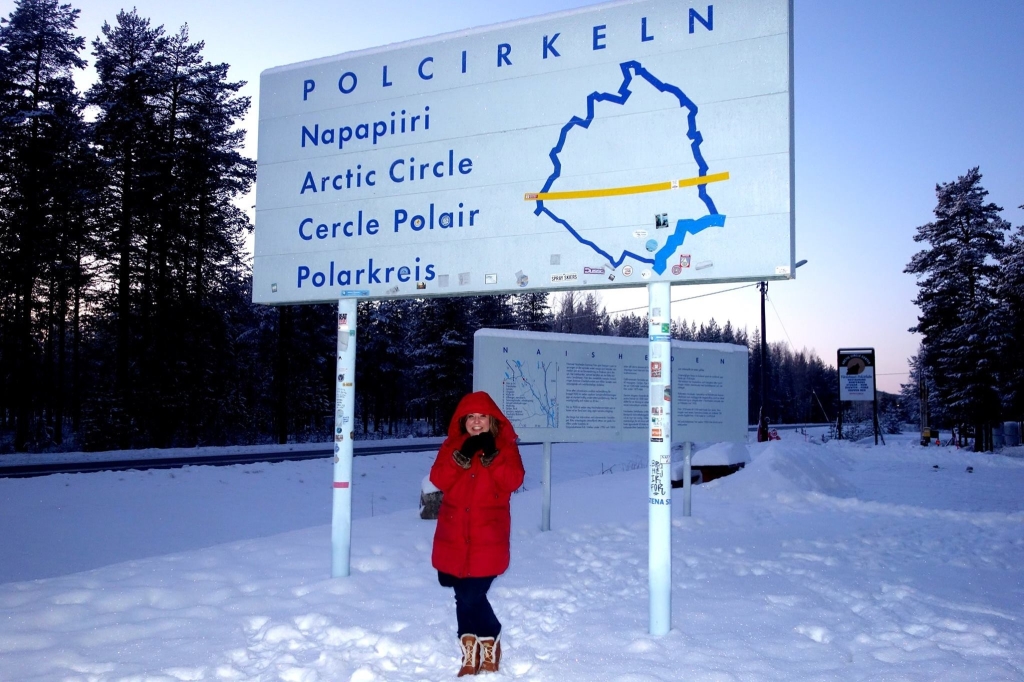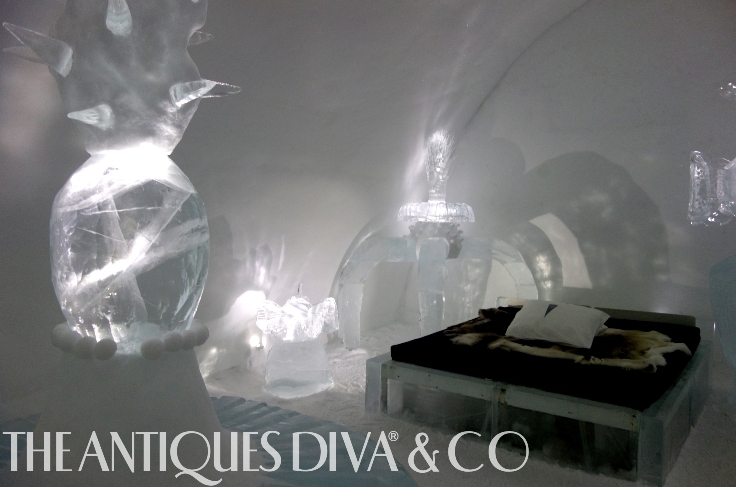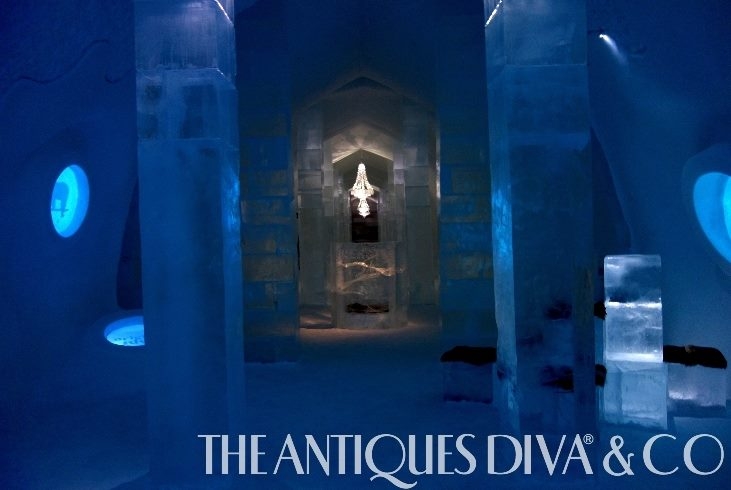 And that brings us to December where I've fallen into a pile of exhaustion as we entered our slow season,  as I spent my holiday in the Arctic Circle.  You must add the ICEHOTEL to your bucket list. It's amazing.  I've spent the last week dog sledding in the tundra, reindeer sledding (and making one too many sightings as those buggers crisscross the roads in the Nordic) and stargazing while watching the Northern Lights. All in all I'd say it's been a full, fun and fabulous year.
As we prepare for 2015, I can't help but think that the BEST is still ahead!  This past year has had many highs (and a few lows as well) and the lesson here has been on priorities. In January 2014 I told my husband my goal for the year was to jump off cliffs…. free falling to see where these risks I was taking would take me.  The year has yielded more returns than I ever expected.
Thank you to all of my clients, friends, family and followers for everything and I look forward to seeing all of you in 2015!!! Let's make it a great year!
Happy New Year,
The Antiques Diva®
Dear Diva Readers,
Extra Extra Read All About It…. The Antiques Diva & Co has been in the press all over the place! From Atlanta to London, Amsterdam, Houston to Dallas, Parma, Italy and everywhere in between…..   First off we showed up in the press at the Homes & Antiques blog while touring the Bath Decorative Fair with Judith Miller.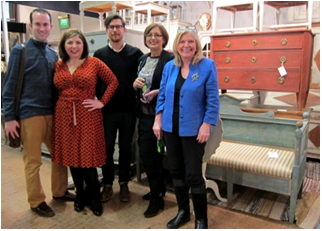 It was a double whammy with Homes & Antiques magazine as my article "Vintiquing in New Orleans" appeared in their February issue!  If you're not already familiar with this British publication Homes & Antiques magazine mixes the best of the old with the best of the new – this much loved homes magazine is for people who adore great design and beautiful objects from every era.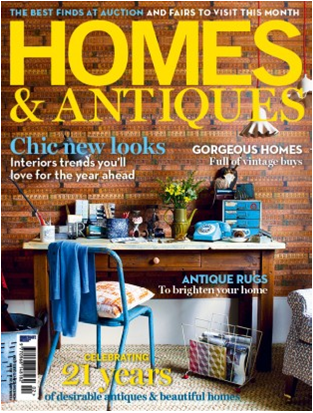 I guess I should make this a grand slam home run…  Imagine my surprise when my copy of the 2014 – 2015 Collectables Handbook and Price Guide by Judith Miller and Mark Hill showed up in the mail with a quote on the back cover by YOURS TRULY!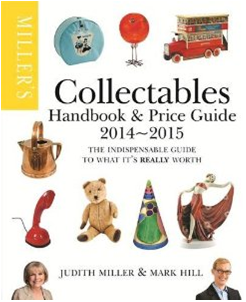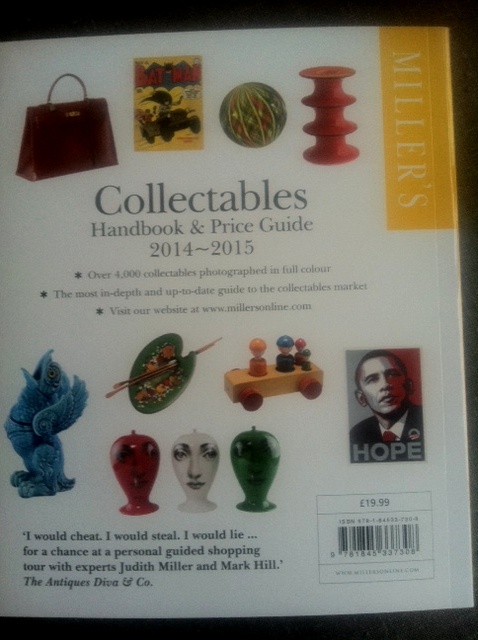 This book is an indispensable guide to antiques, providing the most in-depth and up-to-date information to the collectables market.
Speaking of great publications – if you haven't seen the recent issue Antique Shops & Designers magazine – I had 2 articles inside – one about my favorite Tuscan villa agriturism estate Montestigliano and another sharing secrets to antiquing in Sweden.
Antique Shops & Designers is a magazine of home interiors, home decorating, and Interior Design. The magazine combines antique objects of art with contemporary home decorating. A designer's reference book loaded with imported antique accent pieces, modern designer kitchen appliances, antiques and the latest in today's lighting and accessories design.  I really appreciated the shout out Joni of Cote de Texas gave The Antiques Diva & Co as well in her post about this fabulous magazine.
Meanwhile we were delighted to make the Mothers Day Gift Supplement in  The Times (that would be London's Times not New York's) and then imagine my delight when California Homes magazine hit the newsstands yesterday and yours truly was pictured on the "Party" page for the Americans in Paris Party! You'll recall I wrote about this sensational fete in January.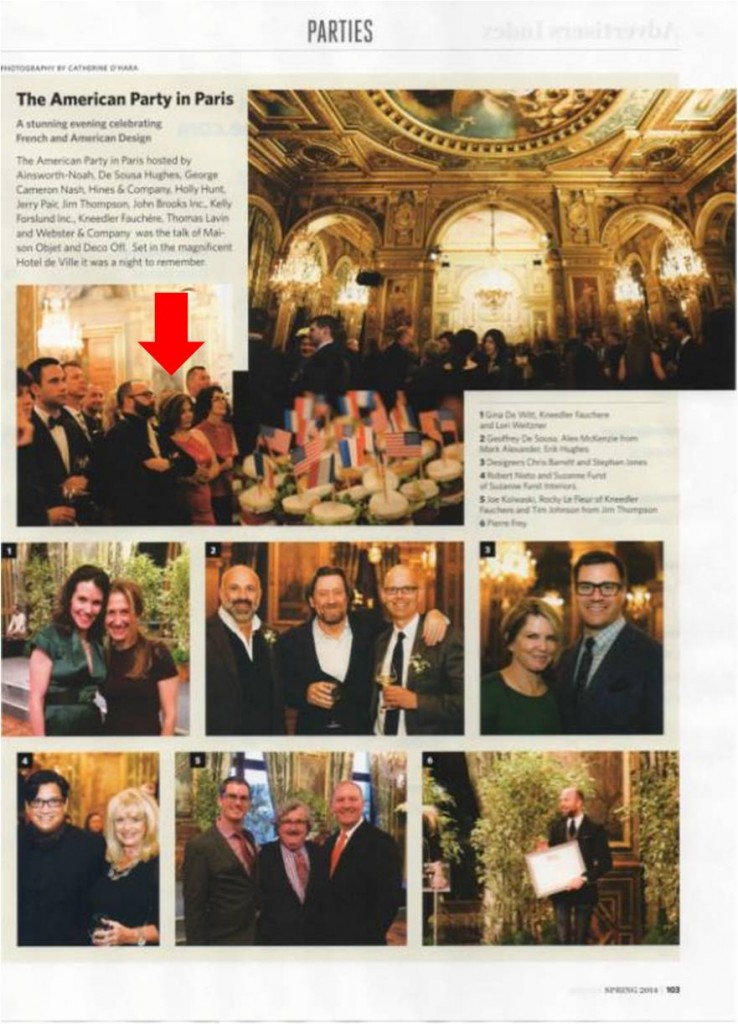 Sometimes our media coverage is a bit more incognito… we appeared lurking "behind the scenes" in an article about one of our favorite Dutch dealers – Benko – in a Dutch newspaper.  We're incognito in this article as we were shopping for a top secret VIP client! Oh the intrigue!  Sorry… I'll never tell who we were shopping for… one of our services at AD&CO is complete confidentiality for our clients.   My new in house creative consultant Andrew Skipper is also seen here noting the plethora of purchases our client was making.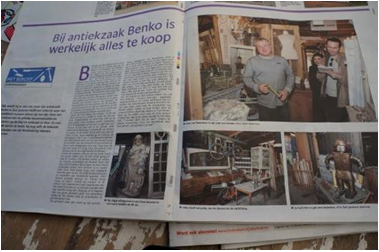 Meanwhile The Antiques Diva & Co was mentioned in a slew of blogs after I spoke at the Design Bloggers Conference!

The Design Bloggers Conference is the only conference specifically focused on the interests of bloggers on interior design teaching attendees how to build a stellar personal brand for their design career.  Special thanks to Pamela Copeman for mentioning The Antiques Diva & Co in her Posh Palette Blog on 30 Quick Takeaways from DBC 2014.   Pamela Copeman is an award winning interior designer noted for her posh panache and timeless designs that unite classic style with a modern, often colorful twist.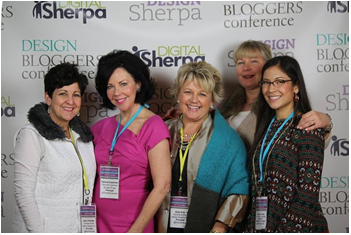 Photo of Pamela Copeman with Kandrac & Kole
Kelly Kole and Joann Kandrac of Kandrac & Kole blog also gave The Antiques Diva & Co a shout out! in their colorful blog.  Kandrac Kole is a nationally recognized interior design firm well known for their approachable, dynamic personalities, signature use of color, and one of a kind, custom designs.  Voted one of Atlanta's Top 20 Residential Interior Designers in 2013 by the Atlanta Business Chronicle, their work has been featured on HGTV as well as The New York Times, House Beautiful, Southern Lady Magazine.
Inspirational lifestyle design writer Mitzi Beach was also so kind to include a mention of my speech in her blog as well.  Mitzi is an award winning interior designer who not only is an author but is an esteemed speaker as well!  On top of this she's a Baby Boomer Marketing & Lifestyle Specialist  armed with 30+ years' experience and a masters degree in interior design. Mitzi firmly believes the Boomers can and must be the generation that changes the way we age in this country and her unique combination of education, expertise and experience—even the Aging in Place principles evidenced throughout her own "Living Lab" home, called Cypress—make her the ideal candidate to lead that charge.
(I'm seen here with Mitzi Beach and Lisa Mende Designs)
I was also particularly honored that Steve McKenzie's blog mentioned me in their DBC2014 highlights.  Steve and Jill McKenzie own Steve McKenzie's Interiors and Lifestyle store.  The brand offers a design sensibility that converges two fundamental influences – the southern hospitality and graciousness mixed with their love for the mid-century modern aesthetic. Steve's fabric designs are beyond divine.
Jill McKenzie & Toma Clark Haines at DBC2014
Last but not least with respect to the Design Bloggers Conference, I want to thank Cromatti for not only including me as one of their 4 Inspirational Bloggers but also for sharing their $5000 1st dibs prize with me, giving me a $1000 Gift Certificate.  I met Alan Rauta, their Chief Operating Officer, at the conference on the first day and for the next several days we traded banter.  When Michael Bruno announced that the 1st dibs competition winner of the $5000 Gift Certificate was Alan Rauta of Cromatti I was smiling from ear to ear – it couldn't have happened to a nicer guy!  But I had no idea how nice he was – imagine my surprise when I received an email from Alan saying "The thing I learned at the Design Bloggers Conference was that blogging is all about sharing and I want to share my prize with you."  His generosity left me speechless.  This unexpected act perhaps sums up Cromatti as a brand – they offer the unexpected in their collection of ultramodern and colorful metal furniture.  Perhaps what intrigued me most after learning about their company is that they've found a new meaning in modern furniture that begs the question: Does minimal have to be understated?  If you're a designer or collector add Cromatti to your "Brands To Watch" as they're changing the future of design.
I was beyond honored my home state of Oklahoma included an interview with me in the design ezine Sooner Spaces.  Sooner Spaces is a new media site devoted to sharing compelling stories about Oklahoma spaces and the people behind them.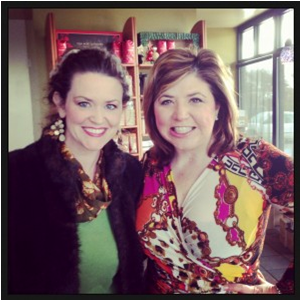 (Journalist Malena Lott and me in OKC last November)
Just south of my home state of Oklahoma you'll find Texas – and honey, everything is big in Texas including the heart on Dallas blogger and top interior designer Denise McGaha.  I simply adore Denise and am delighted to have met her!  Denise McGaha delivers fashionable, diverse, and adventurous designs for clients who live on the fast track; specializing in turn-key, concierge-level service delivered in 90 days or less. With a roster of clients from professional sports figures to busy executives, Denise offers her discriminating clientele a true luxury experience with a timeline.  By offering Deadline Driven Design solutions, her clients receive exhilarating interior design coupled with prompt and nimble completion of their project.  It has been said that Denise McGaha Interiors, is consistently ahead of the curve not just influencing interior fashion, but often dictating it.  With a seamless blending of multiple interests Denise is able to offer her affluent clients access to Dallas' best-kept secret: her black book of high-end concierge services.   And speaking of that little black book I'm delighted Denise counts The Antiques Diva & Co among those resources!  She's written about her recent Italian antiques buying tour in a series on her blog.
Denise is seen here on our Antiques Diva VIP TOUR with Mark Cutler (far left), Denise McGaha, Tobi Fairley, me, and Andrew Skipper
Fans of the popular company Girl's Guide to Paris will be delighted to note the company has expanded and is now producing an online magazine – The Girls' Guide To Europe.   The Antiques Diva Guide to Berlin is featured in their premier issue!
All these press or blog mentions and I've forgotten to mention two exciting new developments at  The Antiques Diva & Co – one geared towards our tourist clients another specifically geared towards our trade clients.    We're delighted American Express has chosen us yet again for their Personal Shopper program for Paris and London…. #WatchThisSpace for more details on this exciting new program.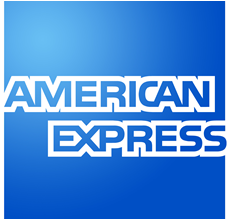 Meanwhile…  a sexy new interior design site named PORTE-COCHÈRE has included The Antiques Diva & Co as one of their preferred business resources.
PORTE-COCHÈRE is a new sales channel and national membership network exclusively for full-service interior design firms and their suppliers in the high end residential market.  Their mission is to increase efficiency and profits for all members through direct designer-supplier relationships, and to promote the stature of professional full-service interior design.
Until next time,
The Antiques Diva®