Dear Diva Readers,
You'll remember last March 2012 I had the incredible opportunity to attend #BlogTourNYC as part of a design initiative created by Veronika Miller, the brainchild behind the world's best interior design resource catalog and networking platform Modenus.
Well, drum roll please… no wait… let's pull out the full on orchestra!
This pic was taken this weekend at the New Orleans French Quarter Festival
#BlogTour is back… and this year I'm going to New Orleans, with tour" target="_blank">#BlogTourNola!
tour">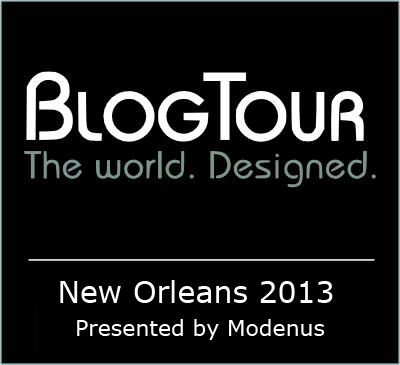 In fact, I SHOULD say "I'm in NOLA" as I came to town a few days EARLY to warm up the crowds and get the party started early for the rest of the BlogTour crew!  When my editors at a UK publication heard I was going to be on this side of the pond, they sent me on assignment a little early so I've been doing a little antiquing, New  Orleans style, scouring the south to see whats chic for an upcoming print feature.
The Blog Tour New Orleans Crew –  tour-nola-meet-bloggers.html?utm_source=feedburner&utm_medium=feed&utm_campaign=Feed%3A+Dec-a-porter+%28Dec-a-Porter%29″ target="_blank">Meet the Bloggers! 
Today – Tuesday, April 16 – I will meet up  with the Rest of the #BlogTourNola gang as they arrive in town to join me with Modenus for a full on 4 days of fun and festivities meeting sensational sponsors and expanding my design repertoire!  Together with the entire #BlogTourNola Team I will be covering NOLA's design scene, antebellum architecture in the Garden District, Creole architecture in the French Quarter and a selection of very modernist developments in the parts of town that were most heavily damaged during Hurricane Katrina.
Shockingly, 8 years after Hurricane Katrina ,many of these areas are still not rebuilt and families were never able to return home. Hopefully the coverage from BlogTour will spark renewed interest into this situation – in fact, many people are simply unaware the problem remains and that the newly funded development could also mean jobs for many in the area.   Your support in helping #BlogTourNOLA share the message by retweeting and sharing the message on Facebook would be greatly appreciated for our initiative.
Last year, NYC was a crash course in interior design as we met some of the top movers and shakers in the Big Apple at the Architectural Digest Design Show.  This year in Crescent City we will be beating a different drum – we will be spending 2 days at KBIS – the Kitchen and Bath Industry Show at the New Orleans Convention Centre.

This is the main event for the Kitchen & Bath industry and it is an inspiring, interactive showcase of everything new in the field, where the brightest and best designers and brands assemble to spot trends, experience product introductions and find the practical solutions and valuable connections that will take them into the future.  As you know for my antique buying tours in Europe we work with both tourist and the trade – antique dealers, interior designers and architects.  For my trade clients, this is one of the biggest shows they attend each year and I'm delighted I'll be able to join several of my top clients this year in person at the show as we discuss how the trends impact their design needs.
Now…   you know me.  I LOVE FOOD and I've got to tell you New Orleans is a fabulous place to host a Kitchen show… because this is a serious Foodie town!  From poboys, jambalaya and gumbo to beignets and chicory coffee… this diva has some serious eating to do while she's in the house.
We'll kick off our #BlogTourNola events with a dip into our hotel bar tonight before walking through the French Quarter to Sobu Nola – a restaurant that Esquire Magazine voted one of the Best New Restaurants in America.
tocredit_michael_kleinberg.jpg">
tocredit_michael_kleinberg-1024×677.jpg" alt="BlogTourNOLA" width="614″ height="406″ />
Photo Credit: © tocredit_michael_kleinberg-jpg/" target="_blank">Michael Kleinberg
In addition to KBIS serving as a wonderful sponsor, our other sponsors for this week's fabulous festivities include:

Blanco – For three generations, BLANCO has quietly and passionately elevated the standards for luxury sinks, faucets and decorative accessories.
Du Verre – Du Verre Cabinet Hardware and Bath Accessories, Du Verre has begun transforming its manufacturing process to reflect global concerns about sustainability

Mr. Steam – Mr.Steam® makes the world's most luxurious steam showers and steam baths for the home and for the spa  – not mention diva worthy towel warmers!

NKBA – The National Kitchen & Bath Association (NKBA) is an international non-profit trade association for kitchen and bath professionals. They provide resources for consumers and industry professionals and promotes professionalism and ethical business practices.
Poggenpohl –  Poggenpohl  is a time-honoured kitchen brand and one of the world's best-known. The design and production of these exclusive kitchens is carried out in Herford, Germany with distribution to all continents. Complete kitchen solutions are sold to end-consumers through about 35 Group-owned stores in major cities, to independent kitchen stores and to business customers in the project market.
tone.jpg">
tone" src="https://antiquesdiva.com/wp-content/uploads/2013/04/logo-silestone-300×298.jpg" alt="" width="180″ height="179″ />
toneusa.com/" target="_blank">Silestone – Silestone is the world leader in natural quartz surfaces for kitchens and bath – its natural quartz surfaces are treated and created to decorate today´s kitchens and bathrooms in a range of attractive quartz colors and extraordinary quartz textures with top-quality performance. It is the only countertop with a bacteriostatic protection that guarantees maximum tops" href="http://www.silestoneusa.com/hygiene/">hygiene on its surfaces.
toto.jpg">
toto" src="https://antiquesdiva.com/wp-content/uploads/2013/04/toto-300×109.jpg" alt="" width="210″ height="76″ />
totousa.com/WhyTOTO/AboutTOTO.aspx" target="_blank">Toto –  Toto was Dorthy's dog in the Wizard of Oz… er, wait, That'st he Wrong Toto!! I mean Toto TOTO is the world's largest plumbing products manufacturer.  They offer a complete line of commercial and decorative plumbing fixtures and fittings, faucets, accessories, shower and flush valves, as well as lavatories, toilets and air baths.
This week as I report you LIVE from NEW ORLEANS  these SPONSORS will be key players in all we do!!!
Stay tuned for more #BlogTourNola coverage!!
Laissez les bonne temps roulez,
The Antiques Diva®