Design today values new ways to use old things. Instead of just buying an antique to display, today homeowners want to take interesting pieces and use them in a new and modern way. Antiques are the quintessential eco-friendly way to furnish your home – #AntiquesAreGreen. Reuse, repurpose and revitalize. Antiques Diva® Architectural Salvage tours have helped clients source entire frescoed ceilings, built-in libraries, Italian roof tiles, floor tiles, reclaimed wood floors, and staircases. Whether found on tour or through our Buying Services, our Diva Guides know where to go, who to talk to about restoration, and what a fair price is. I recently spoke to Architectural Salvage & Antique Lumber News about sourcing architectural salvage in Europe and Asia: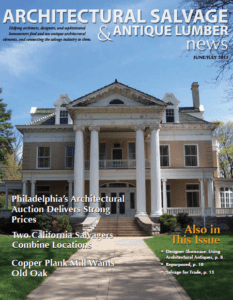 The first client who approached me for architectural salvage was Australian in 2009. She wanted antique bricks to pave her driveway. I was perplexed – I've never had anyone ask me for building supplies – but I contacted a friend who had a small assortment of fireplaces in the back room of his antique shop and I asked his advice. Three days later I found myself driving my Mercedes SUV to a salvage yard after salvage yard after salvage yard on the back roads of Belgium and France, and a new addiction was born. The south of France and the Cognac region came on my radar and England and Italy or soon thereafter. But that first day – seeking sources for salvage – I learned that 17th 18th and 19th-century Flemish bricks have amazing patina and that one can tell the region by the color. But the salvage yards had more than bricks – they had balustrades and grand stone steps and terraces, Versailles parquet from France and limestone that would make your heart skip. As I would walk through these dissected château laid out like pieces of a puzzle, I realized you can give a new home an old history – and in America, where most of my clients come from, access to an entirely new way of living.
At the Antiques Diva and Co, our mission has always been to make antiques modern, sexy and fun but most of all our goal is to make antiques accessible. Our sources become our clients' sources. My first big architectural salvage client in Europe was starting a new store specializing in American architectural salvage and she wanted to vary her inventory. Three container loads and about €250,000 later I had been educated in the best way possible… by doing. 
Read more about my adventures in architectural salvage in Architectural Salvage & Antique Lumber News  Business Profile: The Antiques Diva & Company. 
Here are a few tips on how to buy architectural salvage.
About Architectural Salvage & Antique Lumber News
Architectural Salvage & Antique Lumber News was founded in 2004 to provide sources for salvage, project ideas, and news to architects, designers, decorators, homeowners and the architectural salvage and antique lumber industry, and to connect buyers and sellers. It is the only U.S.-based publication focused on this industry in both North America and Europe.
Special Subscription Rate for Antiques Diva Readers 
Fans of The Antiques Diva are invited to enjoy a special, discounted subscription rate to the magazine. Click here and then choose the gray "subscribe" button that appears on left to receive 50% off the regular subscription rate of $20 (U.S.) This $10 subscription is for one year of the bi-monthly magazine and at this time is only available for shipping to U.S. and Canadian addresses.
Ideal for antique dealers, interior designers, builders, landscape architects, developers and homeowners, Antiques Diva Architectural Salvage Tours are available in Europe, Asia and the US – #NoPassportRequired.
Ciao for now, 
Toma Clark Haines – The Antiques Diva