Dear Diva Readers,
top: 5px; float: left; color: white; background: #781300; border: 1px solid darkkhaki; font-size: 50px; line-height: 40px; padding-top: 1px; padding-right: 5px; font-family: times;">I can hardly believe it – after months of anticipation I touched down in New York City yesterday for tour" target="_blank">#BlogTourNYC and this next week will be blogging LIVE FROM NEW YORK!!!  My home away from home near Times Square is the modern, friendly, well-appointed TRYP Hotel.
How lucky for me that I was given a corner room on the penthouse with sweeping views over the Hudson and Manhattan!!  I definitely felt like I had arrived in STYLE!!!  And speaking of style, Veronika Miller and Tim Bogan of Modenus have it in spades.  They were waiting in the lobby with cocktail in hand.   The enchanting Pippa Jameson immediately got the party started by attempting to drink wine straight from the carafe….
Of course, Will of Bright Bazaar wasn't far behind…
With the wine flowing, Modenus had organized a gorgeous little orientation fete where we ate a slew of nibbles (my favorite being the fish tacos) and got our goody bags while discussing our plans for the week!  Score!!
At this very moment whilst writing this blog post, I'm actually wrapped in luxury wearing the towelcompany.com/ " target="_blank">Turkish Towel BathRobe that came with the kit! 
Presents unwrapped and stashed in our room following our orientation cocktail, we dashed out onto the street, hobbling in our heels for dinner at Barbes, an amazing little Moroccan restaurant named after the Paris neighborhood at the foot of the Sacre-Coeur.  We found ourselves giggling and chatting and fast becoming friends…
tournycgirls.jpg">
tournycgirls" src="https://antiquesdiva.com/wp-content/uploads/2012/03/blogtournycgirls.jpg" alt="" width="600″ height="800″ />
Caption:  Emily Peck, Hannah Coleman and Stacey Sheppard ham it up! 
We even got to see a few sites in transit to dinner… Andrew Dunning, of ADP Interiors pointed out the Empire State building as we dashed by.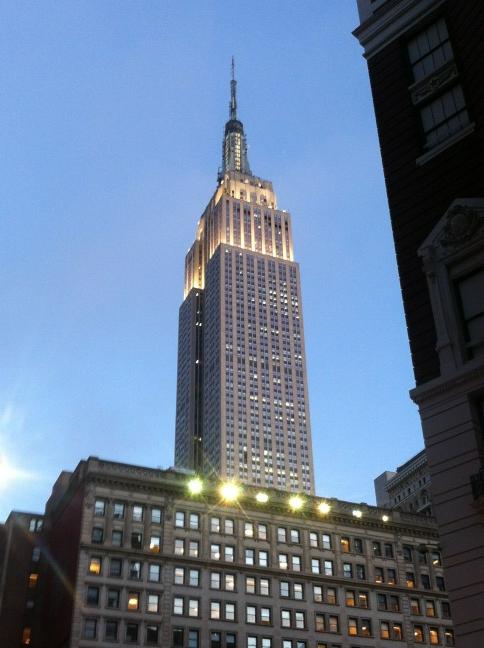 A highlight of the night was getting to meet 2 of my favorite bloggers who were #BlogTourLondon participants last year – Tamara of Nest, Nest, Nest and Stacey of Quintessence.  Equally delightful were the sponsors on site for the night.  I had the pleasure of dining with representatives from Modern Aire and the Architectural Digest Home Design Show.
We were given a bit of the inside scoop on setting up the show and then the next thing I knew more gifts were being bestowed upon us! THANK YOU Samuel Heath for the lovely robe hook & pull cord by designer Kevin McCloud.
And thanks to Kelly of Kelly's Kitchen Synk for the use of her photo! Her's came out so much better than mine I decided to borrow it!
All in all, I'd say our arrival evening into #BlogTourNYC went wonderfully – I was knackered when I got back to the hotel after flying into NYC from Berlin. 
Today we're off for our 1st full day of adventure!!  On tap, includes a visit to the A & D Building for a town.poggenpohl.com/seite/home.html" target="_blank">Poggenpohl & Blanco before popping down the road to the D & D building for afternoon tea with Madame De Le Curona, a luxury textile firm.  Then – Modenus knows how do it diva style –  they've coordinated a fab dinner in the Miele showroom after we tour the luxury apartments at One 57.
You might be wondering why we're touring a luxury, 90 story skyscraper overlooking Central Park…. Well, aside from the photo opps, the key thing is the entire building opted to install Miele's appliances… this building is the essence of fine living and so this decision speaks volumes!
tour">
tour_nyc_250.png" alt="BlogTour 2012" width="250" height="228" />
I should dash as the day is about to dawn…but stay tuned for more news from the road with #BlogTourNYC!
The Antiques Diva®