Jingle Bells, Jingle Bells! Santa's on his way!! He's making a list of those who have been naughty and nice… and I've got to tell you… I have been very very good this year. And thus… my wish list is super long! With a world of antiques available at my every whim… where do I go to shop for antiques? London of course! Two of my favorite antiquing sources for the holidays – or any time of year – are Alfies and Grays Antiques. You're invited to shop with them too at their special after-hours Christmas Shopping Party at Alfies Antique Market on Thursday, December 1 from 5pm-9pm.
But don't worry if you're not in London this holiday… their gift guides are jammed packed with presents fit for a diva. Uhm… I'm just saying… Here's my Wish List in case anyone of you wants to start their Christmas shopping with me in mind (wink, wink)!
Louis Vuitton Trunks
Louis Vuitton is timeless chic when it comes to fashion and handbags… but with travel accessories!? Get out of here. I'm ready to hop a steamer for my next holiday. Who wouldn't love these fabulous vintage Louis Vuitton Trunks? And if you're not planning un grand voyage they can be used for stylish storage or simply as a decorative accessory in your home
Haori Kimono C 1920s
I've got "Asia on the mind" with the launch of our new Asia Antique Tours in Thailand, Laos, Myanmar, Cambodia, Vietnam and Indonesia so this kimono had to be on my list!
1920's Diamond and Ruby Ring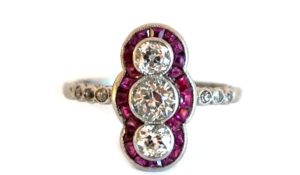 Everyone who knows me knows that I'm a jewelry fanatic. This ring is just glamorous and stylish all at once! A bit over the top? Yes. But who said that was a bad thing?
Gold Tone Snake Necklace
I'm in love with this exotic snake necklace. Paired with a simple dress, this baby has chic written all over it!
Red Chanel Bag circa 1980s
Vintage Chanel. Need I say any more?
Tiffany & Co 18 C Gold Earrings
Classic, timeless, chic. These earrings would go with just about anything or for that matter… nothing at all!
Happy Holidays,
Toma Clark Haines, The Antiques Diva®