Dear Diva Readers,
top: 5px; float: left; color: white; background: #781300; border: 1px solid darkkhaki; font-size: 40px; line-height: 30px; padding-top: 1px; padding-right: 5px; font-family: times;">W e recently had a client who was coming on an Antiques Diva UK Buying Tour  and wanted to see some of the English countryside as well.  She emailed us and asked if we had any recommendations on which castles, gardens, and quaint places to see.  Well of course we do!  Enter our UK Diva Agent, Gail McLeod.  Gail knows the Cotswolds like the back of her hand, and since the client was flying into Heathrow and wanted to go straight from there, Gail put together a list of sights to see that I want to share with you below of gorgeous gardens and English Country Houses to see on your next trip to England.
There are a large number of wonderful gardens in the Cotswolds, many being owned by the National Trust  which lists a summary on its website.
Prince Charles' most wonderful garden is now open by appointment to the public.  Highgrove is one of the most creatively inspired gardens in England.  It is composed of a series of distinct spaces, all connecting, which allow one to meander through the garden with the house always visible in the distance.
Hidcote is another must-see garden: the perfect place if you're seeking gardening inspiration.  It's composed of outdoor rooms, offering secret paths as well as grand vistas.
Kiftsgate Court Gardens is famous for the namesake Kiftsgate rose being bred here.  This is a truly gorgeous house and garden particularly in mid-June to early July when the roses burst into bloom and cover much of the gardens.
Sezincote is one of the UK's more remarkable country estates with a beautiful parkland setting.  The house was built by the man who built Brighton Pavilion. The architecture is in the Mogul Style of Rajasthan, with a central dome, minarets, peacock-tail windows, jail-work railings, and pavilions.  It truly is a sight to behold!
Iford Manor is a miniature Italianate manor house on the edge of Bath with a world class garden designed by Harold Petoe.  It was the World Heritage Garden of the Year a few years back.  It's quite impressive!
Finally, Tyntesfield  is the full package with a magnificent historic house and gardens.  With its Victorian Gothic Revival architecture, the house is a magical place allowing one to step into the past. It is often quite busy on the weekends so if you can go during the week, that would be ideal.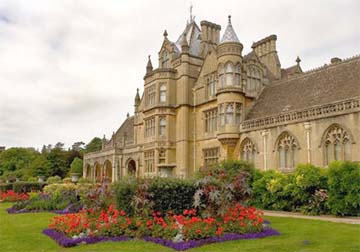 It is important to note that some of these privately owned gardens are only open on specific days so you should always check the opening times for everything before planning your trip.  Regardless of whether you are able to see all of these gardens and houses, you will have a marvelous time exploring the English countryside!
When planning your next trip to England you can combine Antiques, Gardens, Country Houses and More!  Email to:info@antiquesdiva.com" target="_blank">info@antiquesdiva.com to book an Antiques Diva® England Tour.
The Antiques Diva®