Dear Diva Readers,
top: 5px; float: left; color: white; background: #781300; border: 1px solid darkkhaki; font-size: 60px; line-height: 50px; padding-top: 1px; padding-right: 5px; font-family: times;">Here at The Antiques Diva & Co we offer Antique Buying Tours in 8 different countries. And while our Diva Guides are all united by their love for antiques, it seems that each country has something unique to offer. Whether it is a certain style, a way of living, or particular pieces specific to a certain country, we always try to show clients what makes each locale special. Often times clients want to take a piece home of whichever tour country they're in, and we love that! Whenever I'm in England it seems that there are a few key things that come to mind—The Royal Family, great country houses, and of course TEA! Clients always enjoy stopping for a spot of tea in between antiquing appointments and participating in this quintessentially English tradition. Of course, many of our sources sell antique tea services, spoons, and caddies. Tea caddies make wonderful decorative accessories and can be beautifully displayed alone or in a collection. With a wide variety of caddies out there, here's a bit of history on them.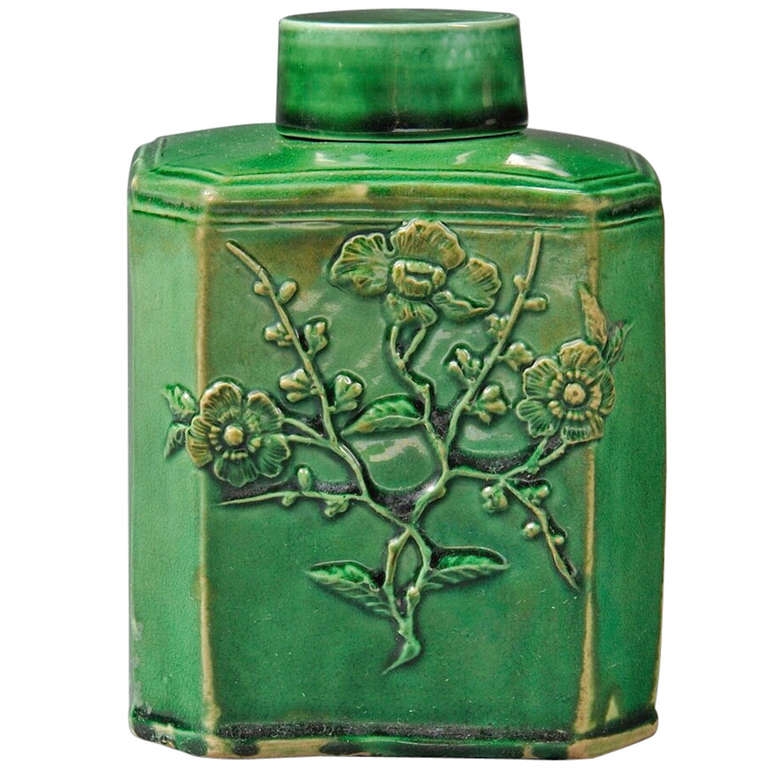 Tea was introduced to England from China sometime in the middle of the 17th century. As it became popular and more in demand, the price went up and so did the tax. People began incorporating the ritual of tea time into their daily lives at home, making tea a necessity. Tea was taxed at an extremely high rate in the 17th and 18th centuries, therefore it needed to be kept under lock and key and this is where the invention of tea caddies came into play. 17th century tea containers were bottle-shaped jars made from glass, china, silver, and metal. However it was during the 18th century that tea caddies, box-shaped containers, became a typical accessory in private homes. As with any functional piece, tea caddies became more decorative with time and adapted to the needs of changing tastes and traditions.
Some caddies had two compartments—one for storing green tea and one for storing black tea— as it became desirable to offer both types of tea. Many caddies also had a space to store sugar which was an integral component to tea drinking. During the early 18th century, tea caddies were made primarily of wood or silver and shaped like small chests. Caddies from the second half of the 18th century began to incorporate painted decorations, Chinoiserie motifs, and even straw work. Other materials used to make caddies included papier-mâché, tortoiseshell, and ivory. Cabinet makers and woodworkers began offering tea caddies to their clientele as well. The late 18th century caddies were made of pine, oak or mahogany and veneered in different woods such as native fruitwoods as well as more exotic imported woods, which gave the cabinet makers more scope for designs. This enabled the makers to make the best use of rich figuring in the wood as many surfaces could be cut from the most beautiful pieces.
When it comes to early 19th century, we begin to see the Regency style reflected in tea caddies. With improved transport and trade, the culture in England had changed somewhat. The natural progression toward incorporating different cultures can be seen in the style of that time, and a departure from the old English forms. Anglo Indian and Chinese Export lacquer styles as well as materials like mother of pearl can be seen in the styles of tea caddies during this period. The neo classical influence of the 18th century began to effect the construction of tea caddies. Straight shapes and stylized ornaments were translated in the style of classical architectural forms in tea caddy design.
The second half of the 19th century brought changes as well. Social and economic growth as well as medial enhancements meant the population had grown exponentially. Increased trade gave opportunity to more people to increase their wealth and social standing. This meant the the demand for tea sky-rocketed. As tea drinking became a reality for people in small villages, as well as those in crowded cities, the English government was pressured to reduce prices on tea, and they withdrew the monopoly of the East India Company to import tea. With tea being imported from China as well as India, it became much more accessible. Of course this meant that all of the tea accoutrement increased in demand too, including the tea caddy. With new mechanical processes, it was easier to cut veneer. By this time timber was being imported from the Far East, Africa, the Americas, and New Zealand, meaning the options for variety were endless. From basic caddies for the average citizen to rare and valuable caddies made for Nobility, tea caddies, as with most material possessions, became status symbols.
Today they can be pressed into service for their original purpose or simply enjoyed aesthetically for their beauty. Whether you prefer intricately detailed tea caddies crafted from exotic materials or a clean-lined elegant silver caddy, there is a style to suite every taste! If you would like information on taking an Antiques Diva Buying Tour of England, email us at info@antiquesdiva.com. We'd also love to help source English tea caddies for you though our Buying Services! It's a great way to buy antiques abroad even if you can't travel yourself.
Cheers,
The Antiques Diva®