Photo Credit Jared Siskin
As summer winds to a close and before the fall breezes get too cool I'm planning my final outdoor fête on my rooftop terrace at home in my converted brewery loft apartment in Berlin. Hosting parties chez moi is perhaps my favorite thing to do in my free time. I spend oodles of time reading cookbooks (Barefoot Contessa is still my favorite) and pinning recipes on Pinterest. As always when seeking Design Inspiration I look to both my travels and my designer friends to get chic tips for living stylishly and entertaining.
The most stylish outdoor party I attended recently in the Hamptons involved both of these two things: Travel and some of my favorite Interior Designers!
As part of our EXCLUSIVE VIP Antiques Diva Hamptons Getaway – (watch this space for
2018 dates and early bird sign-ups
) we were invited to attend the Gala Preview Cocktail Party for the
17th Annual Hamptons Designer Showhouse 2017
presented by Traditional Home Magazine. And while the whole house was decorated with bold swatches of color that felt perfect for diving into a weekend home… my favorite spaces were the outdoor spaces designed by Libby Langdon and Lisa Mende.
This year's showhouse was actually two neighboring properties with a connecting backyard. In House # 1 flanking the pool from either side were Libby Langdon and Lisa Mende. You can
watch a great video
as Libby Langdon showcases her new indoor/outdoor collections with Bradburn Home, KAS Rugs and NorthCape.
Lisa Mende decorated her covered porch poolside with lighting by artist Louise Gaskill (with seashells dripping from the chandelier), furniture from Woodard Furniture, and a Dash & Albert rug.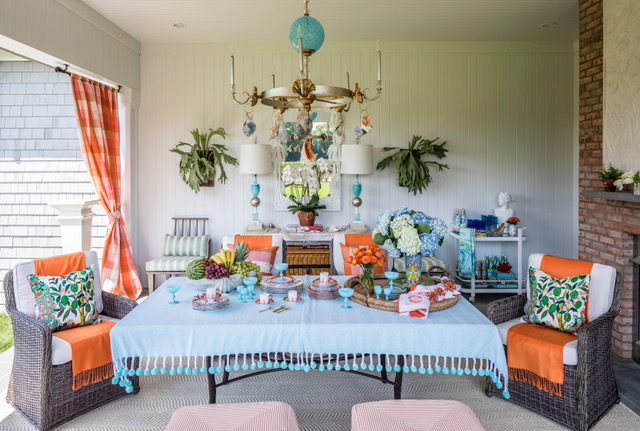 Originally from North Carolina, Lisa Mende was born to entertain. When I asked her to share with me her her tips on Entertaining with Diva Style she wrote:
"Entertaining Diva style is an experience not to take lightly! The key to Diva entertaining is to consider all the elements, plan well and be at complete ease when your guests arrive. So how do we do that, you ask? First of all, let's talk the drinks and bar cart! Every Diva has the drinks flowing when her guest arrive. Nothing will put your guest more at ease than a nice glass of bubbly or a fun cocktail! There must be good champagne and lots of it! You must also have a signature drink as an option for those who don't like champagne. Customize the signature cocktail to color coordinate with the linens so the drink looks good on the table. Also, make sure your bar cart is well stocked with pretty glasses, a martini shaker, fun mixers, swizzle sticks and a large ice bucket."
Interior Designer Lisa Mende continues:
"I'm not sure who decided we had to dine on plastic and use paper outdoors, but I say throw caution to the wind and bring on the beautiful china and linens outdoors! Divas don't do plastic or paper when entertaining! We only serve the best! We like to make our guests feel lavish and loved! We like to make meals that can be prepared ahead, so the day of the party we can enjoy adding the final details like the flowers and candles for our table. Vary the height of candlesticks to create drama and have plenty of them. We all look so much better in candlelight, right ladies? Last but certainly not least, the consummate hostess always remembers to provide a shawl or pashmina on the back of each chair so her guest can wrap up if they get cold. When you plan well dinner parties are a gift to your guest and also to yourself. Enjoy your night and so will your guests!" 
Libby Langdon has a similar philosophy on entertaining to Lisa Mende: If the host is happy, everyone is happy! Libby loves large dinners for 60 people on her front porch. She recommends you add lots of silver and candles – and flowers – always flowers. When you can pick hydrangea from your own backyard even better!
Libby explains, "One of my favorite elements of living out in Sag Harbor is being able to entertain family and friends. Great food, delicious cocktails and lots of laughs, these are the important things in life!" Lizzy shared a few pics from a recent fête she hosted in her own Sag Harbor home. Libby advises Diva Readers when entertaining to create a signature dish – she is famous for her grilled pizza and fresh mango margaritas!
The Hamptons Designer Showhouse 2017
Sunday, July 23, 2017 to Monday, September 4, 2017
11AM to 5PM
TIckets Now On Sale 
Bon Appetit
Toma Clark Haines – The Antiques Diva
PS: Watch This Space for details on next summer's VIP Hamptons Antiques & Design Tour and upcoming details on the Hamptons Designer Showhouse for 2018. Proceeds of the Hamptons Designer Showhouse 2017 go to the South Hamptons Hospital. The showhouse is among the most popular showhouses in the USA. 
Sponsors and Chairs for the 2017 Showhouse
National Magazine Sponsor: Traditional Home 
Real Estate Sponsor: Saunders & Associates
Regional Magazine Sponsor: Hamptons Purist 
Design Sponsor: Kohler Co
Honorary Showhouse Chairman:  Mario Buatta
Honorary Design Co-chairmen: Jamie Drake & Alexa Hampton