Dear Diva Readers,
top: 5px; float: left; color: white; background: #781300; border: 1px solid darkkhaki; font-size: 60px; line-height: 50px; padding-top: 1px; padding-right: 5px; font-family: times;">Here at The Antiques Diva & Co we have resources galore when it comes to antiquing in Europe whether you're looking for architectural salvage, 18th century French furniture vintage fashion, garden items, and more. In fact, once clients tell us what they're looking for, we custom plan their tours in order to make the most of their time. We recently had an inquiry about antique jewelry – and while I personally am not an expert on jewelry that didn't stop me from coming up with an answer. What's so great about my company is that it's not just me…. we're not called The Antiques Diva & Co for nothing. The "Co" in Antiques Diva & Co have a wealth of experience and resources that stretch beyond my own bejeweled fingertips. So when a client wanted to know where to buy antique jewelry in Europe I went straight to my Diva Guides to find out what they would suggest when it comes to sourcing antique & vintage jewelry in Europe.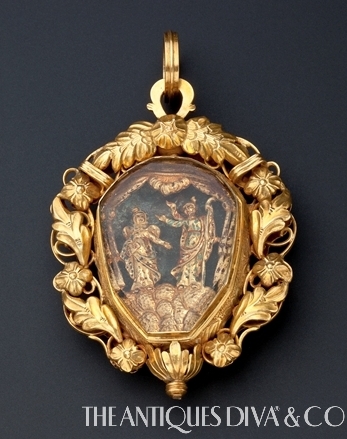 The question the client posed was… "Are there dedicated jewelry shows or fairs? Where can clients find a good assortment of pieces"? So many questions, but of course, we've got the answers and I want to share some of them with you!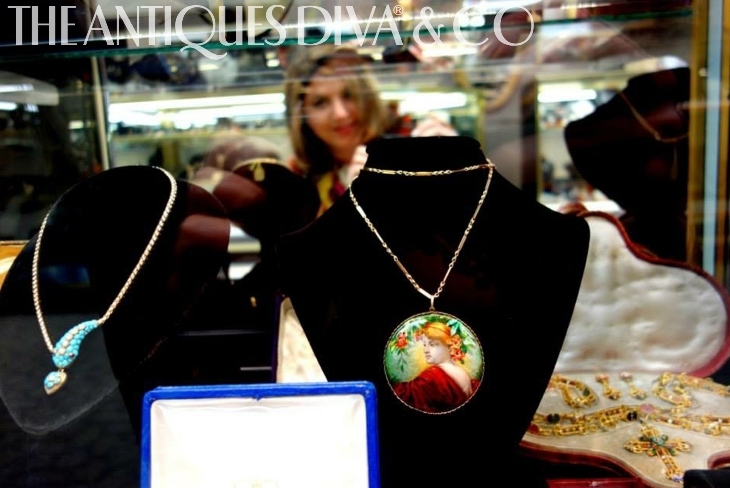 Our Belgian Diva Guide Lucretia is a collector of antique jewelry herself so she is always looking for specialized shops with great bargains in Belgium and Holland. She says, "Every Antiques Fair like TEFAF in Maastricht, PAN in Amsterdam or Art Breda, has a fairly large selection of jewelry dealers, but be prepared to pay higher prices for high end pieces. Small antiques fairs are probably much better to find attractively priced jewels." She tells us that there happens to be a special fair coming up soon in the Netherlands which is totally dedicated to jewels. It will be June 12 -14, in Driebergen, near Utrecht. It is a relatively small show with only 25 participants, but the inventory will be quality—if you are a serious collector, it's the place to go.
Now – here's the inside scoop…. while I love shopping a fair – it's the fastest way to see the best quality inventory in one locale – if you like digging for a bargain the best places to buy vintage and antique jewelry are auctions. This is where you'll find the best deals. Almost every major city in the Netherlands has an auction house, many of them also sell on-line.
Here's Our Dutch Auction House Resource List:
De Zwaan, in Amsterdam
De Eland, Diemen
tockums-veilingen.nl" target="_blank">Van Stockums, in Den Haag
Oprechte Veiling, in Haarlem
Veilinghuis Peerdeman, in Utrecht
Venduehuis der Notarissen, Den Haag
Dickhaut, in Maastricht
Van Zadelhoff, Hilversum
Van Spengen, Hilversum
Onder de Boompjes, Leiden
Twents Veilinghuis, in Enschede
Notarishuis, in Rotterdam
And of course Christie's is still active in Amsterdam, and has special jewelry auctions which always contain high quality items.
Gail, our Antiques Diva Agent in England, says while there aren't any specialist jewelry shows in the UK, there are a few places she'd recommend to source antique jewelry. Grays Antiques in London is something of an institution in the antiques trade –  It's located in the heart of Mayfair and houses about 150 exhibitors. From vintage to very high end jewels, Grays houses a nice concentration of antique jewelry dealers under one roof. She also advises checking websites of national antiques fairs to see if antique jewelry dealers will be selling at upcoming shows – the best place to find out about what antique shows are going on in England is Gail's own website Antique News and Fairs.
And our Paris Guides Debbie, Danielle, Katie & Jennifer, don't want you to forget that in Paris, of course,  there is the famous Hotel Drouot Auction House.  While I LOVE Drouot for vintage fashion and haute couture you can also pick up gorgeous pieces of antique jewels here going, going, going, for a song!
And there you have it! What I love about my Diva Guides is that no matter what the challenge, they always come up with solutions and answers for our clients. By being locally based and well versed in a variety of sources, our guides across 8 countries possess a wealth of knowledge when it comes to the antiques trade. If you have questions about sourcing antiques in Europe, please email us at to:info@antiquesdiva.com">info@antiquesdiva.com. We'd love to help plan a tour!
Bonne Shopping!
The Antiques Diva®