Dear Diva Readers,
Today our Antiques Diva Guide in Provence is sharing her thoughts on what her job leading buying tours really means.  Enjoy!
Caren writes:
top: 5px; float: left; color: white; background: #781300; border: 1px solid darkkhaki; font-size: 60px; line-height: 50px; padding-top: 1px; padding-right: 5px; font-family: times;">Antiquing is a noble profession, a bit like match-making. For what could be nobler than to introduce two entities that were made for each other? I'm talking about match-making the past with the future: the bringing together long-forgotten treasures belonging to a past era with the hosts of special people, that set out every weekend to hunt for antiques- crazy for the vintage charm of pre-loved objects of art from another age. These people are exceptional. They can appreciate the value and history of pre-loved treasures. Their thumbs start twitching and they get excited when they see items with gilded patinas and irregular scratches. And in turn, the pieces from eras gone by are waiting, anticipating…sometimes restored but always lonely and forgotten.
For these items, there is now the hope for a new life. And it comes in the form of the recycling treasure-lovers. These are the people, the connoisseurs, who admire distressed furniture, rusty light-fittings, old paint buckets and rutted cutting boards. They can see the value of the history of a piece of furniture; they appreciate the significance and will treasure these objects, proud to have them in their care.
For many, the hunt is the fun, and where better to start than in the village of L'isle sir la Sorgue, a small town lying on the Sorgue River, between Avignon and Apt in Provence, France.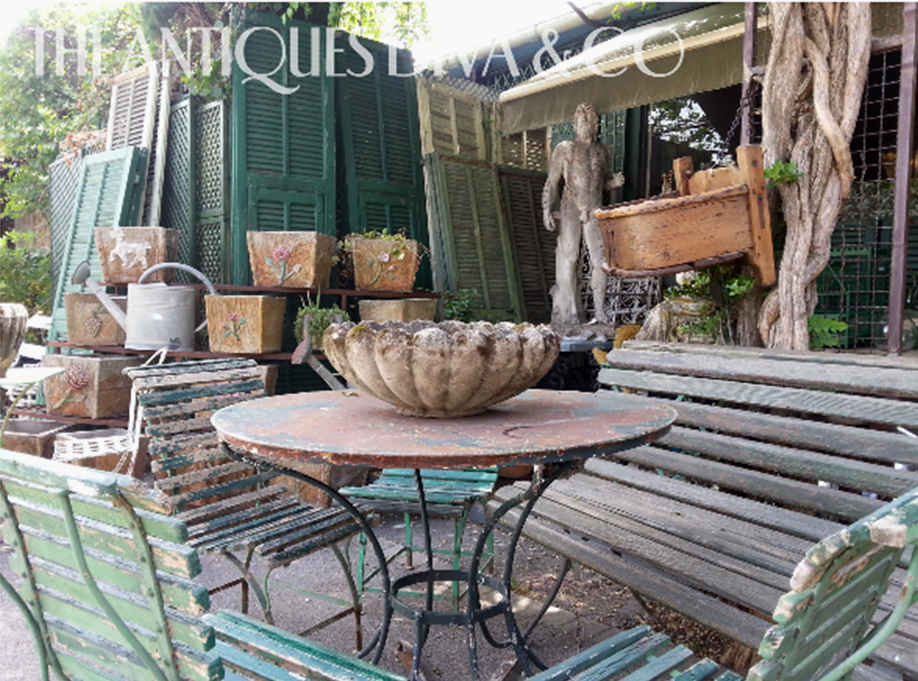 In the 12th century, L'isle sur la Sorgue was a small fishing village where the houses were built on stilts above a marsh. Later, in the 18th century, huge water wheels churned the water on the canals, creating power for the silk and paper industries. Today, the waters flow down two main channels in town, and many shops have their back-doors opening over the water, creating shady and pleasant nooks and crannies to explore.
Known also as the Venice of Provence, the town is a delightful destination for anyone interested in antiquing, decorative arts, brocante markets or gastronomy. It is here that you will find more than 300 antique outlets and flea markets in the old mills and weaving factories: a huge selection of antiques and decorative arts and sellers who cater to all tastes.
A wander through the village will uncover an astonishing range of antiques, suitable for all budgets. This is the perfect spot to find a treasure for your home. It's like being in a museum but better, as you are allowed to touch and handle all of the art pieces on show.Whether you are looking for something small to display on a side-board or considering remodeling your entire house, this is the place to be.
Choose a perfect 18th century iron gate, formerly part of a French chateau, or a stone chimney piece. Or perhaps you'd prefer a grand marble stair case or a 19th century mirror that once adorned the entrance foyer of an art deco theatre, reflecting the images of opera-goers as they added their finishing touches.
If these items are too large, why not hunt for something smaller? Like kids on a treasure hunt, it's a joy to rummage through the layers of history, looking for the piece that says, "Take me home!" From egg baskets to light-fixtures and antique iron watering cans, L'isle sur la Sorgue has it all.
During the week, the antique dealers comb the country-side, often driving huge distances to estate sales on the other side of the country. House clearances are holy grails for dealers. If successful, they return to their workshops where they may spend many painstaking hours reupholstering a chair, repairing a door or examining various points of workmanship on their newly acquired items, so that when the markets open again for business the following weekend, there will be a whole new selection of artifacts to offer, available for eager buyers and collectors.
No divining rod needed. Introducing a beautiful vintage antique to an antique lover can be a match made in heaven. It means that fine pieces of our history will once again find a home. What could be more perfect? Old pieces, recycled by those who appreciate the craftsmanship and at the same time, indulge their passion for the old and beautiful. What better profession is there than to be an antique guide in this paradise?
Provence Diva Guide Caren – Filling in For The Antiques Diva®