Dear Diva Readers,
top: 5px; float: left; color: white; background: #781300; border: 1px solid darkkhaki; font-size: 60px; line-height: 50px; padding-top: 1px; padding-right: 5px; font-family: times;">Many pieces we come across on our Antiques Diva Buying Tours were originally created to be strictly functional pieces. However, as time went on, artisans added decorative elements to these utilitarian items, and I, for one, am so glad they did! Today, many of these pieces can act as gorgeous accessories in the home, even if we no longer use them as they were originally intended. Once such item that I happen to have in my own home is an antique barometer – it rests on top of a vintage Lucite desk.  The contrast between the modern style desk and the antique gilded barometer is quite pleasing and interesting!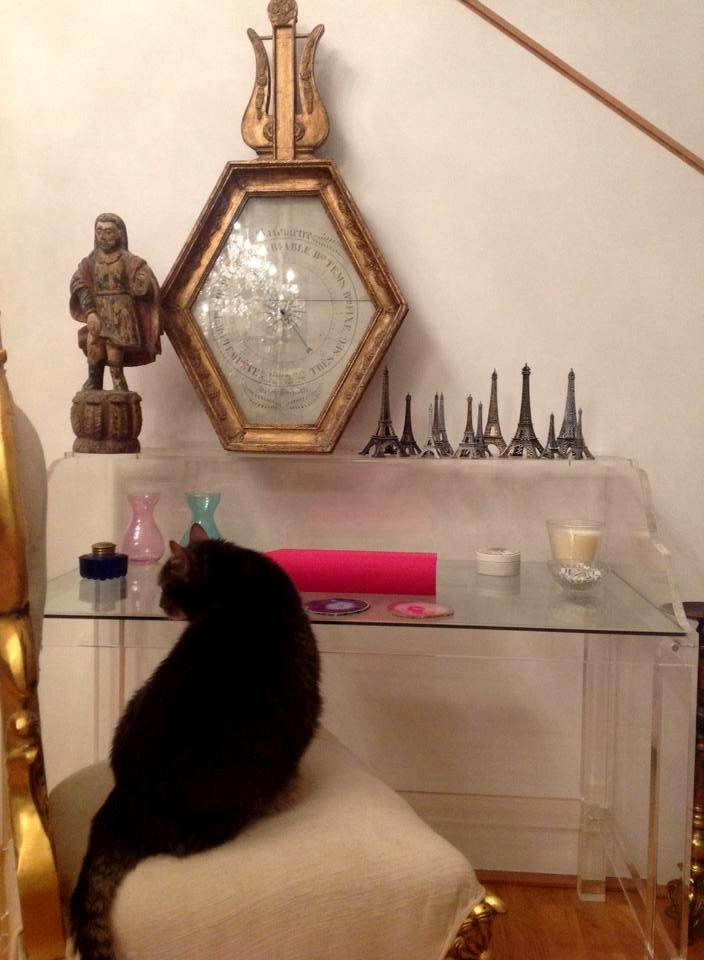 Barometers were created to measure atmospheric pressure. The way they work is by a glass tube filled with mercury acting as a vacuum. The mercury rises and falls depending on moisture in the air. When there is moisture in the air, the level of the mercury goes down and conversely when there's heat, the barometer rises. That's why you may see the word "Rain" marked on the low end of the glass tube and the word "Fair" marked on the high end.
Because the glass tube is extremely fragile and prone to breaking, they are typically mounted to pieces of wood. These pieces of wood are often heavily carved and ornamented and often times you can find beautiful gilded barometers. Sometimes these items, which can be mounted on the wall, are mistaken for clocks because they often incorporate a dial, which makes them easier to read. But whether you need a barometer or not, their form makes them a collectable and very decorative objet d'art in interior decorating.
French style barometers in particular are extremely pretty with their ornamented cases. Whether you purchase one or collect many to form a nice display, they add a sense of history and elegance to any home. In fact, take a look at shelter publications from around the world—I bet you'll start to notice that ornate French barometers are featured more than you thought!
When hung on the wall, they act as 3D art. And they have enough presence to be the feature piece above a mantel.
I'd love to hear from you— what do you think about French barometers? Would you use them in your home? Do you have one? Share with me in the comments below or on my Facebook page!
The Antiques Diva®