Dear Diva Readers,
top: 5px; float: left; color: white; background: #781300; border: 1px solid darkkhaki; font-size: 100px; line-height: 90px; padding-top: 1px; padding-right: 5px; font-family: times;">I've got a new hobby – prowling the real estate ads for chateaux listings in France.  You can tell me that owning a castle isn't practical, that the renovations will be bloody expensive, that castles are cold and damp and dark.  You can even tell me they are filled with spiders –  I simply don't care – I'm smitten with chateau living, loving the idea of owning a castle, however unpractical it might be.  No one ever said divas were practical!
This small 16th C chateau in the Loire Valley is definitely in need of some work on the landscaping but it has such fairytale charm. The interior is charming and the kitchen though simple has potential to be a perfect country kitchen. I can just see Kathy Ireland fabric going to town in here.  And for a cool $2.6 million it could be mine.  Meanwhile its location, Saumur – in the heart of a grand cru region – has my husband's – The Wine Guy's – heart palpitating.
And while I love the rusticness of this earlier chateau, I think perhaps the country house feel of this next chateau near Bastide Town might be more my style.   With 7 bedrooms, 6 baths, 4 reception room, a lake, coach house and tennis courts, I thinks it's well worth its $1.6 Million price tag!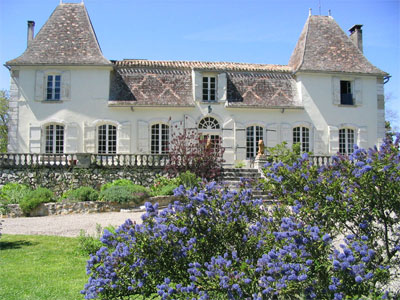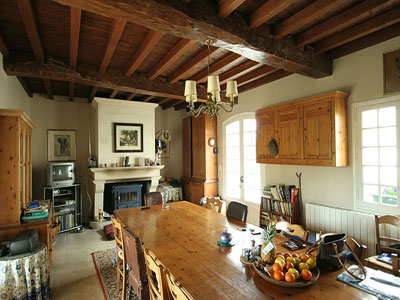 Of course if you're going to dream, dream big! The castle where Richard the Lionheart breathed his last breath happens to also be on the market.  Situated in the heart of the Périgord and Limousin, this unique domain not only comprises the feudal Château dating from the XII – XVth Centuries but also a tavern and numerous outbuildings, barns, caretakers lodges and apartments.  And at $28 million, it is indeed a price fit for a king!
Another one that's really caught my fancy – no price listed, alas – is magnificent Renaissance Château, set in the heart of the French Riviera at the crossroads of Cannes, Monaco and Saint Tropez.  While there were only a few interior pictures, the gardens are truly diva-worthy!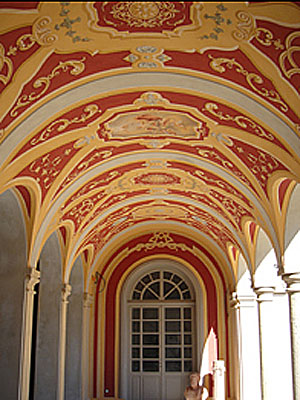 This last one is actually quite reasonably priced (depending on your perspective) and is the one that almost feels like it could be "home".  It's located in the Loire, just a few hours from Paris, has an obligatory turret, plus the interior décor is just my style! And if the price tag and combined interiors don't get my attention – that  barn in the last pic does. Can't you see cleaning this out and turning it into party-central for long dinners in the French countryside!
If you too are bitten by the chateau bug, you must spend some time prowling Sifex Ltd website.  This French property specialist (Est.1989) is one of the most experienced French property companies and the top site for prestigious French real estate. With an international client base, Sifex works with over 70 established French property agents. The Entire Site of over 2,000 quality French properties is updated daily. Contact them for details of French houses for sale, practical advice about how to purchase in France and to arrange viewings. Sifex is the essential guide to help you find the perfect property in France.
Until next time, keep dreaming,
The Antiques Diva®