French Christmas Traditions
I love Christmas! It is the most wonderful time of the year! A magical time of twinkling lights and tinsel trees, lords a-leaping and ladies dancing. A time to splurge on fine wines and feasts with friends and family. It's also a time of year steeped in traditions that have been passed down through the generations – holiday traditions that bring back childhood memories of popcorn strands, paper chains, colored lights and a shiny tin foil star atop the tree; of eight tiny reindeer and a song about dancing merrily.
My holiday traditions encompass much more now, however. Just
as Santa takes on many shapes, many sizes, Christmas traditions do also, varying from family to family and country to country. You won't find an "elf on the shelf" wreaking havoc on our household and our stockings are still hung by the fire, but with our own jolly French elf… uh, I mean cook… in the family, we do indulge in a little more food and fun. From foie gras and the Bûche de Noël to French santons and the nativity scene, this Southern family has added some à la française to our pa-rum pum-pum-pum.
In France, Advent is usually ushered in with the opening of the Christmas markets. French towns and villages light up, vin chaud flows freely and the merriment begins. Christmas in France is a grand and joyful time, with celebrations focused on the birth of Jesus, family, friends, and food, of course.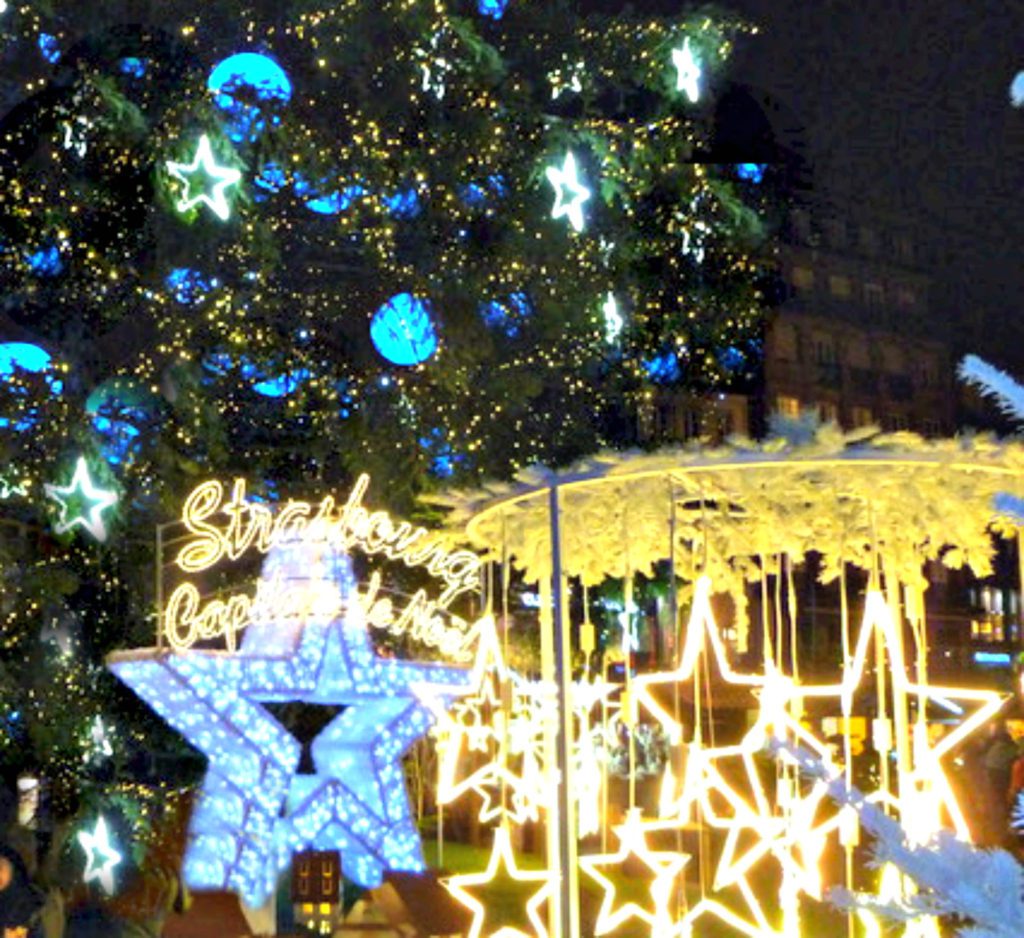 French culinary customs have a tendency to be over the top, and Christmas is no exception. There's nothing like celebrating with friends and family around the dinner table after the Christmas Eve service until the wee hours of the morning. With only five days until Christmas, I'm sharing five Gallic traditions that will have you and yours dreaming of a French Christmas. Try a few…
Postcards from Père Noël
Each year in late November, children around the world begin sending their Christmas wish lists to Père Noël by way of a postal office in the small French village of Libourne. About 60 volunteer La Poste "elves" sort through and reply to every letter – over 1 million from 140 different countries. Santa's first official response was in 1962 when Le Sécretariat du Père Noël was started by the Ministère des Postes et des Télégraphes. For more than 50 years, letters addressed to "Père Noël, France" have been answered. Postal officials say this French station probably gets more letters than any other country because it's the oldest of its kind. The operation costs an estimated $1.4 million each year.
Shoes by the Fire
French children don't hang stockings by the fire on Christmas Eve. Instead, they leave their shoes or slippers by the fireplace, filled with hay and carrots for Père Noël's donkey to eat. Père Noël takes the hay and carrots and refills the shoes with small presents, candies, fruits and nuts for children to find Christmas morning.

Three Kings Day 
The people of France gather together on January 6th each year to celebrate the day the Three Wise Men or Magi visited baby Jesus in Bethlehem. They mark the end of the holiday season much like they do all celebrations – they chow down on food that's fit for a king. A traditional galette des rois (Three Kings cake) is offered as a gift during the feast of the Epiphany, also known as La Fête des Rois or Three Kings Day. Inside the cake is a small object or bean, known as a féve. The person who discovers the hidden féve is declared King for a day and wears a gold paper crown.
Le Réveillon de Noël 
Le Réveillon de Noël is the traditional late night feast held to réveiller or wake up again once families return from la Messe de Minuit (Midnight Mass) on Christmas Eve. While the menu varies from region to region, delicacies including oysters, lobster, foie gras, escargot and a turkey or goose stuffed with chestnuts are common. Dessert always includes la Bûche de Noël.
55 French Santons
La crèche de Noël (the nativity scene) is very popular in France. It's usually displayed from the first Sunday of Advent until February 2nd, the date of the presentation of Jesus at the Temple, known as la Chandeleur (Crêpe Day). During the French Revolution, public nativity scenes were prohibited so small figurines called santons (little saints) were created in Provence for display in the home. The Provençal crèche includes the Holy Family, shepherds, animals, angels and Three Wise Men, as well as bouchers (butchers) boulangers (bakers) and various other village people – for a total of 55 characters – all waiting to welcome Baby Jesus, who isn't added until midnight on Christmas Eve.
The countdown is on! As you finish decking the halls, wrapping the gifts and making the menu, there's still time to add some French cheer to your home this year. You can read about more French Christmas traditions on our home page. Be sure to let us know if your holiday plans include any Francophile festivities. But wherever you are and however you're celebrating….
Joyeux Noël,
Mimi