Dear Diva Readers,
top: 5px; float: left; color: white; background: #781300; border: 1px solid darkkhaki; font-size: 60px; line-height: 50px; padding-top: 1px; padding-right: 5px; font-family: times;">As Christmas draws near, it's got me thinking about all kinds of gift ideas in general – little things you can stock in your gift closet to use through out the year. As someone who travels a lot for work and pleasure, I try to pick up little gifts that will fit into my suitcase wherever I go. You never know when you'll need a hostess gift or a last minute birthday treat to take to a friend! Many clients also enjoy stopping into small shops in between antiquing appointments to purchase locally made goods to take home to friends and family. Provence is a fantastic place to find antiques as well as some regional goodies such as olive oil, handmade soaps, and of course, dried lavender.
Olive oil has been a staple product of Provence for centuries. Olive trees were planted by the Greeks around 600 BC and continue to thrive in the area around the Mediterranean due to the dry, stony, limestone soil. Most archaeological museums possess large pottery which would have been used to store oil during these ancient times. During the Renaissance, olive trees covered nearly 300,000 acres of land in France, making olive oil production an extremely profitable and important business. But as with any business that depends on nature, olive oil production was dealt a hard blow in 1956 when temperatures dropped below zero degrees fahrenheit, causing 1/3 of the olive trees in Provence to die that year. While that has slowed olive oil production in France, there are still some wonderful places that sell artisan olive oils. In fact, a new generation of oil producers have started small-scale local farms, offering specialty blends, gourmet oils, and other products. The thing to remember is that unlike Italian and Spanish oils, French oils come from limited crops and you won't find many of them for sale outside the Provence region.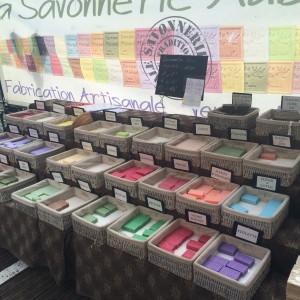 Another fabulous gift you can find in Provence is savon (soap) de Marseille. Whether you're in a metropolitan boutique or strolling through a small village market, gorgeous soaps of all shapes and sizes can be found. Another tradition that goes back hundreds of years, soap making in Provence lives on and continues to thrive. Savon de Marseille is only produced around the Marseille region and is made from olive oil and vegetable oils.
The traditional way to make this special soap is by mixing water from the Mediterranean Sea with olive oil, sodium carbonate, and lye. All these elements are mixed in a cauldron and heated for several days while being stirred. After the mixture sits, it is poured into molds. Before it is completely hard, it is cut into bars and stamped, then left to set until hardened. It can take up to one month to complete this entire process. Recommended by dermatologists, this soap is perfect for dry skin during the winter. Of course, it's been used for centuries in France to clean everything from skin to linens!
Lastly, and perhaps the gift most synonymous with Provence, is lavender. A visit to the distilleries, farms, and shops can enhance a trip to Provence while also allowing you to pick up several perfectly packable gifts that anyone will enjoy. Sachets filled with lavender are a wonderful gift, and so are lavender scented soaps, lotions, and other bath products such as essential oils that sooth and calm. Don't forget a lavender scented candle to place near the bath!
There is just something special about giving gifts that are hand made, and infused with local traditions. Provence's rich history and bountiful natural resources makes it the ideal place to stock up on these wonderful gifts, and that's why clients love perusing for antiques and regionally made items at the same time. If you would like information on an Antiques Diva Tour in France or any of our 8 tour countries, email us at info@antiquesdiva.com.
Au revoir,
The Antiques Diva®