Lingerie, opulent embroidered sheets, and treasured textiles — these are just a few of the pieces a young French mademoiselle would have made or collected as part of her bridal trousseau, a centuries old wedding tradition that originated in France. The family heirlooms and handmade linens that a bride-to-be was expected to bring to her new home as part of her trousseau was often an indication of her family's wealth and typically included twelve pieces of each: napkins, tablecloths, dishtowels, bed sheets, nightgowns and petticoats, all hand sewn and hand embroidered. Since wealthier families often had live-in seamstresses that would do most of the sewing (instead of the bride and her relatives), well-to-do brides might bring hundreds of pieces of linens with them — including linens for the servants — as well as custom dresses and gowns sewn by dressmakers in Paris. Oh la la!
When fourteen-year-old Catherine de Medici arrived in France in 1533 to marry into the French royal family, her uncle, Pope Clement VII, spared no expense on the many trunks of lace, linens, bed hangings, gowns and silk included in her bridal trousseau. It's said her sparkling gowns were embroidered with three pounds of gold and two pounds of silver — that her sheets were made of the finest silk and her lingerie from the most delicate lace and gold and silver cloth. Catherine may have been considered an Italian commoner at the time of her marriage to Henri II, but her bridal trousseau was nothing less than dazzling.
Of course most young girls didn't marry royalty, but being sent off in style was of such importance that a wedding would often be canceled if the trousseau was incomplete. It was often more expensive than the wedding itself, as it was expected to contain all of the clothing, including gloves, hats, stockings, dresses and gowns, that a young madame would need for her married life.
I'm sure you read Toma's recent blog post on the tradition of the trousseau and how families often began preparations at birth. Once the "I do's" were said, a new bride was expected to have all she needed to set up her new home — from linens and lace to petticoats and parasols. Preparations for the armoire de mariage (wedding armoire) that would store this carefully curated collection throughout a girl's lifetime also began at birth. Neatly folded antique linens, ruffles of delicate lace, family heirlooms, and countless napkins and table cloths that were once part of treasured trousseaux can still be found stored in elaborately carved marriage armoires in master bedrooms across rural regions of France today. And you can be sure they're stacked from the bottom, not the top, to ensure strict rotation.
Similar to a hope chest, the beautiful armoire de mariage is much larger and hand carved with motifs of wealth and prosperity that represented good wishes for the newlywed couple.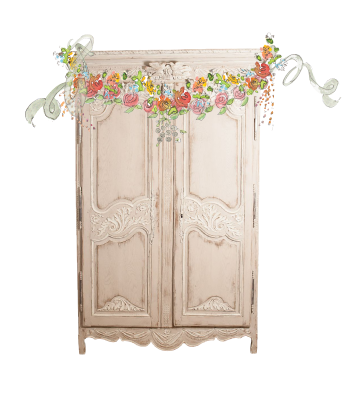 Intricate carvings include lovebirds evoking love, baskets of flowers representing fertility, pairs of nesting doves symbolizing the "nest," sheafs of wheat and grape vines describing abundance and domestic prosperity, and musical instruments and sheet music as an allegory for harmony.
Traditions vary, but it is said that in parts of Normandy it was common for a father to cut down a large tree when a daughter was born and use planks from the tree to make the armoire de mariage once the daughter was engaged.
In other parts of France, it was common for a father to make a wedding armoire when a daughter was born and give it to her during adolescence. As the girl grew up, she would fill it with items from her trousseau and take it with her to her new home after she was wed. By the 18th century, wedding armoires were made by craftsmen and given to the newlywed couple as a gift from the bride's parents. In Brittany, it was customary before a wedding for the marriage armoire and the bride's trousseau to be carried to her new home in a brightly decorated cart drawn by a pair of oxen draped in flowers. The bride's mother would fill the armoire with the trousseau once it arrived and the father of the bride would then throw open the doors in a dramatic fashion to the "oohs and ahs" of all the guests. Afterwards, the priest would bless both the marriage armoire and the marriage bed before the two families sat down to dinner together.
Wedding bells are ringing and the bridal season is in full swing now. 
Why not consider giving your favorite bride and groom some lovely home spun, home sewn, and home embroidered French linens that were part of some young girl's trousseau many, many years ago? Nothing feels and smells like good linen that has been freshly laundered. And even if you don't have a marriage armoire yourself, try storing your favorite linens in an antique French armoire. You'll be surprised what a difference it makes! It's a perfect blend of French charm and modern storage. Everything looks nicer and you'll find yourself using your linens more. After all, they're meant to be used every day!
And if you're lucky enough to have an armoire de mariage, take some time to really look at the carvings and see what all you can discover. You'll be surprised! A whole lot of love went into these armoires!
À Bientôt! 
Mimi