Dear Diva Readers,
In honor of Bastille Day today I've got Paris on the mind… While that's usually Paris, France today it's the Paris Hotel in Las Vegas!  I'm just booking flights today to go to Las Vegas Market where I'm delighted to announce I'll be headlining in Vegas along with a great line-up of interior design-oriented events.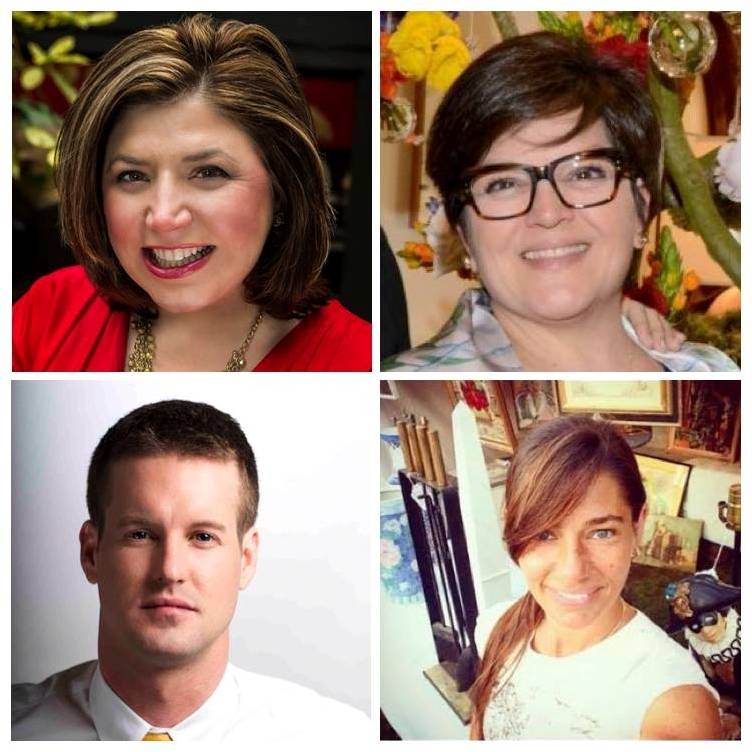 On Monday, August 3rd you don't want to miss a dynamic panel discussion that I'll be taking part in called The Secret Life of Antiques. Have you ever seen beautiful antiques on the covers of shelter magazines and wondered where they came from or how they ended up there? Have you found yourself pining after a stunning antique in a favorite showroom? Our panel is here to uncover the past of these pristine pieces and show you how they're being reinvented and revitalized for the future. Joining me are fellow panelists Melissa Mittag of Fromental and Justin Shaulis with Heather Viera as moderator. We'll be divulging secrets of how antiques and vintage items are sourced, how the interior design industry is making them relevant, and how they are ending up in popular design publications.

Join us from 11:30am-12:30pm in Building C, Surya Seminar Room C174 for what's sure to be a fun and informative panel.
And because a Diva's work is never done, at 1:00 pm I'll be leading an Antiques Diva Curated Tour of Discoveries of The Antique Vintage Marketplace, which is housed in Las Vegas Market's new temporary venue, The Pavilions. I'll be showing you my favorite one-of-a-kind finds – from national and international exhibitors – jewelry, home décor, furnishings, clothing, pottery, porcelain and more. Many new exhibitors will be showcasing their wares and the inventory changes daily. Lots of surprises and inspiration are in store for this tour! The good news is that items will be available for immediate purchase and we will have an onsite shipping company ready to send your purchases directly home from Market.
These are just 2 of the events I'll be taking part in – stay tuned for details on the Grand Opening Party & Ceremony for Discoveries – Las Vegas Market's new antique center!!
Las Vegas Market is always an exciting time filled with parties, showroom specials, product debuts, and informational seminars. For more information on the events of this market, click here.  Do let me know if you'll be attending either of my events. I'd love to see you in Las Vegas!
Until then,
The Antiques Diva®
Dear Diva Readers,
Are you heading to High Point Market?  If so then you won't want to miss me at the Antique & Design Center of High Point where I will be doing 2 events!
Saturday, April 18th, 4pm at The Antique & Design Center ‪
As owner of Europe's largest antiques touring and buying service company, The Antiques Diva & Co takes you on a tour of the major antique periods and styles to identify their key characteristics, utilizing modern day metaphors and featuring inventory found at the Antique and Design Center in High Point. No passport required. See you there!
Monday, April 20th, 5pm-6pm for a Panel Discussion on The Secret Life of Antiques
The Secret Life of Antiques:
a panel with Toma Clark Haines Melissa Mittag Cari Cucksey and Heather Karlie Vieira
Have you ever wondered just how those incredible antique finds end up on the covers of your favorite shelter magazines and in the showrooms of the top designers? Well, we're here to uncover their past, reinvent their present and revitalize them for the future. Join Toma, Melissa, Cari and Heather as they discuss the journey from flea market find to show stopping favorite. The discussion will focus on just how the vintage and antique pieces are sourced by dealers, then how their histories are revealed through research and restoration, going forward the panel will discuss the marketing of vintage and antique finds and how the interior design community has been at the forefront of the resurgence of popularity of these pieces, and they'll also discuss how those vintage and antique pieces are placed in homes, showrooms and how they wind up on the pages of our favorite shelter magazines.
Join us for a fun and lively discussion on the Secret Lives of Antiques!
You already know me – Toma Clark Haines aka, The Antiques Diva CED (that would be Chief Executive Diva) of Europe's favorite antique buying tours – Melissa Mittag is an expert on antique and contemporary wall coverings and is a representative for Fromental llc, Cari Cucksey is an HGTV personality and has her own line of paints, Heather Karlie Vieira is a vintage and antique dealer with a showroom on the South Shore of Boston called @20th Century by HKFA.
See you there,
The Antiques Diva®
Dear Diva Readers,
While recently taking a group of top American interior designers on an Antiques Diva tour in conjunction with Nobelinks, we stopped into the Fromental Showroom in London for inspiration and a little fete, Diva style! Known for its gorgeous hand-painted wallpapers, Fromental is a leader in the design industry, using traditional styles and elements but bringing them into the twenty-first century, making luxury wallpapers for the way we live now. Of course, they also produce luxury fabrics, often times adding hand embroidery depending on the client's needs.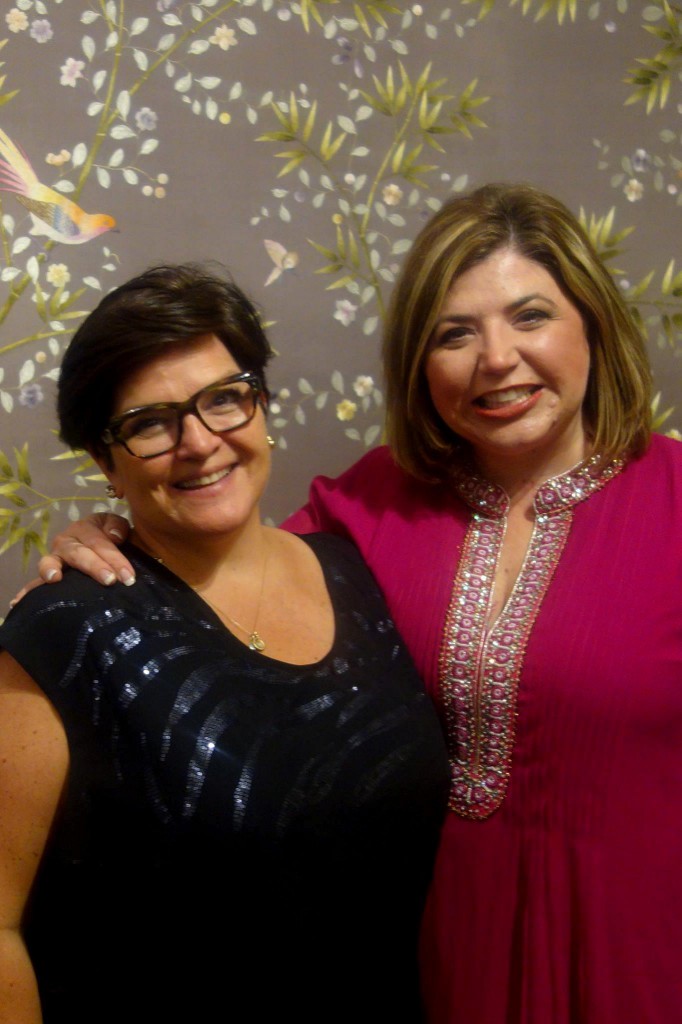 Keeping in mind that the owner is the former creative director of de Gournay, the Fromental look is informed by historical patterns, but isn't married to them. They've taken these classic patterns and injected new life into them by playing with color and scale. Think classic chinoiserie in a monochromatic color story. And traditional isn't the only look you'll find at Fromental. Bold patterns playing off of the current London fashion scenes liven up the show room. And what I love is that whether traditional or modern, Fromental's wallpapers make a lovely backdrop for antiques!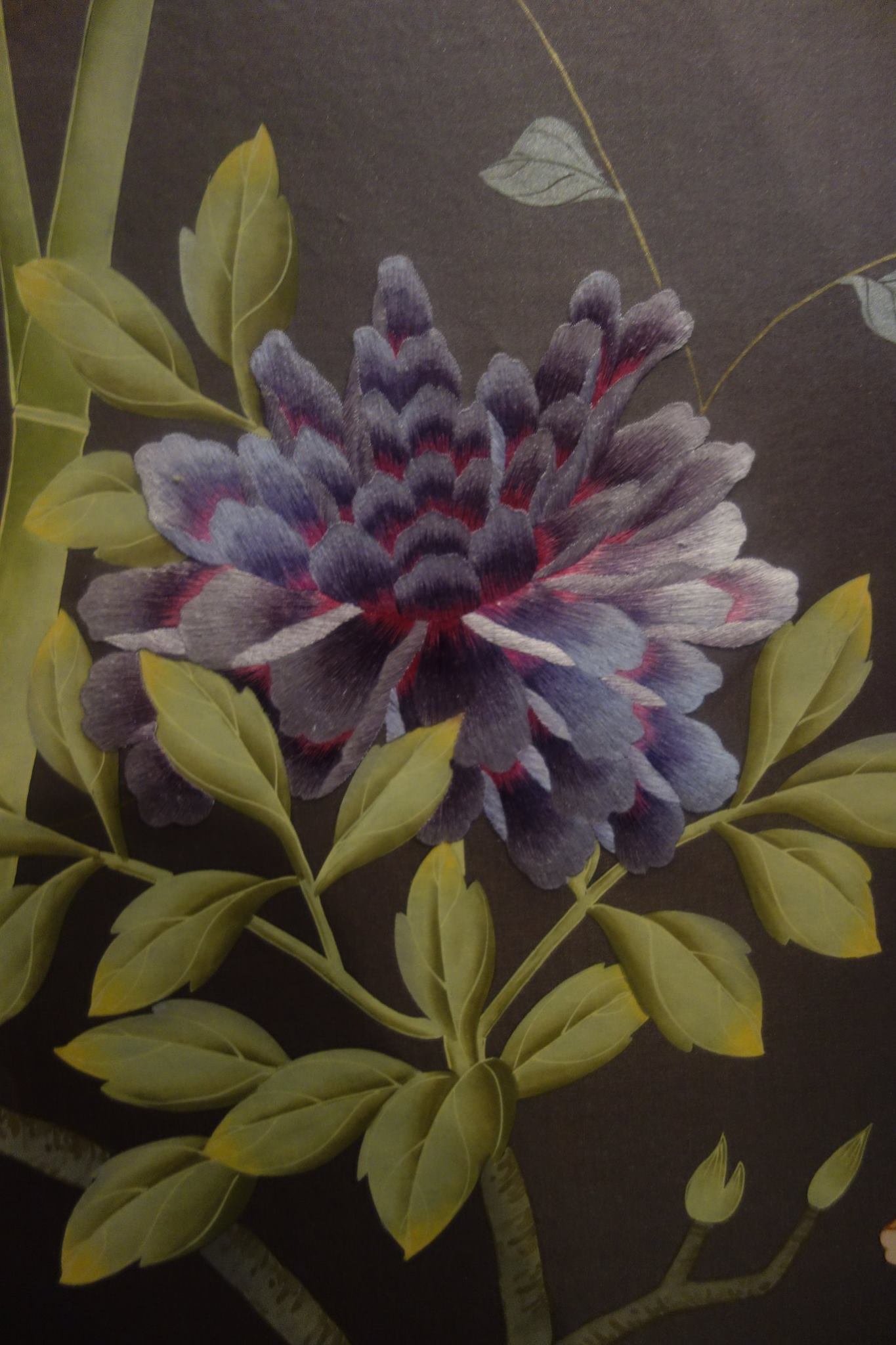 All of Fromental's products are made to order, making it the perfect choice if you're looking for something custom. Color, composition and technique can all be modified to fit each client's needs. Isn't that a luxurious experience?! Imagine ordering a customized wallpaper to use as a backdrop for a stunning antique console table. Divine! See for yourself—here are some photos from our lovely evening at the Fromental Showroom. Thanks to the staff for being such welcoming hosts and thanks again for that gorgeous dinner next door!
The Antiques Diva®