Dear Diva Readers,
top: 5px; float: left; color: white; background: #781300; border: 1px solid darkkhaki; font-size: 60px; line-height: 50px; padding-top: 1px; padding-right: 5px; font-family: times;">I love Nutcrackers – before our house fire 2 years ago I had a holiday collection I loved displaying during the holiday season – small ornaments for the Christmas tree and  decorative objects to place on the mantel.  I've always wanted to buy a life-size Nutcracker to stand guard at the front door.  And while for me Nutcrackers are as synonymous as Saint Nick with the Christmas season, they weren't always associated with Joyeux Noel! 
The term "nutcracker" originally didn't have to do with toy soldiers at all actually. Nuts have been a dessert option in European countries for centuries and functional nutcrackers were required to open the hard shell of the nuts. As with many strictly utilitarian items, artists began to create more stylized versions. Eventually, decorative nutcrackers – many in the form of soldiers, knights and kings – were placed on dining tables after dinner to serve not only the functional purpose of cracking nuts, but also to amuse guests and act as conversation starters. It was even said that these little men served as "guardians of the house," warding off evil spirits. Probably due to their staunch appearance! I mean really… have you EVER seen a Nutcracker crack a smile??
It was German manufacturers who started making the wooden Nutcracker we think of today, resembling a toy soldier. People who lived in rural areas or the forests would spend time carving Nutcracker figures along with dolls and religious icons. This became a main source of income for people in more isolated regions. Travelers would purchase them and eventually Americans became enamored with the Nutcracker. During WWII, U.S. GI's brought German Nutcrackers back to the States and many families began collecting them. Even back then the American buying power drove demand!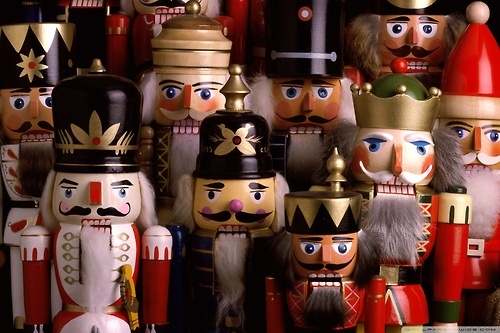 Modern versions of this Nutcracker are typically decorative, proving that over time an item once only used functionally can transform into a completely decorative piece in the mind of the public. Isn't it funny how that works?
In 1892 Tchaikovsky's Nutcracker Suite ballet came on the scene and the Nutcracker figure became synonymous with the Christmas holiday throughout the world. To this day you probably see at least one performance of The Nutcracker or at least hear the music each holiday season. And you no doubt see many decorative Nutcrackers standing guard over stores, businesses and homes.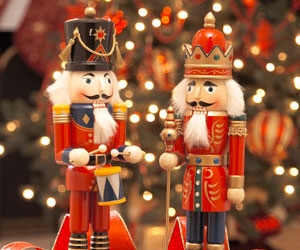 While it is more rare to find original functional Nutcrackers, it's not at all impossible. In fact, you may be able to pick them up at antique stores or flea markets here in Germany where I live or even further afield across Europe and America. If you're hunting for one, be sure to check online sources as well. And of course, if you're over in Europe on an Antiques Diva & Co tour, be sure to keep your eyes out for one of these nostalgic figures!  The best time to buy is during your summer holidays – the price is always better when you're shopping out of season for Christmas décor!
Happy Holidays,
The Antiques Diva®