Dear Diva Readers,
top: 5px; float: left; color: white; background: #781300; border: 1px solid darkkhaki; font-size: 80px; line-height: 70px; padding-top: 1px; padding-right: 5px; font-family: times;">I'm delighted to present a special opportunity to join The Antiques Diva & Co in Tuscany on a Group Tour!!!  Only a few spaces remain so act quickly!  While  you know we don't offer group tours ourselves – specializing instead on private one on one customized buying tours for our clients, from time to time we are called up to help other tour companies fulfill their tours as their local agents on the ground!  We're working behind the scenes with Red Shed Tours to fulfill their Tuscan Trip this November 2013.    And you, dear readers, are in luck… there are just a few spots available in this upcoming Italy Tour November 1 – 10, 2013 during the Olive Harvesting Season.  You'll not only get to antique, but also do a wealth of cultural excursions.  This is the ultimate Girl's Trip!
Red Shed Tours has booked the family agritourism estate of Antiques Diva Guide Susan P –  a gorgeous  17th C villa in the heart of Tuscany.  Perched on a hill, nestled on a lovely olive oil estate, the property offers dazzling views of vineyards and villages in every direction! The villa has been lovingly restored by your Diva Guide herself with the highest standards of comfort and beauty. Each sleeping room is unique, spacious and includes a private bath. The villa has several large living and dining areas with fireplaces, as well as a professional kitchen. There is plenty of room to find private spaces for contemplation or to gather to visit and laugh.
Red Shed Tours really wants to help you capture the spirit of the Tuscan countryside and impart renewal and serenity.  This trip will be slow paced and relaxed. Departure times will allow you to enjoy an early morning walk or just sleep in. But Buyer Beware – be fully warned this trip is going to be sooo good you may not want to leave Tuscany!   We're also organizing one heavenly day simply drinking in the estate while enjoying a "sip and dip" vista postcard painting class (with wine!) and, later, an evening cooking class in our villa.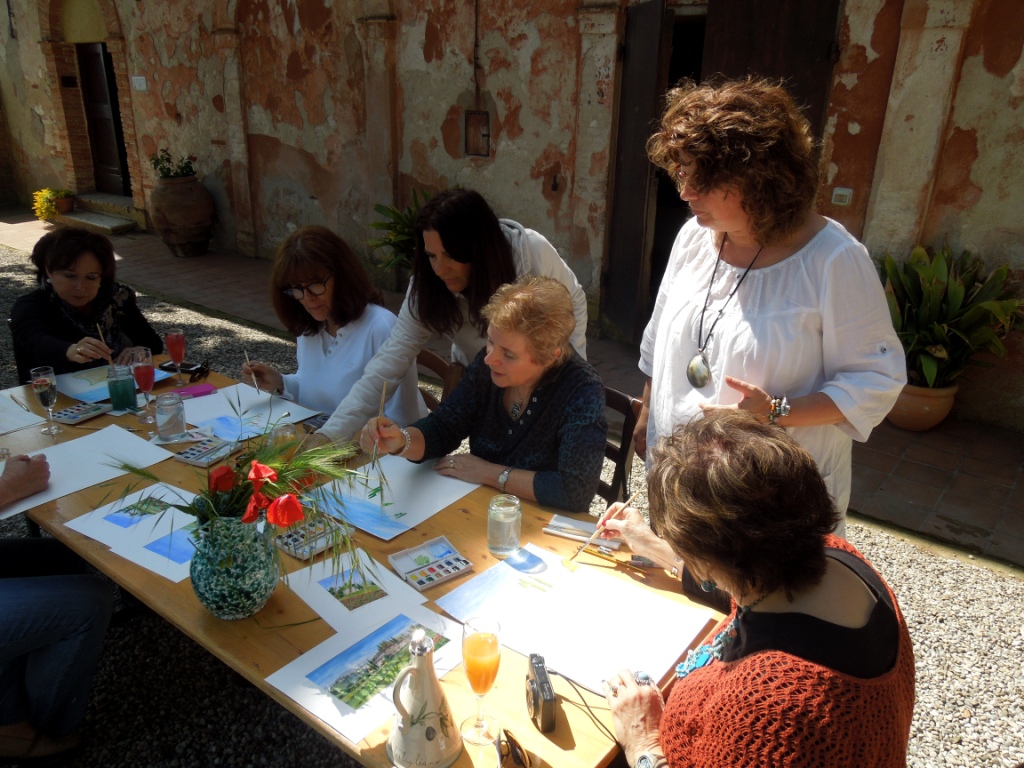 We're thrilled to share with you our favorite Tuscany flea market in Arezzo!   As always, we will have our local guides and interpreters to help you get information and the best prices. We will also be visiting several "secret" consignment and local antique shops in other cities that only locals can find.
Joining a Red Shed Tour means that you will be taken care of every step of the way, with the very best that Tuscany has to offer. As Red Shed Owners Valarie and Michelle explain, "We have found the best guides, best accommodations, and have planned the best experiences that we were able to uncover. You will have special tours of San Gimignano, Sienna, Chianti, a full day in Florence, a half day in Rome and so much more!"
Interested? Here are the details….

November 1st – 10th 2013
10 days, 8 nights $3745 Double Occupancy
(Sorry, no singles rooms are available on this trip, unless you wish to pay double. If you are traveling single please let us know and we can suggest a roommate)

Included in tour price:
7 nights private villa double occupancy
1 night airport hotel double occupancy
All airport transfers from Rome and transportation within Tuscany
8 breakfasts, 2 lunches, 4 dinners
Local Italian and English speaking guide (and antiquing expert!)
(extra interpreter at the flea market)
Private contrada guide in Siena
Cultural guide and tour in Florence
Half Day Rome Tour with Driver Guides including entrance fee to Colosseum
Pre-Party, orientation and Red Shed Tours Escort

Tours and Experiences:
Arezzo Flea Market
"Secret" Consignment & antique shops
San Gimignano visit and shopping
Wine school with dinner (fun, even for non-drinkers!)
Chianti visit, Winery tour and dinner
Local Olive oil tasting with lunch
Florence Tour and free time
Rome Tour (half day)
Sip n Dip Painting class
Italian Cooking Class by a local chef
Siena "secret" contrada Palio tour
Not included:
Airfare, mandatory cancellation insurance, meals not indicated
Physical Expectations:
You must be in good physical condition to join this trip. This is not a physically challenging trip, but Tuscany is VERY hilly and most of the villages are at the top of the hills (parking is at the bottom) There will be plenty of walking uphill, walking up multiple stair cases, walking over uneven pavement and walking and standing for extended periods of time.
This is the ultimate Girl's Trip! Truly enjoyed with moms, sisters and best friends.  For a detailed itinerary please email to:RedShedAntiques@gmail.com">RedShedAntiques@gmail.com or call 817-310-6006 telling them you saw this tour on The Antiques Diva blog.  A $750 deposit is required to confirm your spot on the tour.  Only a few spaces remain so act quickly!
Buon Viaggio!
The Antiques Diva® & Co in conjunction with our friends at Red Shed
Other Notes:
Please let us know if you are interested in future dates to Italy.
If you have a group of 10 – 12 who would like to travel together, we would be happy to arrange a tour around your preferred dates.
Contact us if you would like us to plan a similar tour for a personal trip or a trip with your husband or a group of couples.
Visit www.RedShedOnline.com to see information on our other Woman's group trips to Paris and Provence.