Dear Diva Readers,
top: 5px; float: left; color: white; background: #781300; border: 1px solid darkkhaki; font-size: 80px; line-height: 70px; padding-top: 1px; padding-right: 5px; font-family: times;">If the key component of Green Living involves Reusing, Reducing and Recycling then Rotsen Furniture has just repurposed their way into adding another "R" to the eco-trifecta, giving environmentally-friendly décor a new face for chic sustainable style.  Utilizing reclaimed materials  from decaying bridges, old barns, demolished structures or fallen wood from the forest, Rotsen Furniture breathes new life into found objects to make  one-of-a-kind, high quality, hand-crafted furnishings. 
To say they are inspired is an understatement – and they give just the perfect touch of eco-chic to today's home.  All this to say, Green Never Looked Better!
Rotsen Furniture isn't just creating great décor – they're creating art.   As Michelangelo, once said "Every block of stone has a statue inside it and it is the task of the sculptor to discover it."  The designers at Rotsen share the maestro's mentality, letting the wood serve as their muse.  Wood has an inherent beauty that man-made materials just can't replicate.  By listening to what these natural elements have to say, the designers at Rotsen create unique furniture by repurposing their found objects combining the wood with additional elements such as metal, glass, and plexiglass to create  a holistic pieces of art.  
A perfect example of Rotsen's penchant for finding a piece's inherent beauty is illustrated in The Canoa Coffee Table.  As Rotsen explains, "There are some parts of a naturally fallen tree that are just too special and unique to alter."   Here they've taken a salvage part of a naturally fallen Vinhatico tree and enhanced it's unique natural texture and added a contemporary glass top for a one of a kind coffee table!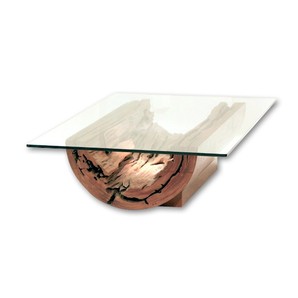 Rotsen's Estrela Coffee table again illustrates their funky flair!
Of course, Rotsen's eco-friendly tables aren't limited to coffee tables – they do full blown dining tables, benches, seats – even lighting fixtures.  They take the ordinary – and find within it – the extraordinary! 
Happy Green Week!
The Antiques Diva®
~ ~ ~ ~ ~ ~ ~ ~ ~ ~ ~ ~ ~ ~
We've continued our Green Week celebration April 16 -22, 2012 at The Antiques Diva® & Co with another sponsor from tour" target="_blank">#BlogTourNYC!
tour">
tour_nyc_250.png" alt="BlogTour 2012" width="250" height="228" />