[vc_row][vc_column][vc_column_text]
Are you an Antiques Diva, a junkie for junk or a flea market queen? If you love vintage and antiques like we do, then you must join us next spring at the mecca of all antique shows in Round Top, Texas. This isn't one antique show, its many shows which converge in one small town over the span of two weeks covering 20 miles or more. (Design junkies know Chip and Joanna Gaines from HGTV's Fixer Upper have made two phrases famous: shiplap and Round Top!)  
Our group antiques tour to Round Top from April 2-7, 2018, is 4 days and 5 nights of finger-licking bbq, antiques and vintage as far as the eye can see and further, country music, Texas bluebonnets and seriously good wine. At the biggest antique show in the world you'll discover gems from Belgium, France and Holland as well as mamma's attic down the road. There is something for all price points plus we'll help you negotiate and ship it all home. And the location in Texas Hill Country is gorgeous. Every dealer and shop owner who is serious shops here – so why haven't you been yet?  You were waiting to come with The Antiques Diva & Co, weren't you!?
Toma Clark Haines, CEO of The Antiques Diva® & Co, has teamed up with Doni Belau from Girls' Guide to Paris (a French
antique dealer who exhibits at Round Top), and they will be your guides for the week. Rancho Pillow, the absolute coolest and funkiest place to stay, will be your home during our sojourn. If you don't have a good time on this trip and score some serious finds then frankly… we simply can't help you!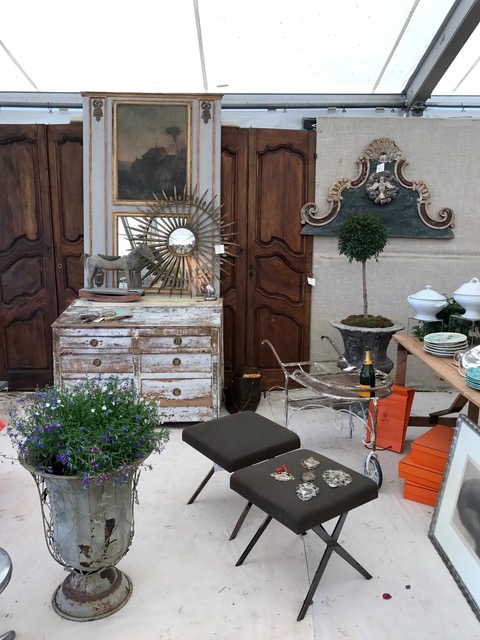 [/vc_column_text][/vc_column][/vc_row][vc_row][vc_column][vc_cta h2="Book Now "]
Group Antiques Tour to Round Top Texas

Sign up by December 1st for a reduced price of $3595.
Prices go up after to $3895 and the trip will close Jan. 15, 2018. 
[/vc_cta][/vc_column][/vc_row][vc_row][vc_column][vc_single_image image="17442″ img_size="750×400″ alignment="center"][/vc_column][/vc_row][vc_row][vc_column][vc_column_text]
Round Top Texas Group Antiques Diva Tour
April 2-7 2018
What's Included:
Lodging, all breakfasts & lunches, 3 dinners, all tours & all transport on site
What's not:
Transport to and from Round Top Texas (we are happy to

 

schedule one specified time for transport from Austin Airport via van)
3 dinners, however, we will have suggestions on where to eat and transportation is provided
Airfare
Extra drinks at music venue & elsewhere
All antiques purchases & shipping
Tour Itinerary 
April 2nd, Monday
We'll kick off our time together with a welcome meal at a local steakhouse and some bubbly in this Getting To Know You event!
April 3rd Tuesday
Breakfast at Rancho Pillow and then we're off to do the Original Round Top Tour, followed by an afternoon visit to one of the local Czech communities. In the evening we'll hang out and relax back at Rancho Pillow. Those who need to unwind can take a yoga class or have a massage to work out the stress of all that hardcore shopping – Diva-style! Dinner is on your own.
Tues April 4th
Following breakfast, we'll head for a behind-the-scenes tour of Excess I & II followed by a picnic lunch. That afternoon we'll shop The Compound with one of the dealers getting the inside scoop on how the dealers score the best deals. Naturally, the day will end with cocktail & nibbles in Diva Guide Doni Belau's booth she shares with Diva Guide Margaret Schwartz. Dinner reservations confirmed this evening as a group.
Wed April 5th
Today we'll shop til we drop with Arbors Antiques with owner Curtis Ann Davies – one of the most beloved of all the show owners. Dealers in Round Top fight for space to display at her fair simply because she's so darn nice. Some of our favorite Antiques Diva clients are selling on this field and we'll make sure to high light friends and friends. After lunch we'll enjoy an afternoon walk and photo safari among the wildflowers before heading back to the ranch for a Private Chef Dinner with Rancho Pillow! Bone Appetit! (I suspect in Texas longhorn country meat may be on the menu!)
Special Event with Lolo French Antiques et More:
Join Antiques Diva blog contributor Mimi Montgomery and antiques dealer Laurent Gouon of Lolo French Antiques for a furniture history lesson learning to tell your Louis 15th from your Louis 16th. Ask Laurent all your questions on how to care for your antiques.
Special Event with Pandora de Balthazár:
Join European linen dealer and sleep expert Pandora de Balthazár to learn how to get better sleep and how it will improve your overall health. We'll get in bed and drink champagne to learn why a good night's sleep isn't a luxury, it's an essential to maintaining a #DivaLifestyle.
Thurs April 6th
For the last day of your Diva Extravaganza we're heading to Warrenton and Zapp Hall. We're still awaiting the dates for the Junk Gypsy Prom – but we're hoping the gods align our fates so we can be the belles of the ball. Either way tonight will be about kicking up our heels (and by heels I mean cowboy boots, not stilettos) and listening to some down-home country music whilst eating BBQ. Those who want to trade the champagne bottle for beer will have that option.
Friday April 7th
Depart
There are a few select places available on this once in a lifetime shopping fantasy tour. Contact us ASAP to reserve your space or to learn more. There's a reason why they say everything is bigger in Texas.
[/vc_column_text][/vc_column][/vc_row][vc_row][vc_column][vc_column_text]Take a behind-the-scenes peek at my Champagne Tour at the Round Top Arbor Antiques International Antiques & Interior Design Show: [/vc_column_text][/vc_column][/vc_row][vc_row][vc_column][rev_slider_vc alias="round-top-2018″][/vc_column][/vc_row][vc_row][vc_column][vc_column_text]See y'all in Texas! 
Toma Clark Haines – The Antiques Diva [/vc_column_text][/vc_column][/vc_row]