Perhaps Rio Hamilton said it best. Doesn't he usually? "Our sunset hour was a treasured stroll through Mulford Farm for the East Hampton Antiques Show or as I like to call it East Hamptons Fashion Show. Even on the hottest day of the year – the à la mode sauntered by looking cool."  
Attending opening night VIP early bird shopping was like attending a runway show in New York or Paris, only the object was shopping for antiques – sort of like fox hunting but for interior design. It was definitely a competitive sport. You first dressed for the occasion. Chanel handbag. Check. Dolce Gabbana mumu double check. Hat à la Grace Kelly… Let the shopping commence!
We arrived the Grand Opening VIP Party at the East Hampton Antique Show held by the East Hamptons Historical Society as the Grand Finale of our 2 day Antiques & Design Inspiration Group Tour of the Hamptons after having stopped off at Wolffer Estates Winery to pre-fortify ourselves for shopping. Not to worry – plenty of champagne was on hand at the antiques fairs opening night party being served on silver trays to the Who's Who of the Hamptons. As I reached for a glass my knuckles (clad in my own TCH Collection knuckle buster ring) accidentally brushed with Martha Stewart's hand. In a fan girl moment, I stepped back in surprise, nearly bumping into Donna Karan. Clearly I needed to up my cool game. Breathe. I sipped the champagne slowly… "Ok. Now I know who I'm playing with." We're in with the big boys. I've got this. The event hosted by the exclusive media sponsor Hamptons Cottages and Gardens was definitely THE attend event of the season. (Pictured above: Tamara Matthews Stephenson, Toma Clark Haines and Kendell Cronstrom, Editor in Chief New York Cottages & Gardens and Hamptons Cottages & Gardens magazines.) 
Strolling past stalls of antiques I gushed out loud in enthusiasm as I stumbled upon Don Belau of Girls Guide to Paris' booth. Her stall was perfectly French – having that vintage French feel straight out of a brocante in Provence. As we chatted Su Hilty of IFDA New York came rushing up to me… "I would love to introduce you to someone. She just recognized you." I smiled from ear to ear. "Imagine that – being recognized in the Hamptons?" I sighed.
I stopped and chatted and posed for a picture with Lamont Studio owner, Carlyn Kenny. As chance would have it, hers was already one of my favorite booths. Her style embodied that Hamptons sea sand and air feel I was looking for. Another favorite vendor was Andrew Spindel Antiques whose cheeky inventory at the fair ranged from Americana to French to urban industrial. As we started chatting, he said "I read you were coming here. I subscribe to your newsletter."
I travel the world. And speak at design fairs and antique fairs coast to coast. I can't make a trip to New York or LA without running into someone I know… I shouldn't still be shocked when someone in the antiques or interior design world knows who I am… But.. it still makes me blush like a school girl. Especially when in the Hamptons.
Paris, New York, Berlin, Bangkok all feel like home… but the Hamptons still occasionally intimidates me. The thing about the Hamptons is this… It's a secret society. You have to know the secret handshake to get into the best places. Visiting there without local friends would be positively boring. The Hamptons is about access. And that's what we at The Antiques Diva & Co provide. Locally-based Diva Guide Tamara Matthews Stephenson grew up on Long Island – while a renowned NYC interior designer (and co-founder of Root Cellar Designs) she's had a house in East Hampton for nearly 20 years. As we walk down the road she's stopped at regular intervals with local vendors thanking her for a recent blog post she wrote about their shop on her #1 voted interior design blog Nest by Tamara. Another vendor asks, "Are you still writing for Dan's?" Dan's Papers, for those who aren't in the know, is the iconic Hamptons newspaper every local reads.
Tamara explains, "The secret to the Hamptons is knowing where to go. There are 100's of antique shops in the Hamptons. 100's of restaurants and 100's of interesting places to be inspired by design. But narrowing down your choices to the right places… to the best places… takes a lifetime of making the right contacts and then of course knowing who to call to get in."
Our little black book is what we specialize in at The Antiques Diva & Co. Whether you're on a buying tour in Chiang Mai or touring in Tongeren or simply using our Buying Services for those times when you don't have time to travel with us to go shopping… Our job is to understand what your fantasy antiquing experience is and then give you access to antiques and design inspiration only a local knows about. While our next Hamptons Group Tour won't be available until next July – we do offer private Hampton Antique tours every day during summers.
As the East Hampton Antiques Fair VIP Opening shopping night came to a close, the sun settled low in the sky turning the horizon pink behind the 17th C Dutch windmill on the Mulford Farm estate where the fair is held. I began humming La Vie En Rose and smiling thinking fondly of The Great Gatsby. Fitzgerald would have been right at home here… I can almost hear the click-clack of his type writer keys as he writes,
"In his blue gardens men and girls came and went like moths among the whisperings and the champagne and the stars."
Book a Hamptons Antiques and Design Inspiration Tour
Contact toma@antiquesdiva.com
Toma Clark Haines – The Antiques Diva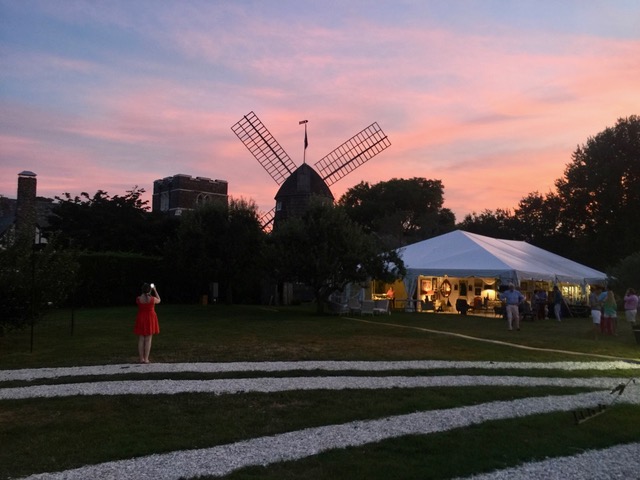 2-Day Antiques Diva® Hampton Antiques, Design, History and Lifestyle Group Tour
When:  
• Thursday, July 20: 11-5 pm; Followed by Dinner in Private Home of Style Maker Tamara Mathews Stephenson
• Friday, July 21 11 am-6 pm; Followed by VIP Champagne Gala at East Hampton Antique Show with House Beautiful Magazine
Where:
East Hampton, Southampton, Sag Harbor, Montauk, Bridgehampton
Join The Antiques Diva herself Toma Clark Haines and Style Maker Tamara Mathews Stephenson on this exclusive opportunity to tour the Hamptons… with Diva Style. This is perfect for the out of town designer, art aficionado or history and culture buff who yearns to inundate themselves with an insider's view of the design, lifestyle and sources in the Hamptons. Coinciding with the Traditional Home Hampton Designer Showhouse and the East Hampton Mulford Farm Antique Show in July, your Antiques Diva locally based Tour Guide, interior designer Tamara Stephenson will take you behind the scenes to both these summer favorite events for private buying time at the antique show (on the oldest farms in the East Hampton, complete with an original 16th-century Dutch windmill), as well as sneak peeks of the country's finest design talents as they create their spaces for the opening gala at the Showhouse. Over the two days you will visit Jackson Pollocks' famous home where he created his drip paintings, renowned insider gardens and homes, local farmer's markets, and some of the most important antique shops in the area, as well as other off the beaten path finds.
Please wear your most comfortable (but stylish… it's the Hamptons after all) shoes because it will be a wonderful whirlwind, shopping extravaganza while taking in the Hamptons in the throes of a busy summer. We promise to taste the wines from the local vineyard and foods from the local Farm-to-Table fare, introduce you to our sources, and you will leave satiated and equipped with a newfound love for this little slice of Luxe American Apple Pie, as well as gorgeous antiques and sources to take home. Thursday night ends with dinner under the pergola in Tamara's East Hampton cottage with The Antiques Diva Toma Clark Haines and a few design friends. Meanwhile, Friday night is super chi-chi with a special invite to the early buying event at the East Hampton Antique Show for champagne, live music, champagne, shopping, champagne and rubbing shoulders with design celebrities! (a $200 value) While on the tour, Tamara will also direct you to the area's most pertinent spots, offering a handout with map and key places to visit beyond these three towns, sending you on your way for more adventures if you choose or for your next visit to the Hamptons.

When you're too busy to travel internationally, or if you want to learn first-hand from antiques and design experts, our Antiques Diva® Hampton Antiques, Design, History and Lifestyle Group Tour is ideal for:
out of town designers
art aficionado
history and culture buffs
who yearn to inundate themselves with an insider's view of the design, lifestyle and sources in the Hamptons.
Contact Toma Clark Haines today at toma@antiquesdiva.com to answer questions about our Hamptons antiques and design group tour!