top: 5px; float: left; color: white; background: #781300; border: 1px solid darkkhaki; font-size: 60px; line-height: 40px; padding-top: 1px; padding-right: 5px; font-family: times;">You must have been very, very good this year… for Santa has some great things in store for you!  Parisien Salon, one of my favorite French websites chocked full of great articles on la vie Parisian, has opened an online boutique and they're having a Grand Opening Sale!  And you're invited to partake in the fab Parisian goodies!
What better to buy the loved ones on your list than something from Paris?  Better yet, you don't have to save space in your luggage toting it home from Paris when you can order online and have it shipped to all the people on your Christmas list!  Want to know what my friends and family will be getting for Christmas this year? (Shhh… don't tell!)
My cousin will be the recipient of some tower-dishtowels-set-of-3/ " target="_blank">Paris dish towels.  What better graphic punch than La Tour Eiffel to brighten up her kitchen?
towels.png">
towels" src="https://antiquesdiva.com/wp-content/uploads/2011/12/cache_240_240_Eiffel-Tower-Set-of-3-Dishtowels.png" alt="" width="240″ height="240″ />
My aunt definitely needs these enamel door plates to Frenchify her home! I love how you can label the rooms in your house in French – listing the bedroom, guest room, kitchen, bathroom, powder room and there's even a plate for labeling the basement door.
My gal pal Lisa will get to relive Parisian memories of our times spent wandering the rues of Paris together with this gorgeous photograph of the Passage St Paul nearby where she used to live in Paris.  The photo was actually taken by Parisien Salon founder Linda Donahue and is done with gallery-quality metallic paper using archival inks
What better gift for newlywed friends? Monsieur et Madame napkin rings – so dinner time every day is a French occasion!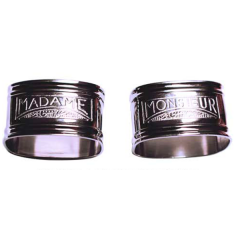 My sister will LOVE this Kasia Dietz hand-painted reversible canvas tote.  You can choose from Rive Gauche or Rive Droit, but for me there's really no choice at all…. It's Rive Gauche all the way!
For my dear mom I cannot decide – she's certain to love the Jules Pansu pillows… but with such great designs which one should I choose??
Should it be the jacquard weaved "I love Paris"?
Or is one of the dog pillows more her style?
And for my friend the blogger of ShesShoppingNow – it's clearly got to be Fleur de Sel.  My friend and I have toured the salt field of Ile de Re together and so we always buy each other special salt from all our travels!
Whatever you buy from Parisien Salon's new online boutique it is sure to be Paris-Perfect.  Make sure to check out Parisien Salon's online magazine – a "Virtual Paris".  As the HiP Paris blog explains, Parisien Salon "transports readers to the city and offers resources for those planning actual journeys" giving "a true insider's view of Paris."
Bonne Shopping!
The Antiques Diva®