Dear Diva Readers,
top: 5px; float: left; color: white; background: #781300; border: 1px solid darkkhaki; font-size: 60px; line-height: 50px; padding-top: 1px; padding-right: 5px; font-family: times;">With my travel schedule, I stay in A LOT of hotels around the world. And when living out of a suitcase, discovering a comfortable boutique hotel can be like finding water in the desert. There's nothing like finishing a long tour day with clients and returning to a stylish abode outfitted with every comfort in mind. And when I do find a place like this, I share it with my clients—and today I want to share it with you! I was recently traveling to Antwerp (I am constantly there for business) and stayed at a lovely hotel called JVR108.
The hotel is actually a historic mansion that happens to be right near the heart of Antwerp. The location is convenient to the historic city center where you can find shops, restaurants and museums, not to mention the city's famed cathedral. Public transportation is close by and there are also bicycles available to guests free of charge. But convenience isn't all JVR108 has to offer— from the owners & staff to the gorgeously decorated rooms, this place has it going on!
Proprietors and owners Phillip Ver Hoeye and Frederik Aers play an integral role in the day to day operations of JVR108. In fact, they live in a private section of the mansion. Together, the pair have transformed the interiors as well as the secluded garden which is open for guests to use. Indoors, a tasteful combination of antiques, custom throw pillows and hand painted chinoiserie wallpaper set the tone for a luxurious experience. I found myself wanting to pack up many of the objects and take them home, and in fact, several antique pieces throughout the hotel are for sale! From paintings and mirrors to furniture and throw pillows, JVR108 allows you the opportunity to take a piece of it home with you – to me that's the best type of hotel! One at which you can also shop!!!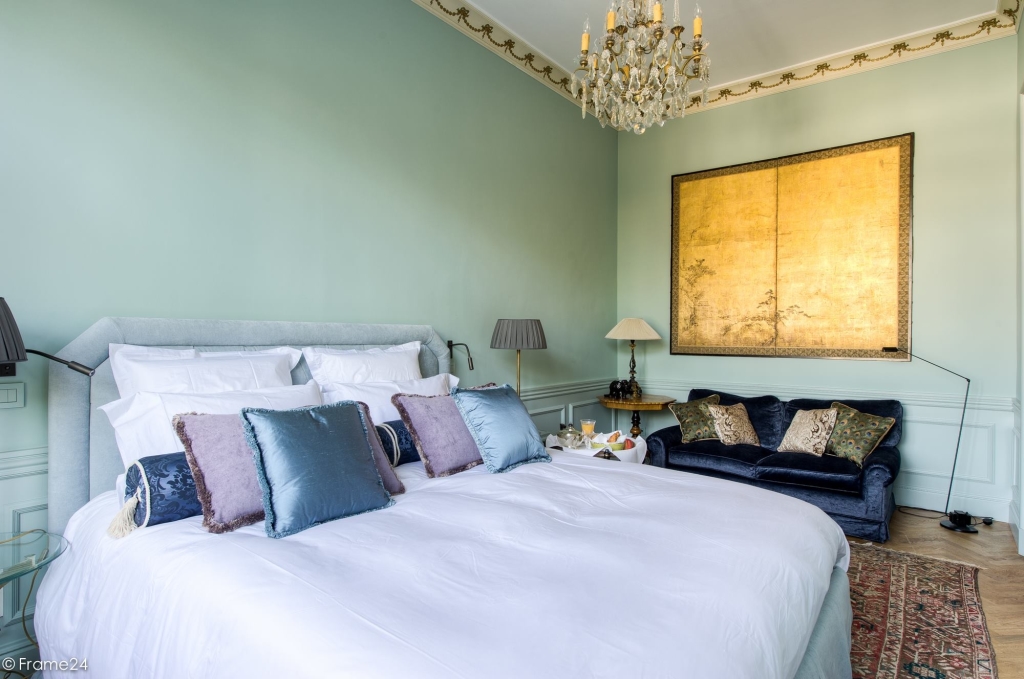 Each guest room is individually styled which is a welcome perk as I've stayed in just about every chain hotel in this hemisphere! Add to that the fact that the bedding is so lush you simply melt into it, and you have The Antiques Diva's seal of approval. I can't tell you how welcome we felt while staying here. It takes special people to make you feel at home and in fact, we recently invited Phillip and Frederik to our home in Berlin for dinner because we enjoyed them so much and appreciate their hospitality.
A section of JVR108's website describes the hotel as "A place best shared only with the closest of friends. Pleasures, delights and elegant bliss that you might prefer to keep to yourself…a well-guarded secret." Well, I guess the secret is out, but at least it's been shared with friends—you, my dear diva readers!
Happy traveling,
The Antiques Diva®