Identifying French Furniture Periods
If there's one thing I've learned since falling hopelessly in love with an adorable Frenchman it's that French people definitely appreciate the finer things in life. They're famous for l'art de vivre. From fine wine to fine furniture, from the Eiffel Tower to the fields of Provence, the people of France surround themselves with art and furniture that spans hundreds of years of impeccable style.
The task of identifying French furniture that's often two hundred years old can be daunting though. How do you tell a Louis XV buffet from an Empire buffet? What's the difference between a period piece and a style piece? There's so much to learn. But you don't need a Ph.D in Art History to grasp the basics. I'm making everything easy for you. Our Timeline of French Furniture Periods takes away the guesswork. From the French Renaissance to les Années Folles, you'll learn how to identify the styles you love best by following Louis — our Frenchie (which you'll see a lot), on a trip through time as we look at the various French furniture periods and the primary motifs and elements of design for each.
What's most important to remember when trying to decipher who's who and what's what is that the periods in French furniture design follow the time periods associated directly with the reign of a particular king, politician or military leader. While each king's style differentiated his reign from the others, there's much overlapping of styles. Take the acanthus leaf for instance, it's used in almost every period, the swirls and curls just vary.
The difference from one monarch's style to another is usually only a matter of a few degrees of decadence, with a couple of transitional styles thrown in between for good measure. When a piece was actually crafted during a particular king's reign, Louis XV for example, it's identified as a Louis XV buffet or a period buffet. It will often have the stamp of a known ébéniste and will be more valuable than a style piece, which has the style motifs typical of the Louis XV period, but was made at a time after the Beloved's reign — then it's referred to as a buffet in the style of Louis XV or a Louis XV style buffet.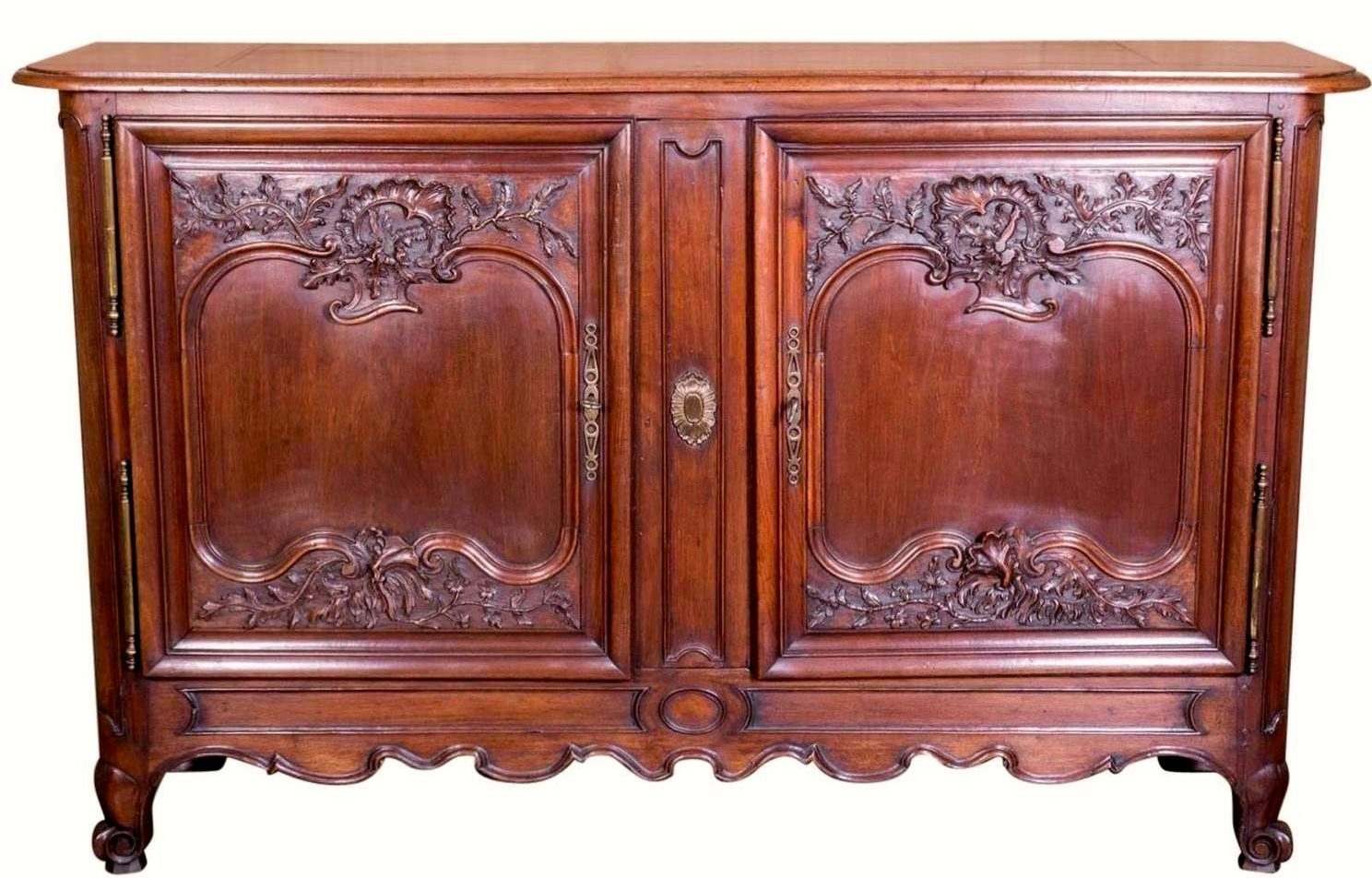 For nearly two centuries, the House of Bourbon ruled not only the courts of France, but also its worlds of fashion and decor. The "Fab Four," Louis XIII, XIV, XV and XVI, had a huge influence on the arts and design. These four famous kings introduced French society to music, art, fashion and furnishings. Louis XV style is the epitome of French furniture at its finest. The period is regarded by many as the Golden Age of French furniture, a period of grand creativity, influenced by scandal and royal mistresses like Madame de Pompadour and Madame du Barry. It was all about comfort in the 18th century and Louis XV style was designed for the comfort and glorification of beautiful women. The classically French bergère was introduced. This cushy armchair has stood the test of time and blends stylishly into the most contemporary of rooms.
But French furniture lost its position of dominance with the execution of Louis XVI and The French Revolution, making the early 19th century the last great period in French furniture making.
Whether you mix it up with the delectable designs of different periods or let one style dominate your decor, what's your favorite? Let us know about the styles you love best.
À Bientôt!
Mimi