As I transform my Venice apartment into a home, I take pleasure in the process of unpacking the pieces I've collected and arranging (and re-arranging!) them into tableaus that please my eye. The French art of mise en scène – putting things in place – to give my home the ambiance and personality that I want to project. For guests of course, but I honestly arrange my collections for myself. 
What is your definition of home? I've been thinking a lot about what makes a house a home… for me it's a space filled with people and laughter in the air. Fabulous smells coming from the kitchen, open bottles of wine and champagne always on tap. It's antiques and family heirlooms, next to flea market finds and objet d'art, and the odd pieces of Ikea. It's window boxes and shutters and flowers in every room and candles alongside cozy places to read. A real home is a mix of high and low… beautifully choreographed moments for a life well lived. I'm a natural collector. But how does one start a collection? Today my favorite dandy (j'adore being called The Dandy and The Diva!), Gary Inman is sharing with us his expert advice on the art of collecting. Don't miss Gary's favorite books on the art of collecting! 
Featured image: William Morris textiles and wallpaper set the tone for this Virginia mudroom. The table is an antique Chippendale inspired fretwork design. English tole, majolica, and French garden finials provide character to the space. The bespoke herringbone floor is by Waterworks. 
All images provided by Gary Inman 
The Art of Collecting  
Everyone is a collector, some just don't know it yet. After twenty-five years of designing and decorating luxury homes, I have had many clients insist that they're not collectors, only to become impassioned collectors once they discover their genre. Helping them find their passion has been one of the most rewarding parts of my practice. If you think back to your childhood, you'll surely recall something you collected with unbridled enthusiasm. It can be as simple as sea shells or baseball cards, but regardless of value, nothing surpasses the thrill of the chase! The objects amassed can be costly or free, academic or whimsical, and the collection can be as small as three objects or as massive as a museum.
As an art historian, I have always admired the erudite collections amassed by legendary collectors such as Henry Francis Dupont, Isabella Stewart Gardner, Sir Richard Wallace, Albert Barnes, Richard Jenrette or Henry Clay Frick. Their mammoth collections are now available to the world at museums and historic buildings devoted to the conservation of their achievements. Some collectors become as famous at their curations which are significantly autobiographical. Gertrude Stein, Carolyne Roehm, Coco Chanel and my personal favorite, Sir John Soane are examples of this phenomenon. I encourage you to visit all the museums associated with these collectors.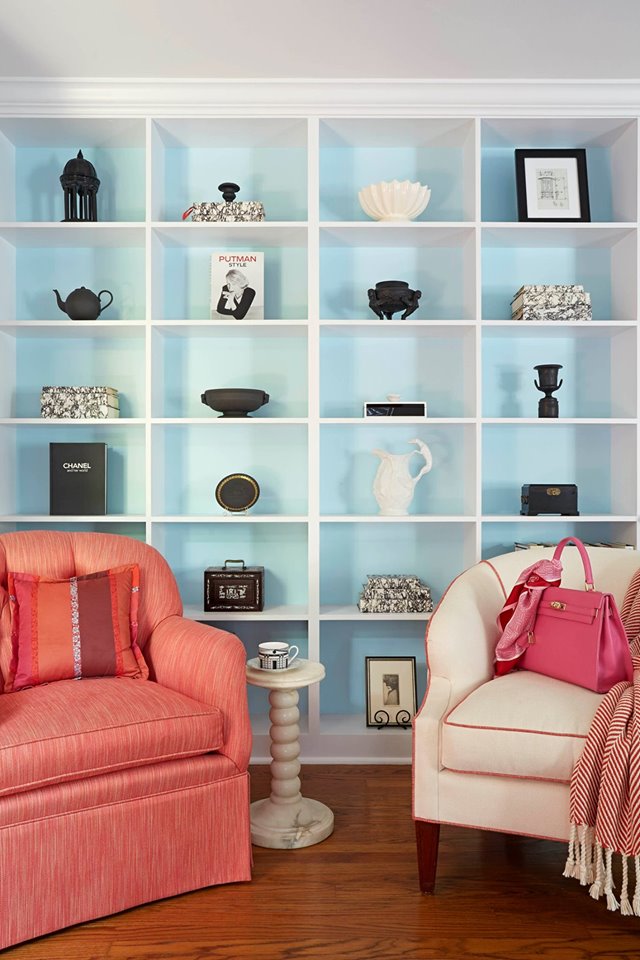 So how do you become a collector? I suggest you begin by doing your homework. Read the books I've listed below, visit antique shops and shows, research various categories such as ceramics, silver, textiles, art, antiques, illustrations, the list is endless. Also, survey auction houses and online dealers and wait for the magic to happen. You will discover a passion that will bring you joy for a lifetime! Once you buy that first piece you'll be hooked.
This entrance vignette gave me a chanceto indulge my passion for blue and white porcelain. I love mixing antique and modern, and high and low in these groupings. Add fresh roses for a punch of color and this becomes the perfect first impression.
There are many books on collecting, but here are three that I found to be great references:
Barbara Milo Ohrbach, A Passion for Antiques. Clarkson Potter/Publishers, New York, 2004.
Commissioned paintings can be centralto an art collection. Lea Barksdale's bold blue stripe leads the eye up the 3 level staircase. Erika Vaden (left) captured the spirit of Cy Twombly in this vibrant blue calligraphy inspired painting. 

Piranesi engravings, an old book press, bronze urns, and Spanish alabaster lamps give this library a very classical bearing. The ceiling ornamentation is a restoration of the original Tudor strapwork design based on photography. My first designer showhouse room, it was tapped for publication in Traditional Home. 

Gary M. Inman

Vice President, Hospitality at Baskerville

Blog: The Art of Fine Living
Pinterest: www.pinterest.com/garyi/
Instagram: www.instagram.com/garyinman/