How do I handle international shipping customs for antiques?

The Antiques Diva® & Co is pleased to offer art and antiques shipping services from Europe to destinations around the globe. AD&CO Logistics has partnered with a premier international shipping company with 50 years expertise in shipping services. Your shipping concierge will personally manage all facets of your shipment including collecting your goods from the dealers, tracking your inventory and payments, cross-referencing your tags, packing, complete all export/import paperwork and monitor your shipment's progress from the time we receive your goods until they are delivered to you; and keep you advised of the status of your shipment.

How To Import Antiques from Europe: Customs Frequently Asked Questions
At AD&CO Logistics, we prepare the official international shipping customs documentation that allows your goods to leave the European Union: 
Once arriving at the destination port, the client will need to have a customs broker. If you do not have a customs broker we will appoint one for you. If you have your own customs broker you are welcome to use your own broker for this process.
Import duties (taxes) are calculated based on the following:

Each item is categorized according to an international system of numbers pertaining to materials.

Each item is dated.

 

For example, if an item is greater than 100 years old, no import tax is assessed.


The customs process varies –

 

it is always a risk that the customs at the destination port will decide to check the entire ship.

 

If this happens – and there is no way to predict when it will – it creates additional costs as well as time delays.

 

This is a random security check.

Customs may choose to x-ray crates to see the contents and the client is obliged to pay those costs… for example, an x-ray may cost approx. $200 and there is no choice but to pay it.

 

The customs broker works on your behalf through this process keeping you informed.
If the entire ship is being checked, then all the scheduled unloading and deliveries will be subsequently delayed.

 

Which could then overlap when other ships come into port, causing further congestion.

Taxes are state-driven, not federal.

 

Which means the amount of tax due will vary depending on the destination port. 
For more questions about AD&CO Logistics international art and antiques shipping services,
visit our FAQ page. 
Request a Quote



LOGISTICS@ANTIQUESDIVA.COM
FAX: +32 (0)3 283 73 49       
MOBILE: +32 (0)478
How to Ship Antiques from Europe to Your Home
At The Antiques Diva® & Co, we have been helping clients buy antiques in Europe and ship them home for nearly 10 years. Our tips on shipping antiques are based on our experiences working with thousands of antiques buyers, hundreds of antiques vendors, and dozens of international shipping companies and will help you buy antiques and safely ship them home across the pond. 
My most important antique shipping tip:
Before you go abroad set up a relationship with an art and antiques shipper so you are prepared to buy and import antiques. It makes it much faster and easier if you prepare in advance! Before you travel ask the shipper to mail you a PURCHASE ORDER BOOK (PO BOOK) and SHIPPING TAGS WITH YOUR NAME ON THEM before your trip so when you're out and about you have all you need right at your fingertips for buying antiques abroad and shipping them home.
At The Antiques Diva & Co we not only offer Antique Buying Tours: we also have an In-House Shipping Service and you don't have to be on a tour to use our shipping service at AD&CO Logistics. Other shippers that are well known include EDET, Camard and Chudley. When contacting shippers it's always wise to get comparison quotes from several shippers.  The key thing with shipping – problems can and do occur – but if you have a good relationship with your shipper, it will make it easier to solve the problems when they do occur!
How the Process Works to Buy Antiques and Ship Them Back Home
1) You tell the vendor what you want to buy and who your shipper is.
2) If you have your PO BOOKLET you simply fill in who the vendor is including his PHONE # and EMAIL ADDRESS as well as the COLLECTION ADDRESS for the pieces you've purchased and fill in your delivery information as well as LIST ALL ITEMS you've purchased. MAKE SURE TO GET THE VENDORS EMAIL ADDRESS AND MOBILE PHONE #. 
3) When paying for antiques you have a few options – you can pay the vendor cash – but if the item is a larger purchase price you probably don't have the cash on you! No worries!  Simply fill out the PO and WRITE TO BE PAID BY SHIPPER. This allows you to buy from multiple vendors ON PURCHASE ORDER: PAYMENT AT THE END OF YOUR BUYING TOUR, but a KEY POINT is that once you have issued a PO the item is OFFICIALLY SOLD to you. All Sales are Final. And there are NO RETURNS in Europe on Antiques. The item is marked sold and if you change your mind and decide not to buy the item later on, you burn bridges not only with that vendors but also with his colleagues.  
4) When you're finished buying antiques, email your SHIPPER all your Purchase Orders and your shipper will make a summary of all the items you own $$$$ for. Your shipper will then invoice you for the AMOUNT OWED in INVENTORY and will pay ALL THE VENDORS on your behalf, making the entire process easy peasy pumpkin pie saving you time so you only have to do one payment instead of several payments to various vendors.
5) Most shippers require you pay for inventory via BANK TRANSFER – but some shippers allow you to use a CREDIT CARD.  Ask your shipper their payment options.
6) While it's impossible to give exact shipping costs prior to you making your purchases, you can get estimates on delivery costs from your shipper before your trip by telling them your budget to spend, the types of items you're hoping to find and providing your delivery zip code. Getting the measurements of the pieces you've bought is important to help your shipper quote on shipping costs. 
Shipping Impulse Antique Purchases
Scheduling a phone conversation with your shipper BEFORE you travel will make the entire buying process much easier and SAVE YOU MONEY when you're traveling abroad. Some shippers will even give you their personal mobile # (we do! 🙂 ) so you can call and get a quote mid buying spree. But if you didn't set up an account with a shipper pre-travel- Have No Fear. If you find something while traveling and haven't set an account up with a shipper in advance there are options:
call one of the shippers recommended above for last minute pricing and options

ask the vendor you purchase your antiques from to ship the item direct to you  
You will get better shipping prices if you do some comparison pricing on shipping but you can ALWAYS ship impulse purchases. Don't let fear of not knowing how to get your purchase home dissuade you from buying abroad!
Do you have more questions about international shipping services for art and antiques? Visit our FAQs, or contact AD&CO Logistics directly.
Toma – The Antiques Diva® 
Dear Diva Readers,
While we don't do international shipping ourselves here at The Antiques Diva & Co we do liaise our clients on antique buying tours with international shippers to help them get their purchases home sweet home across the pond.  As such we get asked A LOT of questions about how it works to ship antiques internationally.  In general when queries come my way I direct them to the experts – making introductions to shippers we know and trust and have worked with long-term.
Perhaps the most popular questions after "Which international shippers do you recommend?" and "How much does it cost to ship a container?" is "How much does it cost to fill a container full of antiques?"  The answer to this question lies in the answer to the question, "How many antiques fit in a shipping container?"
If you visualize a 20 foot container…it can hold approximately 40 medium size pieces of furniture.  Then to determine the cost of filling a shipping container with antiques you need to determine how much you are going to spend on average per item.  Chest of drawers could range anywhere from 100 Euro to 10,000 Euro depending on the age, quality, provencance, etc of the items you're buying.  Buying 1950's pieces cost a lot less that pieces from the 1750's!
If you determine an amount that you feel comfortable with as an average item of purchase and multiply that number times 40 you'll have a rough ball park figure on "How much it costs to fill a shipping container with antiques?"  Obviously you're not going to be buying 40 chest of drawers so this isn't an exact science but it leads you down the path to determining what your budget should be for buying overseas.
Clients come to me with budgets ranging from 20,000 Euros to 100,000 Euros, saying this is the amount they have to fill their 20 foot container.  On average, serious buyers – Antique Dealers – seeking to fill their container with decorative vintage and antique pieces – the type that you see in all the magazines, chic and stylish, with a degree of age on them but not necessarily uber high-end – come to me with a budget of approx. 40,000 Euro knowing they may spend less or they may spend more depending upon the price point of the items they fall in love with.  The client I was just with found a slew of cocktail tables at 50 Euro each – this brought her average purchase down exponentially and she managed to save a significant amount of money off her anticipated budget.  However…cocktail tables weren't on her buying list.  Sometimes in order to get the best deal you have to be open to what's on the market when you're seeking to buy.  The client will be able to retail those cocktail tables for about $600 USD each – so she is getting a heck of a profit on them!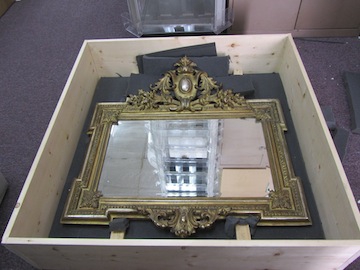 When shipping remember it's better to overbuy and overfill your container than underbuy – the less you buy the more it costs per item in the container.  The best way to save money shipping is to squeeze as many items into the container as possible! And remember – shippers use every square inch! If you have a chest of drawers you can easily pack those drawers full of smalls so there is no wasted space!
Net, net – there is no easy answer on how much it costs to fill a container – but if you use this as a guideline for shipping antiques you'll have a starting point in determining your budget for buying antiques overseas.
Happy Shipping,
The Antiques Diva®
(Hmmm…. today perhaps you might want to call me The Shipping Diva!)