Dear Diva Readers,
top: 5px; float: left; color: white; background: #781300; border: 1px solid darkkhaki; font-size: 60px; line-height: 50px; padding-top: 1px; padding-right: 5px; font-family: times;">My Diva Guides and I are constantly shopping Europe's best flea markets helping clients find the perfect pieces.  Over the years of shopping abroad I've learned the do's and don'ts of flea marketing and I want to share some of that hard earned knowledge with you so that you'll be ready to hunt for your perfect pieces.
European Flea Market Tip # 1- The first bit of advice is to follow the Boy Scout mantra, "Always be prepared."  Come with a shopping tote, extra bags, plenty of cash, handy wipes and a tape measure.  Bring paint or fabric swatches if you're looking for a specific room in your home.  As markets are usually outside, wear sunglasses– but hope for rain – and pack an umbrella.  (Vendors are more likely to bargain in the rain because they have less customers.)  Wear comfortable shoes and dress in layers.  The key difference between shopping in Europe and North America comes down to STYLE – in Europe you need to dress up a bit more.   No sweat suits. Nor white tennis shoes. One Parisian dealer complained about a running-suit clad client of mine explaining his lack of a discount was because of her appearance…. "But I have to look at her! She should make an effort! Non?" 
European Flea Market Tip # 2 – Come Early or Stay Late.  Early birds get the BEST selection of inventory – but not necessarily the best prices.  Late shoppers not only get more beauty sleep but are much more likely to get a bargain.  When there is an object I adore that's beyond my price range I stalk it. I show up at the same booth several times in one day until the vendor says "You again?"  The more times a vendor sees you the more serious they know you are and the better the price becomes. I used this strategy in Paris buying a Louis XV commode. At the start of the day the vendor priced the item 1800 Euro.  By the end of the day, I paid 1000 E cold hard cash.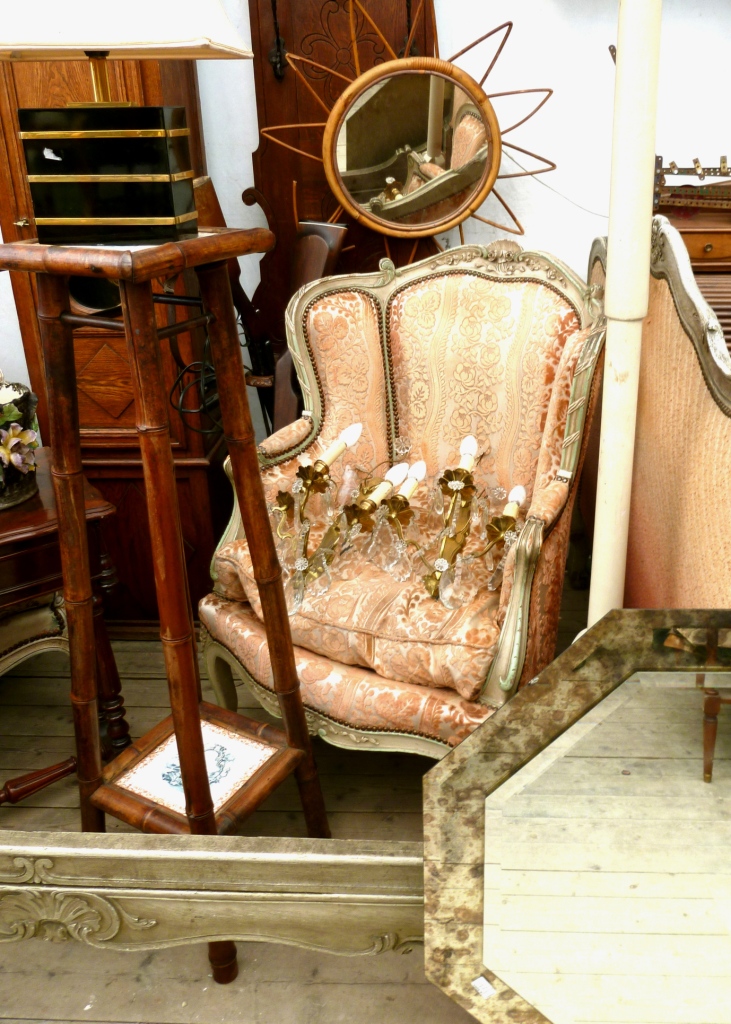 European Flea Market Tip # 3  – Cash is King.  Most flea markets don't accept credit cards.  And for those that do,  paying cash will always get you the better bargain.  A lot of people find negotiating difficult and there are a few easy strategies. A polite way to ask for a discount is to say "Is this the best price?"  Another option is to offer the price you're willing to pay.  "This is marked 75 Euro.  Will you take 50Euro?"  Note prices in European flea markets tend to be a little higher than in American flea markets because the inventory is MUCH OLDER.  You can't expect to buy a 150 Euro silver set for the same price as a 20 year old set in America.  Be reasonable. Don't insult the vendor by offering too little.   Lastly a 3rd strategy for getting a discount is bundling.  The more you buy from one vendor the better the price becomes.  At the last minute –  just as I'm paying if I'm feeling cheeky   – I will pick up a small item and wink at the vendor asking "And this… this is a gift for me!?!"  You would be surprised how many vendors laugh and say yes.
European Flea Market Tip #4  – Be friendly – and ladies – don't be afraid to flirt!  The adage about catching more flies with honey is true.  Ask questions.  Ask its age, style, period, place of origin and material.  Be inquisitive.  The more interest you show the more likely the vendor is to make a special price.
European Flea Market Tip #5 – At the end of the day… if you love it, if you can afford it, if you want it – buy it!  Flea marketing is meant to be fun and if hard-core bargaining takes the joy out of shopping don't be afraid to pay full price.  Vendors will love you for it.  Set a budget for your day. Determine how much you are willing to spend and go have fun. Don't think too long on purchases.  Ask yourself, "If I walk away from this item, am I going to be disappointed if it's not there when I return?"   If the answer is yes.  Buy it.
Et voila – Keep these 5 Antiques Diva Flea Marketing Tips in mind when you hit the markets and you'll be well on your way to shopping Diva Style!
Happy hunting,
The Antiques Diva®