Dear Diva Readers,
top: 5px; float: left; color: white; background: #781300; border: 1px solid darkkhaki; font-size: 80px; line-height: 70px; padding-top: 1px; padding-right: 5px; font-family: times;">While I'm away shopping in London, the Cotswolds and Bath on an tours/england/" target="_blank">Antiques Diva® England Tour I didn't want to leave you all alone, so I've gathered a few friends to keep you company.  In case you're not already familiar with these bloggers I want to introduce you to some of the chicest addresses in the blogosphere! 
 Blog's I'm Reading:
Design*Sponge is a design blog run by Brooklyn-based writer, Grace Bonney. Launched in August of 2004, the site updates between 6-8 times per day and was declared a "Martha Stewart Living for the Millennials" by the New York Times.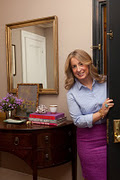 As a stylish, young, interior designer living and working in New York City, blogger Heather Clawson is constantly surrounded by habitually chic people, places and things and she muses on art, architecture, design, fashion, photography, books, events, and everything else habitually chic!

The SourceBook for the Modern Home, Remodelista is written by a group of friends who share eerily similar design sensibilities; a collective design DNA and who care – a lot – about interiors. They're known to wake up in the middle of the night to bid on Thonet dining chairs and in an entirely selfless manner – merely for the benefit of their readers – they wade through stacks and stacks of gorgeous design magazines every month!
With a tag line that reads "saving the world one room at a time", Apartment Therapy helps their readers make their homes more beautiful, organized and healthy by connecting them to a wealth of resources, ideas and community online.
Chic Tip is a daily design blog dedicated to the art of interior design, residential architecture, stores, hotels and restaurant design featuring stores, products, artists, reviews, sales, contest announcements, trends-in-the-make and more.  And it's not just a blog; it's a community – for designers seeking inspiration and for amateur design enthusiasts. ChicTip.com is edited and published by Michelle & Keren, both professional designers with an addiction to modern and mid-century design.
Written by Los Angeles Interior Designer Brooke Giannetti, Velvet and Linen is a blog about Brooke's life with her Architect husband.  As a California-based interior decorator, her projects often incorporate Belgian and Swedish antiques paired with industrial and outdoor elements. Brooke frequently collaborates with her husband, architect Steve Giannetti, on projects as well as their home store Giannetti Home. 
Inspiring Interiors is a simply gorgeous blog, where its author painstakingly chooses some of the most inspiring interiors to give inspiration to her readers.  She looks at every detail in a photo, attempting to concoct ways to copy the chicest ideas.
Happy Reading,
The Antiques Diva®