Dear Diva Readers,
top: 5px; float: left; color: white; background: #781300; border: 1px solid darkkhaki; font-size: 60px; line-height: 50px; padding-top: 1px; padding-right: 5px; font-family: times;">When Veronika Miller, proprietress of Modenus, asked me if we'd put together an Antiques Diva VIP experience for tour.co" target="_blank">Blog Tour Milan I said "Si! Si! Si!  Absolutely YES!"  I've been fortunate enough to go on 2 blog tours in the past as a participant (in both NOLA and NYC) and so getting the opportunity to be a sponsor of the event gave me the chance to sit on the other side of the table to benefit from meeting a slew of fabulous bloggers and taking them on an Antiques Diva "experience"!
I've called their "tour" an "experience" as it wasn't a typical tour.  We typically offer 1 on 1 private customized tours that last anywhere from a full day to a full week – but this group only had an afternoon to spare in their tightly packed scheduled and we wanted to make sure they saw some sites so we combined antiques with some diva lifestyle.  In order to maximize their time we offered the lovely group of top design bloggers a bite sized taste of what The Antiques Diva® & Co does. We put together an afternoon walking tour of some of our favorite antiques and vintage vendors in the Brera district of Milan, once home to artists and bohemians and still full of color, character, and life.  This is one of the most important arteries of the design district in the city, oozing style and creativity with beautiful stores and galleries that makes one feel like a child in a candy store.  The narrow streets twist and turn, holding a surprise at every corner.  We shared the creme de la creme of Milan's antique and culture. One of our 1st stops was actually Cavalli and Nastri where vintage clothing reigns supreme, a tiny store bursting at the seams (excuse the pun) with stylish clothing and jewelry, a couple of seamstresses' nimble fingers work diligently to hem and tuck.  L'Oro dei Farlocchi just around the corner had a fascinating and eclectic collection of furniture and decorative arts.  And to.it" target="_blank">Il Cirmolo tucked in Via Fiori Chiari was a labyrinth of repurposed, salvage and collections.
ton, Andrew Skipper" src="https://antiquesdiva.com/wp-content/uploads/2014/04/Blog-Tour-Milan-15.jpg" width="410″ height="563″ />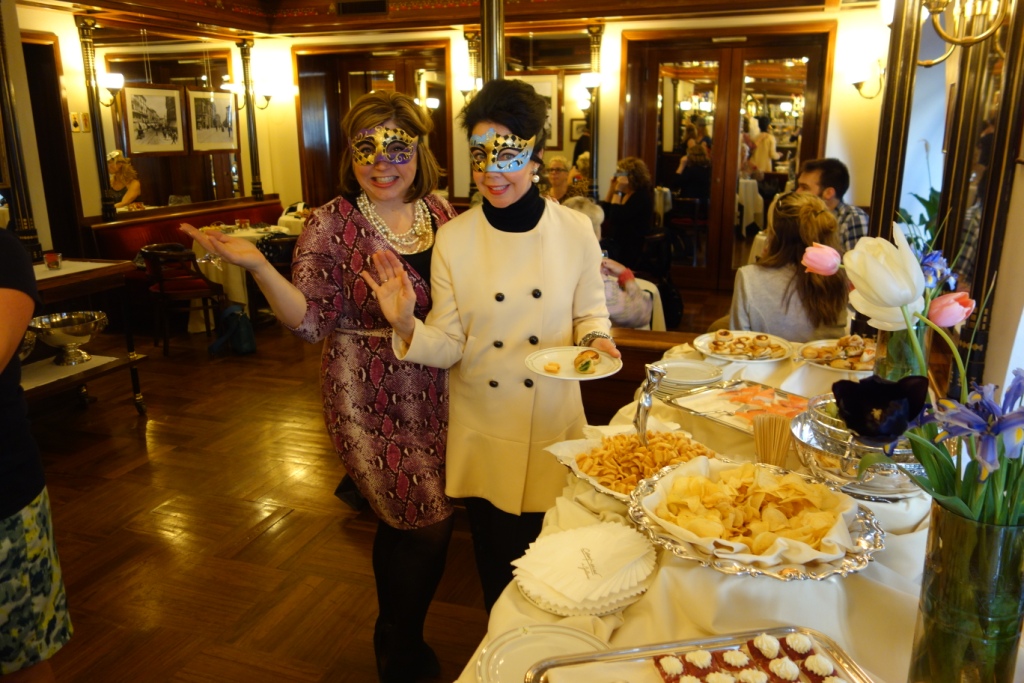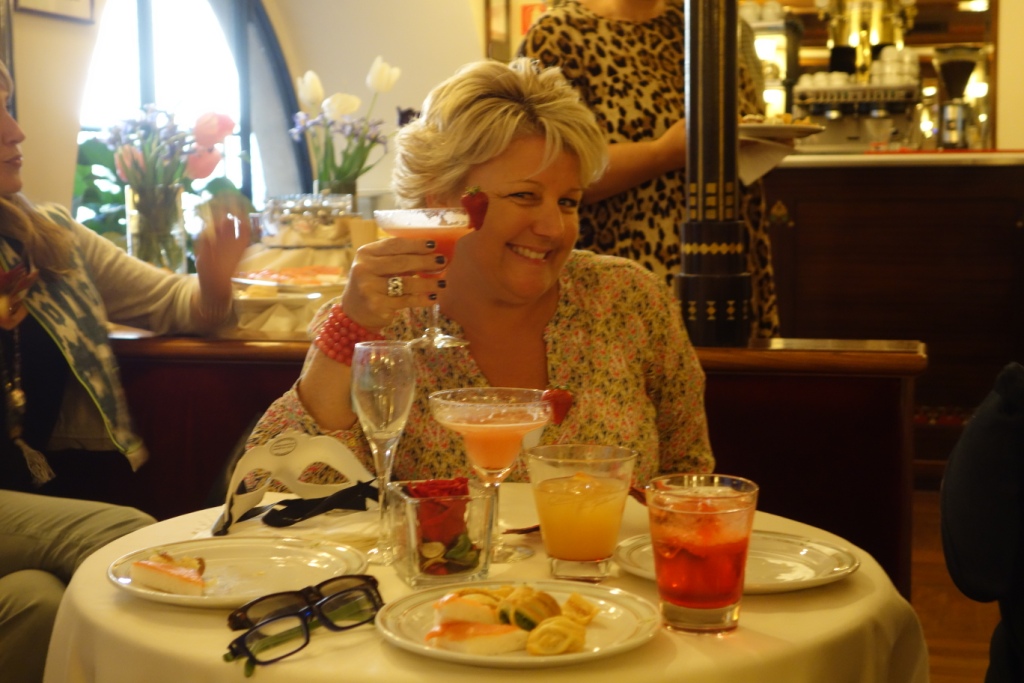 A tour of the Brera wouldn't be complete without paying a visit to Roberta Tagliavini and at least one of her famed stores (she has three…at last count) at Robertaebasta one really need look no further for mid-century, she is the queen!
After a whirlwind antiques tour we took a sneak peek inside the world famous Scala Opera House.  After all, we couldn't let these design bloggers come to Milan and not see any of the traditional sites.  Popping in to La Scala theatre is the perfect way to really get a feel for the fabulous culture in Milan.  Being able to peek in and catch a few moments of ballet rehearsal on the main stage is a once in a lifetime bonus!  A tour through the reception rooms with the plethora of gorgeous portraits makes one feel as though Maria Callas herself may step into the room at any moment.
All this was followed by an aperitivo we hosted in a private floor room in the original Campari Bar just a stone's throw away from the renowned Duomo in Milan.
With a view of the Duomo, a selection of drinks including prosecco, martinis, and campari spritzers of course, and an appetizing spread of Italian treats, the aperitivo is anything but average.  Of course every diva needs an opera mask while in Milan, so our guests are all sporting them at our cocktail hour!
ton" alt="Blog Tour Milan " src="https://antiquesdiva.com/wp-content/uploads/2014/04/Blog-Tour-Milan-9.jpg" width="410″ height="614″ />
We were so pleased to host the Blog Tour Milan group for an afternoon and evening of antiques, culture, and cocktails Diva style!
If you'd like to book a custom Antiques Diva & Co tour in Italy or anyone of our 8 tour countries – France, England, Sweden, Belgium, Holland, Germany, Denmark and Italy, contact us at to:info@antiquesdiva.com">info@antiquesdiva.com to inquire about your custom made private antiques buying tour.
Ciao for now!
The Antiques Diva®