Dear Diva Readers,
Get Thee to the Mercanteinfiera Antiques Fair in Parma, Italy where over 1000 vendors set up shop twice a year in the spring and fall.
For the last decade I've wanted to attend Italy's most popular antiques fair but my plans have been foiled time after time by life, work and other unmovable circumstances and I am aghast to admit this was my first time to come to Parma's famous fair. Literally anyone who is anyone shops here and I was  afraid if I didn't attend soon I'd have to turn in my title of Diva.  This year I decided come hail or high water I was going to make attending Mercanteinfiera my top priority for the fall.  When I was invited by the fair to participate as a VIP in their Top Experience it was the icing on the cake… serendipity stepped in, taking me by the hand and paving my way to pleasure, plundering Parma.  As they say, good things come to those who wait, but "Mio Dio", don't wait too long!  Consider this your invitation to join me and my locally-based Diva Guide Susan Pennington next year at my new favorite European antiques fair – Mercanteinfiera in Parma, Italy!!
Mark your calendars and book that airfare baby because the next time the peddlers come to Parma is  the 2-10 March, 2013 and 5-13 October, 2013.
What I liked about the fair – aside from its unbelievably convivial atmosphere, abundance of antiques conveniently corralled in one locale, down-right delicious Italian food for every meal and wide variety of inventory at all price points – were the people I met at Parma.  In addition to locals and tourists shopping this sensational antiques source  I was surprised by the number of top American antique dealers shopping the fair during the trade days.  I couldn't turn around without bumping into someone I knew – or wanted to know – stocking their stores.    A highlight of my recent trip to Parma was attending a special dinner at Cordial Verdi with the fair coordinators. I was beyond honored when asked to be on their advisory board to share my advice on how to make this fair more accessible for dealers and tourists wanting to shop the fair.
Having the chance to shop next to the top antique dealers in the USA, including legends such as Marion Harris,  Carl Moore Antiques and Alhambra Antiques as well as a slew of designers, architects and "personalities" (such as Seymour Stein), gave me a rush that was better than caffeine or Prosecco…. neither of which were in shortage at the event.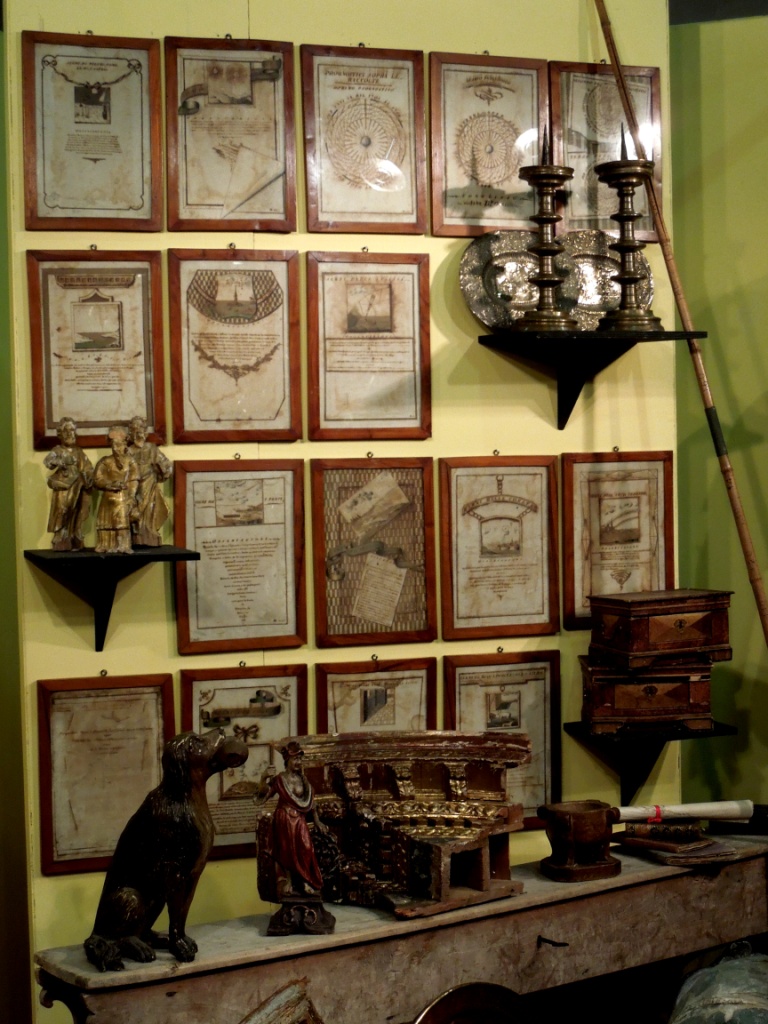 In addition to having great inventory for sale, the fair really worked towards simplifying the process for exporting antiques from Italy, putting a system in place to help foreigners shopping the fair obtain the appropriate export paperwork.   On site English-speaking shippers certainly helps in this regard.
Following you'll find a few highlights of photos taken this weekend at the fair – for more photos make sure to follow me on Facebook @ The Antiques Diva & Co or visit the fair's Facebook site in English The Merchants Fair Parma Italy or in Italian Mercante in Fiera.  The fair continues to run until October 7th so if you're in Italy at the present moment, drop what you're doing and Get Thee to Mercanteinfiera!
I'll look forward to seeing you in the Spring at the Mercanteinfiera!  Email to:toma@antiquesdiva.com">toma@antiquesdiva.com for more info on private tours of the fair with locally-based Diva Guide Susan .
Ciao Bella!
The Antiques Diva®
tons/follow-me-on-pinterest-button.png" alt="Follow Me on Pinterest" width="210″ height="28″ />
tons.sociableblog.com/images/FB5.png" alt="" width="210″ height="40″ border="0″ />
tons.sociableblog.com/images/FMT6.png" alt="" width="210″ height="40″ border="0″ />