Dear Diva Readers,
top: 5px; float: left; color: white; background: #781300; border: 1px solid darkkhaki; font-size: 30px; line-height: 15px; padding-top: 1px; padding-right: 5px; font-family: times;">While recently leading an antiques buying tour of the 25th Bath Decorative & Antiques Fair 2014 I was able to reconnect with some favorite dealers as well as see some new faces and shop their stalls for all sorts of treasures!  Let me give you a recap of my top picks from the fair.
George Johnson of Lady Kentmores Antiques is a vivacious force in the antiques world.  His fresh ideas and unique inventory keep his stall interesting and a fun place to search for pieces you won't find at just any antique shop.  George is a founding member of the Antiques Young Guns and has a vast knowledge not only of Scotland (where he is based), but also of the antiques industry in general.  Watch this space.  George might just be our newest Divo as we're discussing starting Antique Diva Buying Tours in Scotland!
I'm smitten with another Antiques Young Gun member, James Gooch of Doe & Hope.  He had an amazing stall at the fair.  He paired unusual pieces like natural coral under glass domes and animal skulls with traditional antique furniture all set against a moody backdrop. Shopping his booth was almost like stepping into a cabinet of curiosities; the type of place that Alice might have encountered on the other side of the looking glass.  Distressed leather chairs commingled with inlaid tables while stately portraits of forgotten gentlemen gazed on the scene from the deep blue walls.
Of course we saw our wonderful Swedish Diva (ahem, DivO) Guide Daniel Larsson of D Larsson Interior and Antikhandle.  Daniel deals in fine Swedish antiques ranging from 18th to late 19th century.  What I love about his pieces are their wonderful patina- think pale painted Gustavian and Swedish country furniture with just the right amount of wear.  If Swedish furniture is what you're after, Daniel is the guy you want to talk to – either to shop his own inventory or to have him to take you on tour to our secret sources in Sweden.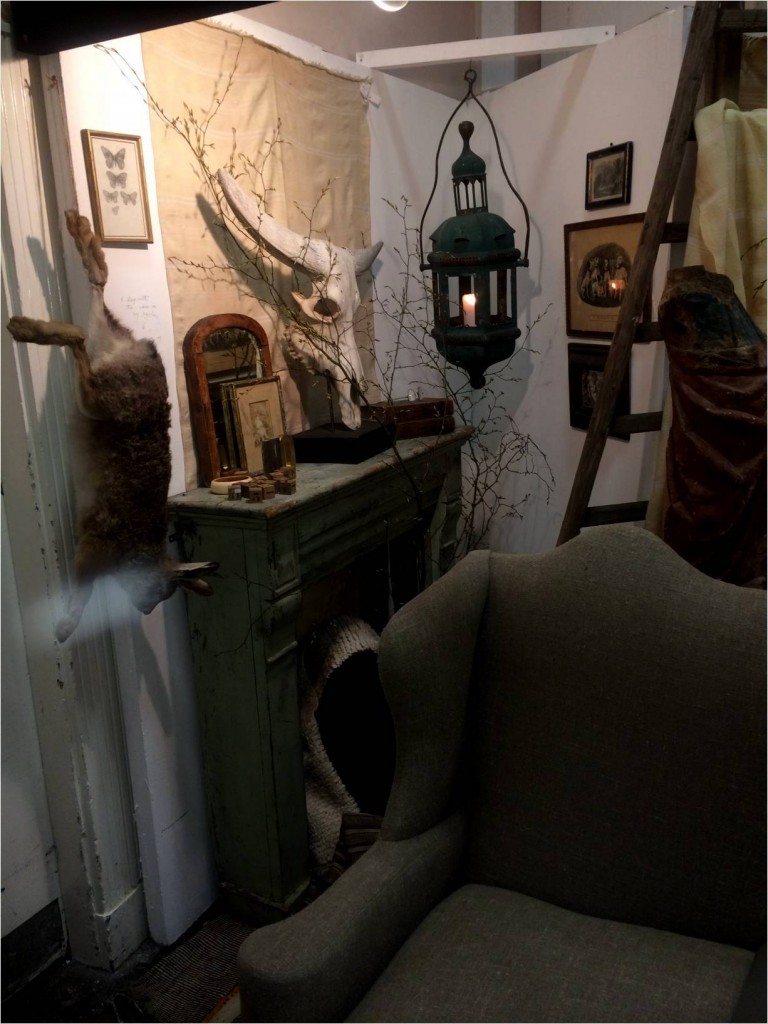 Josephine Ryan Antiques was there as well with a beautifully displayed stall, bringing her signature style to the fair.  Natural fibers on settees paired with painted furniture in soft hues made for a pleasing look.  Combine that with a few quirky accessories such as a mounted animal skull and a taxidermied hare and you are left with the calming feeling that you've entered a European farmhouse where the owner has amassed everything through inheritance, and life hasn't changed much for a century or two.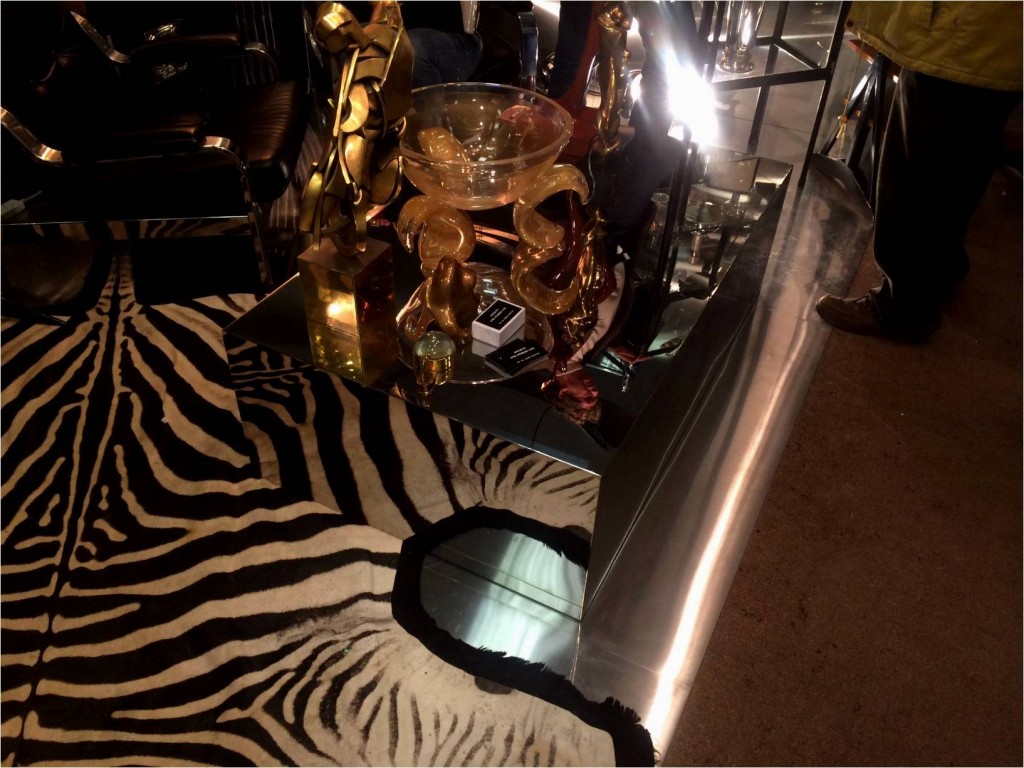 If glam was what you were looking for, Ancient And Period LTD had it in spades.  A zebra rug, black leather and chrome mid century chairs, and the perfectly proportioned mirrored (stainless steel) cocktail table set the scene for the ultimate in modern glam.  I could picture the entire set up in a chic apartment in New York. 
Casa Nova specializes in original painted Swedish and Scandinavian antique furniture and decorative pieces.  Their stall was curated so nicely that I could have moved right in!  They had cabinets and tables in the traditional pale colors typical of Scandinavian furniture as well as a few beautifully painted item like the blue Swedish clock.  Confession – I'm partial to Swedish antiques – and these fabulous dealers who have to be the most hospitable at the fair.
Overall the Bath Decorative Antiques Fair offered a wide variety of dealers and merchandise to choose from.  It's always fun to catch up with dealers and find out what new pieces they've acquired!
As soon as we've got the date for next year… we'll let you know so you can mark your calendar. It's a small fair… but one of the best in England.  Perfectly choreographed!
Until next time,
The Antiques Diva®
PS:  To book an Antiques Diva Tour or inquire about our Buying Services so you can source antiques abroad virtually, email to:info@antiquesdiva.com">info@antiquesdiva.com